Kevin Feige Is A Pure Class Act In Heartwarming Message To Batgirl Directors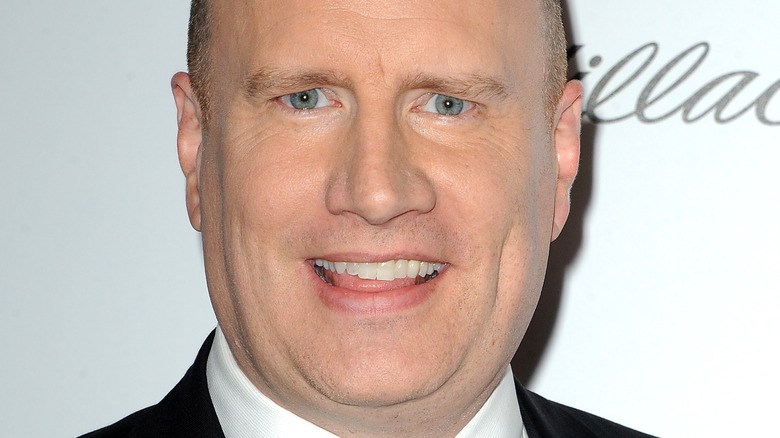 Tinseltown/Shutterstock
Master of the MCU Kevin Feige is responsible for overseeing the many varying projects contained within the collective media empire. This means that Feige not only controls the overall direction in which the MCU is headed but also has a tendency to move from project to project. Feige helps make sure that the narratives overlap and build toward something greater than the sum of their parts. As such, Feige could probably teach a master class on diplomacy and understanding, considering just how many people he must work with in order to keep the behemoth that is the MCU running.
Warner Bros. Discovery could probably use somebody like Feige among their ranks, especially these days with the current shakeups in its own attempts to build a cinematic universe with the likes of Batman, Superman, and Wonder Woman. "Batgirl" was supposed to be one such entry in the DCEU, but recent news has confirmed that the film will never be seen by the public because it has been entirely scrapped despite being in a near-finished state. This has caused an outpouring of support from both fans and other creators, with Feige personally reaching out to the directors of "Batgirl."
Feige emailed the directors of Batgirl
Adil El Arbi and Bilall Fallah, the co-directors of the now defunct "Batgirl" movie, have worked together on movies like "Image," "Black," and "Bad Boys for Life," as well as television shows such as "Snowfall" and "Ms. Marvel." As such, Kevin Feige has a personal connection to these directors, so it makes perfect sense that he would reach out after hearing the bad news about their project.
Arbi, who learned of the decision to cancel the film while celebrating his wedding (via Deadline), shared a screenshot of Feige's email on his Instagram account. The text reads, "My friends I had to reach out and let you know we are all thinking about you both. Because of the wonderful news about the wedding (congrats!) and the disappointing news about 'Batgirl.' Very proud of you guys for all the amazing work you do and particularly 'Ms. Marvel' of course! Can't wait to see what is next for you. Hope to see you soon." It's nice to see kind words coming from Feige — and crossing company lines at that.
Some fans might have you believe that the DCEU and the MCU are in direct competition, and they defend their respective houses with all the frenzy that entails. It seems, though, that kindness and compassion transcend such novel concepts, which is potently highlighted by the ringmaster of the MCU expressing disappointment at the shelving of "Batgirl." Guess there's a reason why Feige is such an effective leader and why he's in charge of a multibillion-dollar franchise of superheroes.