The Parks And Recreation Actress Who Once Interned At SNL
"Parks and Recreation" is easily considered one of the best and most popular sitcoms of recent years. Created by Greg Daniels (who also created a little show called "The Office") and Michael Schur (who was a writer on "The Office"), the mockumentary-style series ran for seven seasons from 2009 to 2015. It follows the lives of the Parks and Recreation Department's employees, including deputy director Leslie Knope (Amy Poehler), of the fictional Pawnee, Indiana.
Much like in any mockumentary-style sitcom, the series boasts a large ensemble cast of quirky characters. Alongside Leslie, the main characters include local nurse Ann Perkins (Rashida Jones), deadpan intern April Ludgate (Aubrey Plaza), the dim-witted but kind-hearted Andy Dwyer (Chris Pratt), government official Ben Wyatt (Adam Scott), and Parks and Rec director Ron Swanson (Nick Offerman).
It's pretty common knowledge that Poehler is an alum of "Saturday Night Live" — she was a cast member from 2001 to 2008 — but she is not the only one of the "Parks and Rec" cast who has a history with the long-running NBC late-night sketchy comedy series. However, the other "Parks and Rec" actor with an "SNL" history wasn't exactly acting in the sketches but rather was an intern — here's who it was.
Aubrey Plaza was an SNL intern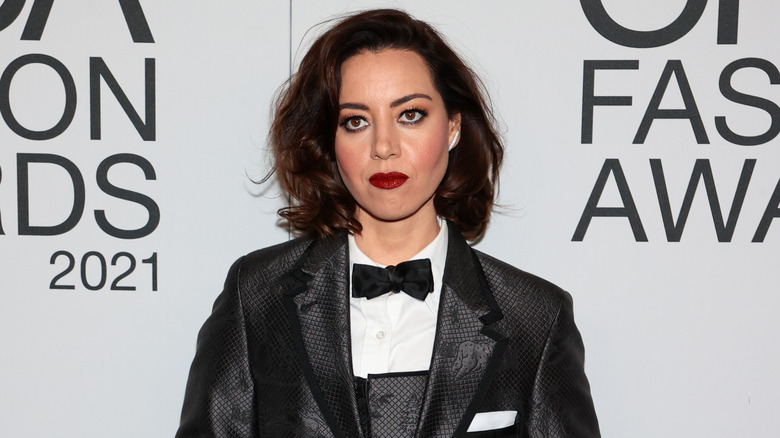 Dimitrios Kambouris/Getty Images
In 2020, Aubrey Plaza teamed up with "Saturday Night Live" alum Kenan Thompson for an ad for Barefoot Hard Seltzer & Spritzer. In an interview with TooFab, Plaza explained that the two met for the first time to film the ad — despite the fact that Thompson was on "SNL" during the season that Plaza was an intern for the show. Similarly, Amy Poehler, Plaza's "Parks and Rec" co-star, was also a series regular on "SNL" at the time, but Plaza never met her on the "SNL" set either.
Describing her time as an intern (and why she never met her future co-stars), Plaza told TooFab, "When you're an intern, you're not really supposed to like make your presence known. No one says that, but it's kind of an unspoken thing and I definitely was lurking in the shadows." Further, she specified that she was interning for the design department and that, despite not talking to many of the people involved in the show, she wanted to absorb as much as she could during the internship. She concluded, "I was so excited to be there, it was one of the best experiences of my life."
The actor also revealed that she and Thompson talked about how their paths almost crossed 15 years prior when Plaza was an intern. She said, "He couldn't believe it. He was like, 'I could not believe you were there for an entire season.'"
Plaza has described Poehler as her hero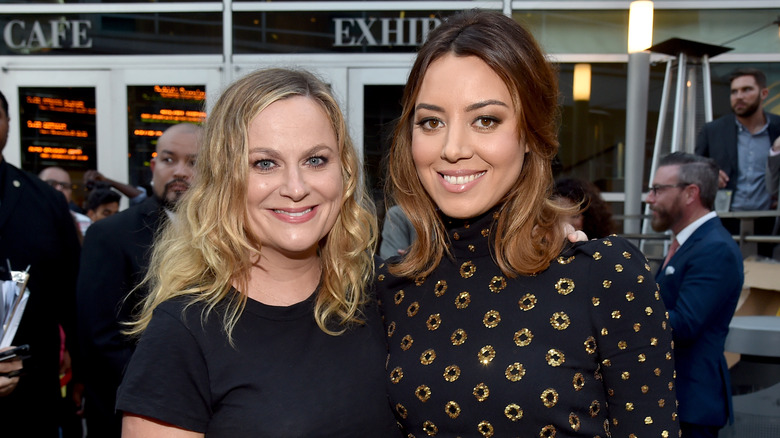 Alberto E. Rodriguez/Getty Images
Aubrey Plaza may have not had the opportunity to interact with Amy Poehler during her intern days on "Saturday Night Live," but she did, of course, end up spending seven seasons co-starring on the same popular series. In a 2013 interview with i-D, Plaza described what a dream it was for that to happen since she had considered Poehler to be her hero.
Plaza said, "I wanted to be like her in every way. I was a fan of her very early on. When I found myself on a TV show with her it was mind-blowing." Luckily, she found that the two had chemistry right away, something that she attributed to her background with the improv comedy program, Upright Citizens Brigade (which was founded by Amy Poehler). Plaza continued, "We kind of spoke the same language. It felt very natural. Instantly we had chemistry."
If you'd like to check out Plaza and Poehler acting together, "Parks and Recreation" is currently streaming on Peacock.