Bob Odenkirk's Everybody Loves Raymond Role That Everyone Forgets About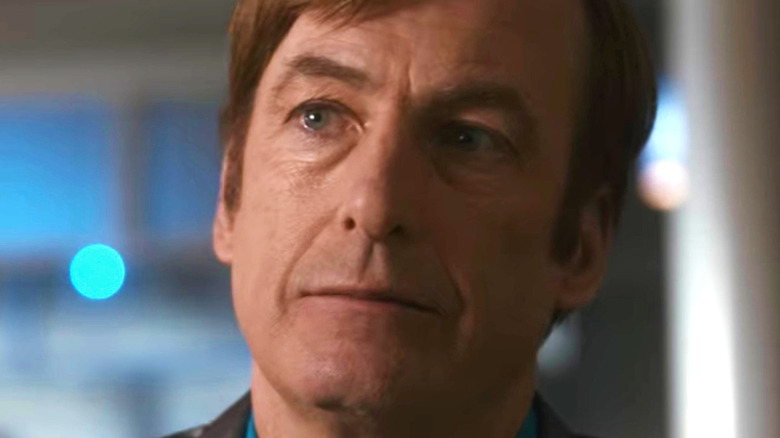 AMC/Netflix
Actor and comedian Bob Odenkirk has certainly worn many hats throughout his career. Odenkirk first rose to prominence as a writer for "Saturday Night Live" during the late '80s and throughout much of the '90s, during which time he also created and starred in the HBO sketch comedy series "Mr. Show," alongside fellow comedian David Cross.
Years later, Odenkirk's role as fan-favorite character Saul Goodman in AMC's "Breaking Bad" would launch him into full-blown superstardom. Indeed, the character was so beloved by fans and critics alike that it inspired the creation of the spinoff series "Better Call Saul," which has received immense critical acclaim and solidified Odenkirk as one of Hollywood's preeminent dramatic actors.
Looking back on Odenkirk's less-than-conventional career path, it's unsurprising that the comedian and actor has taken on plenty of comedic roles over the years that you may have forgotten — including his two brief but hilarious appearances on the iconic CBS sitcom "Everybody Loves Raymond."
Bob Odenkirk plays Ray's awkward friend from high school
Bob Odenkirk first appears on "Everybody Loves Raymond" in the Season 2 episode "High School," which saw the titular Ray Barone (Ray Romano) attending his high school reunion with his wife Debra (Patricia Heaton). In the episode, Ray reunites with his old friend Scott Preman (Odenkirk), who is a loud and dorky underachiever that was constantly bullied in high school, and remains an outcast to this day. 
Odenkirk gives a hilarious performance as Ray's cheerfully awkward friend, who goes out of his way to recount some of the most boring and unfunny stories imaginable, and admits that he cried while taking the SAT because he forgot to answer a question. Scott, and Ray's other dorky friend Warren (Brian Posehn), reappear in the Season 5 episode "Net Worth," where they somehow convince Ray to invest $1,000 in their fledgling "go-cart" business. Although he only appears briefly within "Everybody Loves Raymond," Odenkirk does a fantastic job of playing the dorky loner Scott Preman and proves (as always) his talent for making small side characters so incredibly memorable.