Black Panther Character Posters Revealed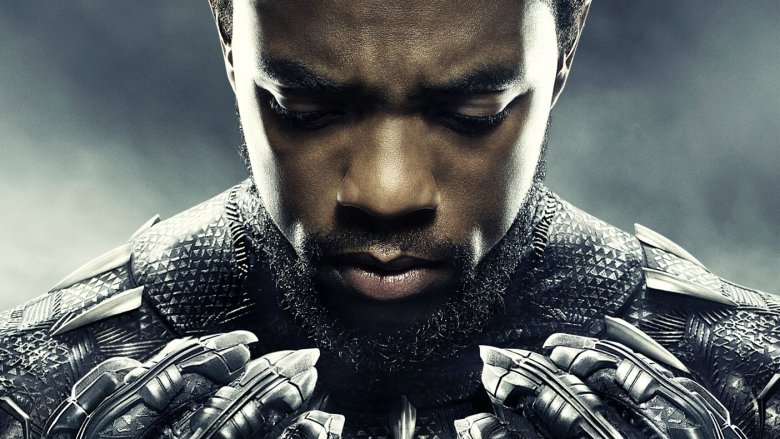 Marvel Studios
The people of Wakanda are pretty secretive, but they've just formally introduced themselves on Twitter.
Marvel unveiled character posters for next year's Black Panther using the Twitter accounts of the movie's stars, and they reveal the ruling class of the fictional African nation along with some of the villains and supporting characters from the flick. Although the character names are largely absent from the tweets, some do hint about how each character relates to the country at the center of Ryan Coogler's film.
Among the posters released: T'Challa/Black Panther (Chadwick Boseman), Erik Killmonger (Michael B. Jordan), Shuri (Letitia Wright), Okoye (Danai Gurira), Nakia (Lupita Nyong'o), Zuri (Forest Whitaker), Ramonda (Angela Bassett), and Ulysses Klaue (Andy Serkis).
Black Panther arrives in theaters on Feb. 16, 2018.
Wakanda Forever. #BlackPanther pic.twitter.com/hmsELCV0Py

— Chadwick Boseman (@chadwickboseman) November 9, 2017
His people's rage. #BlackPanther pic.twitter.com/VbqKCW5KW6

— Black Panther (@theblackpanther) November 9, 2017
Her Brother's Keeper.
Wakanda Forever. #BlackPanther pic.twitter.com/zjhYUFNZqz

— Letitia Wright (@letitiawright) November 9, 2017
Wakanda Forever. #BlackPanther pic.twitter.com/Tqt81nR7ok

— Danai Gurira (@DanaiGurira) November 9, 2017
Nakia is coming!#BlackPanther 2.16.18 @MarvelStudios pic.twitter.com/0GOL9g5Rxh

— Lupita Nyong'o (@Lupita_Nyongo) November 9, 2017
Check out Zuri 's new poster 👍🏿. You can feel the inspiration. Wakanda Forever. Get ready! #BlackPanther @MarvelStudios pic.twitter.com/ZVJlGybiaT

— Forest Whitaker (@ForestWhitaker) November 9, 2017
Wakanda Forever. #BlackPanther @MarvelStudios pic.twitter.com/teyqSKXi5w

— Angela Bassett (@ImAngelaBassett) November 9, 2017
Wakanda Forever #BlackPanther pic.twitter.com/ETeVbZXgrs

— Andy Serkis (@andyserkis) November 9, 2017
His nation's security. #BlackPanther pic.twitter.com/FJO3gVQaGW

— Black Panther (@theblackpanther) November 9, 2017
His people's pride. #BlackPanther pic.twitter.com/LrOhQc5bz8

— Black Panther (@theblackpanther) November 9, 2017