Brad Pitt Reveals Which Martial Arts Movie Icon Inspired The Fight Scenes In Bullet Train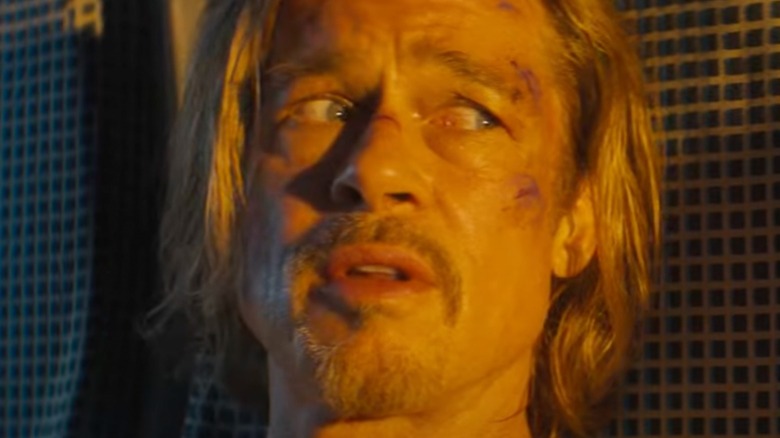 Sony Pictures
On August 5, 2022, director David Leitch will unveil his latest cinematic effort, "Bullet Train," to the world. Inspired by author Kōtarō Isaka's novel "Maria Beetle," the film follows tenured assassin Ladybug (Brad Pitt) as he prepares to get out of the game for good. However, he's pulled back in by Maria Beetle (Sandra Bullock), who has him retrieve a briefcase that's located on, as the title implies, a bullet train. Of course, on the trek from Tokyo to Kyoto, Japan, he comes face-to-face with several other assassins with plans to stop him.
Based on promotional material, "Bullet Train" has a lot going for it. From the cast that's full of Hollywood icons like Pitt, Bullock, and Michael Shannon, as well as modern stars such as Brian Tyree Henry, Zazie Beetz, and Aaron Taylor-Johnson, to a uniquely tense yet goofy tone, it's a project that has all the makings of an audience favorite. Not to mention, it's jam-packed with inventive, exciting fight sequences across several train cars that will have you laughing as you wait with bated breath to see who will come out on top.
According to Brad Pitt himself, the "Bullet Train" action scenes didn't come to fruition entirely on their own. A martial arts movie legend actually inspired much of what made it into the final film.
The works of Jackie Chan inspired the action in Bullet Train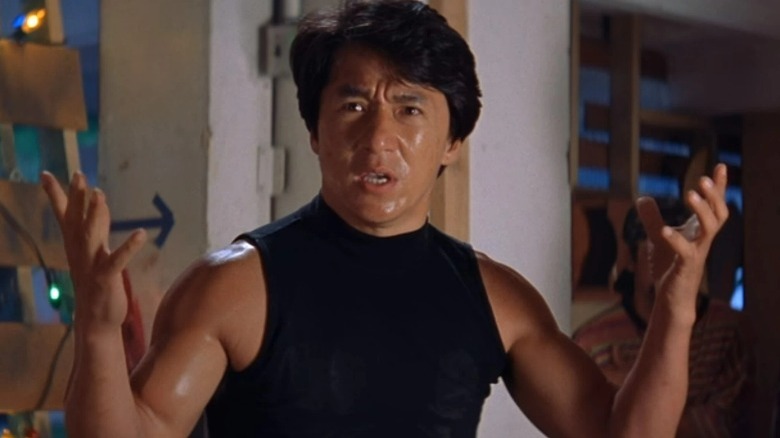 Orange Sky Golden Harvest
Ahead of the cinematic debut of "Bullet Train," Brad Pitt spoke with Entertainment Tonight on August 2, 2022, about a couple of topics. After discussing his love for pottery, which spawned during the lockdown period of the COVID-19 pandemic, he touched on how the fight scenes in "Bullet Train" came together. As it turns out, their blend of action and comedy stemmed directly from the works of legendary action star Jackie Chan, who rose to prominence decades ago through martial arts films that carried a similar tone.
"We always talk about Jackie Chan, how much we love Jackie Chan," Pitt said, referring to Chan as the action equivalent of Charlie Chaplin for the way that he could masterfully make audiences laugh while believably kicking around bad guys. He also commended the "Rumble in the Bronx" and "Rush Hour" star for all that he's pulled off in front of the camera throughout his remarkable career. "To do something in that vein, with the comedy infused into the fights, I've never done that before," concluded Pitt.
As if it couldn't get any more intriguing, Brad Pitt reveals that "Bullet Train" was partially influenced by the entertainment icon Jackie Chan. If you're a fan of action, comedy, or both, this is one film you certainly won't want to miss.