Jeff Goldblum Reveals What It Was Really Like Working On Thor: Ragnarok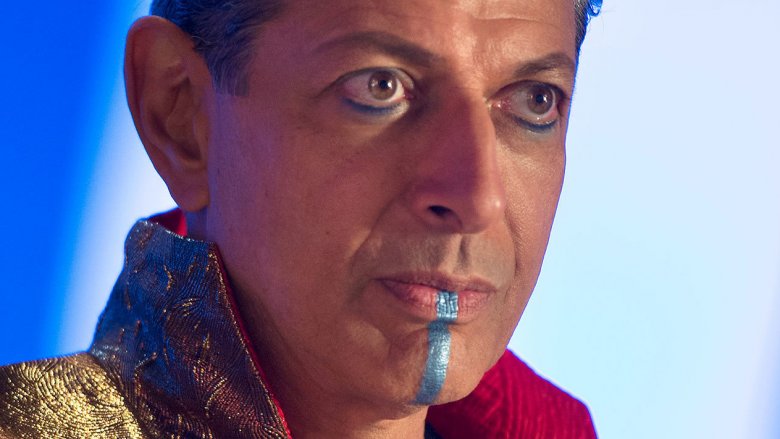 Entertainment Weekly
Did the Grandmaster have a grand ol' time filming Thor: Ragnarok, or was it all just a ruse? According to the man himself, Oscar-nominated actor Jeff Goldblum, working on the Taika Waititi-directed film was an absolute dream.
Speaking with Entertainment Weekly to discuss his involvement with the hit mobile game Marvel Contest of Champions, Goldblum opened up about playing the eccentric Grandmaster and how he and director Waititi got along on set. 
"Taika and I work in a not dissimilar way. We're nothing if not conscientious and Johnny-on-the-spot with all of our research and ideas, but then we're willing to throw it all away and just fool around and find something playful and find something that tickles us and see where the chips fall, and that's where we go," explained Goldblum. "Anything that you see in the movie was a version that was selected by Taika's tasteful editing from usually 10 other choices of stuff that we tried. We just kind of had a growth spurt and a creative ecstasy together, and what you see is the result of something from that."
The actor then gave praise to his co-stars, including Cate Blanchett (Hela), Chris Hemsworth (Thor), Anthony Hopkins (Odin), Tom Hiddleston (Loki), Mark Ruffalo (Bruce Banner/The Hulk), Tessa Thompson (Valkyrie), and Rachel House (Topaz). "Cate Blanchett is spectacular. Oh my god, and hilarious. And Anthony Hopkins, who is deep and soulful and touching and hilarious. And Chris [Hemsworth] and Tom Hiddleston and everybody. Mark Ruffalo, I found him very touching in his relationship with Thor and the whole family drama with he and Tom. Terrific," Goldblum gushed. "And Tessa Thompson is spectacular. And Rachel House, we had a ball improvising, the two of us. She's a wonderful director and teacher in New Zealand, and we improvised a lot."
Overall, Goldblum stated that he and his fellow Thor: Ragnarok "always felt in the best creative circumstances" under Waititi's direction, and that the entire cast was "in a little cocoon, a playpen of fun."
This behind-the-scenes rapport effortlessly translated onto the silver screen. Critics have praised the film for its humor, irreverence, and twist on the conventional superhero movie tropes, as well as for Waititi's expertise in directing and the cast's outstanding performances. 
Considering how well everyone worked together, it seems likely that the gang will join forces with Waititi again for the potential Thor 4.