Why First Lady Barbara Bush Wrote The Simpsons An Apology Letter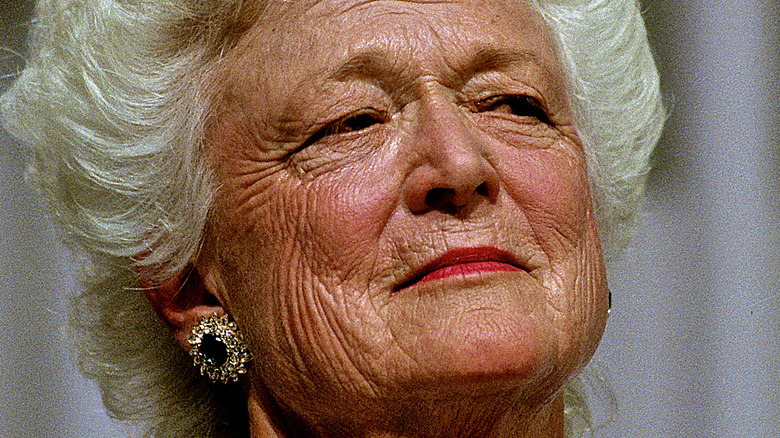 Mark Reinstein/Shutterstock
Although "The Simpsons" may not lampoon celebrities as aggressively as their counterparts on "Family Guy," over the years the beloved adult animated series has received its fair share of criticism from celebrities who have had their feelings hurt by the series. Perhaps the greatest example of this came from the controversial Season 32 episode "Panic on the Streets of Springfield," which featured a parody of "The Smiths" frontman Morrissey. Morrissey's manager vehemently attacked the episode's portrayal of the singer, and went on to claim that the show as a whole was both "hateful" and "racist" (via Variety).
In addition, there are also plenty of celebrities who have flat out refused to voice characters for the series, including several A-list actors such as Clint Eastwood, Anthony Hopkins, and George Takei. All told, it's clear that there are plenty of celebrities out there who are less-than-thrilled about "The Simpsons," and how the series chooses to characterize them — though we doubt many of them have gone out of the way to write an apology letter to the show like first lady Barbara Bush did back in 1990.
Bush apologized for her criticism of the series after receiving a faux letter from Marge Simpson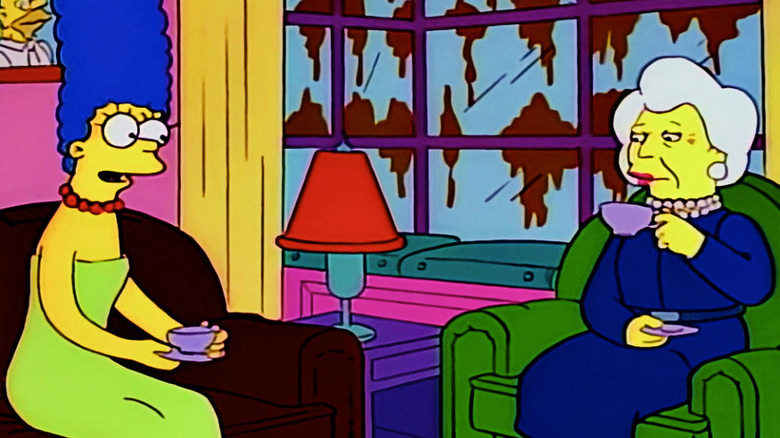 Fox
Although there are two episodes of "The Simpsons" which depict satirical portrayals of both Barbara Bush and her husband President George H. W. Bush, the first lady's criticism of the series was not at all related to her depiction within it. During a 1990 interview with People Magazine, Barbara Bush claimed that "The Simpsons" was "the dumbest thing I've ever seen," which prompted a response from the show itself, written from the viewpoint of Marge Simpson (Julie Kavner). In her letter, Marge explains that she was extremely hurt by the first lady's comments, as she believed that Bush and herself had "a great deal in common" (via The Hollywood Reporter).
The letter clearly had an effect on Bush, because the first lady actually took the time to write an apology letter addressed to Marge — which was released by "The Simpsons" showrunner Al Jean shortly after Bush's death in 2018. The letter begins, "How kind you are to write. I'm glad you spoke your mind ... I foolishly didn't know you had one." Bush went on to describe how she was looking at a plastic "The Simpsons" cup as she wrote, and how the image of the Simpson family set a nice example for the country at large. Bush closed the letter by saying "Please forgive the lost tongue," and added a small P.S. in which she called Homer Simpson "a handsome fella!"
Although Bush's apology letter is clearly in good humor, it is still quite nice to know that she took the time to apologize for her comment at all — and that she was such a good sport about the entire ordeal.