Who Plays Barney The Accountant In Parks And Recreation?
Throughout its seven-season run, "Parks and Recreation" successfully generated peals of laughter from viewers with its quirky leading characters from episode to episode. But while fans love to laugh at the rugged terseness of Ron Swanson (Nick Offerman) or the zany antics of Andy Dwyer (Chris Pratt), part of the show's successes are from the lesser-known characters that made a handful of appearances.
Though only appearing in nine episodes of "Parks and Rec," Barney's character is a favorite with the show's fandom. The dry wit and seemingly endless supply of accounting puns Barney packs into every scene leave viewers groaning with exasperation while at the same time laughing with delight at the record number of "dad jokes" he crams into his dialogue. The first time Barney is introduced to audiences, he demands Leslie Knope (Amy Poehler) evaluate his teaching at the Rec Center. His line "When it comes to accounting software, there is no 'accounting' for taste" was enjoyed by no one other than Andy Dwyer, one of only a few characters that find Barney's brand of humor to be chuckle-worthy.
Played by John Balma (per IMDb), Barney can harness the deadpan style reminiscent of Ben Stein, all the while injecting his boorish personality with quips and puns that would make a stone-faced person smile.
What makes Barney's character most memorable is perhaps his interactions with Ben Wyatt (Adam Scott), whom Barney has offered employment at Tilton & Radomski Accounting on multiple occasions. Ben's constant use of horrible accounting puns keeps Barney in stitches, clearly keeping Barney set on hiring him away from his job at the City of Pawnee.
Balma's parents wanted him to be a doctor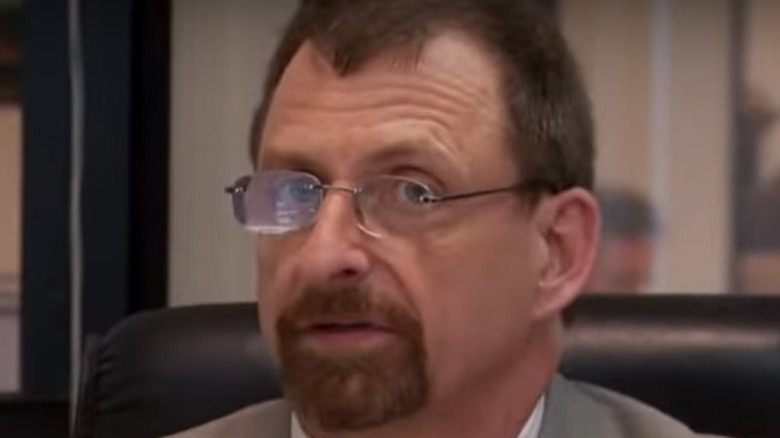 NBC
John Balma's career path wasn't the one his parents had mapped out for him. His father, the long-standing sheriff of Shasta County, California, wanted his son to pursue what he felt was a more lucrative calling. "My dad really wanted me to go into medicine," Balma told Record Searchlight, adding that his dad's lifelong career in law enforcement might not have prepared him to have a son whose true passion was acting. 
But that didn't stop Balma from making his way. He launched his acting career by first garnering a wide variety of stage roles in the Bay area while attending and graduating from Chico State and San Francisco State Universities. After 15 years, Balma began getting work appearing in smaller roles in film and television. After a 1990 appearance on the TV series "Midnight Caller," there was a sizable gap in his movie and TV roles. But after his next credit in a 1999 episode of the hit show "Will and Grace," Balma began to get steadier work in the industry. That role led to parts in various television favorites throughout the remainder of the 1990s and into the 2000s, including "Boy Meets World," "Malcolm in the Middle," "The West Wing," and "Scrubs."
After being cast as a recurring character in "Parks and Rec" in 2010, Balma has continued to work steadily in entertainment. Since the end of that show's run in 2015, Balma has landed roles in "I'm Dying Up Here" and "Grace and Frankie." His last screen credit is from the 2019 television series "Superstore."
Parks and Rec was Balma's favorite show to work on
John Balma's determination helps show just what a driven person can accomplish. He explained to Record Searchlight that a skit he was performing in grade school made him realize that he wanted to act. He continued to audition for and secure roles in plays throughout junior high and high school before expanding his horizons during his college years. He even toured European stages.
After more than 20 years in Hollywood, Balma has once again returned to the Bay area that he loves. Settled back in San Francisco, Balma has returned to his roots, perhaps hoping to help others realize their acting dreams. He desires to host acting workshops and begin acting on the stage again. 
As far as how Balma feels about his time on "Parks and Rec," the actor told Record Searchlight that the series was "the happiest set I've been on in 22 years. The crew was having a good time. The actors were really fun."