Whatever Happened To The Cast Of Twister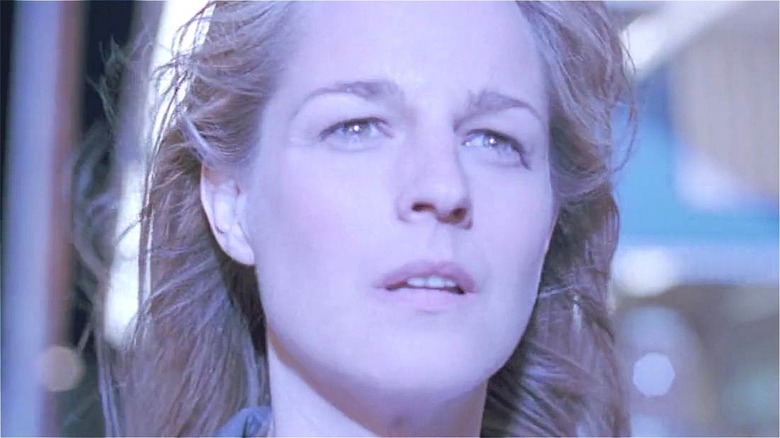 Warner Bros.
Holy moly, Auntie Em, it's a twister! Well, actually, it's just "Twister," but you get it. It's been 26 years since the blockbuster hit, "Twister," blew away audiences with its state-of-the-art special effects and jaw-dropping action. From "Speed" director Jan de Bont and a screenplay co-written by Michael Crichton, "Twister" was lauded for its sensory feast of astounding visuals — even if the screenplay itself was found lacking.
The film stars Helen Hunt and Bill Paxton as tornado chasers (and exes) Jo and Bill Harding, along with an ensemble cast of colorful characters. In the rural setting of Oklahoma during the high storm season, a team of meteorological geeks set out to record these large-class tornadoes as they rip through the countryside.
Living up to its name, "Twister" was a powerful force of nature at the box office, making it the second-highest grossing film of 1996. After all this time, many fans of the popcorn action flick may be wondering what happened to the movie's various cast members. No, they weren't carried away to the land of Oz, although some have gone on to other very interesting places. Here is what the cast of "Twister" is up to today. 
Helen Hunt as Jo Harding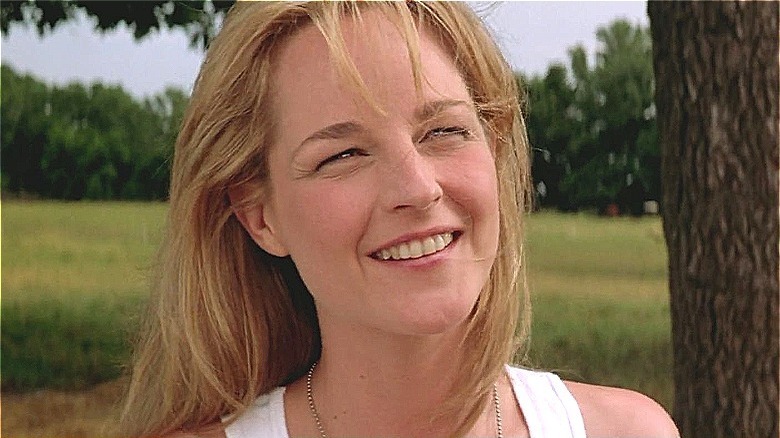 Warner Bros.
Helen Hunt plays Dr. Jo Harding in "Twister," a role which helped the actor to transition from TV star to big screen contender. Jo is the head scientist of a group of storm-chasers in Oklahoma attempting to get more data on tornadoes by using a revolutionary tool that Jo has dubbed "Dorothy." Meanwhile, Jo's ex-husband, Bill Harding (Bill Paxton), pays a surprise visit with his new fiancé to ask Jo to sign divorce papers.
Hunt may have quit storm chasing, but she remained a prominent actor in both film and television following the success of "Twister." She followed it up with a leading role in "As Good As It Gets," earning an Academy Award for best actress in 1998. She then went on to act in more feature films, including "Dr. T & the Women," "Pay It Forward," "Cast Away," "What Women Want," and "The Curse of the Jade Scorpion."
In the 2000s, Hunt went behind the camera to both direct and star in the 2007 dramedy, "Then She Found Me." Hunt also directed and starred in the 2014 film, "Ride," and would go on to direct television episodes for "Californication," "This Is Us," "House of Lies," and "American Housewife," among others. More recently, Hunt joined the cast of the acclaimed sci-fi podcast series, "Solar," and she also co-starred in the Starz series, "Blindspotting."
Cary Elwes as Jonas Miller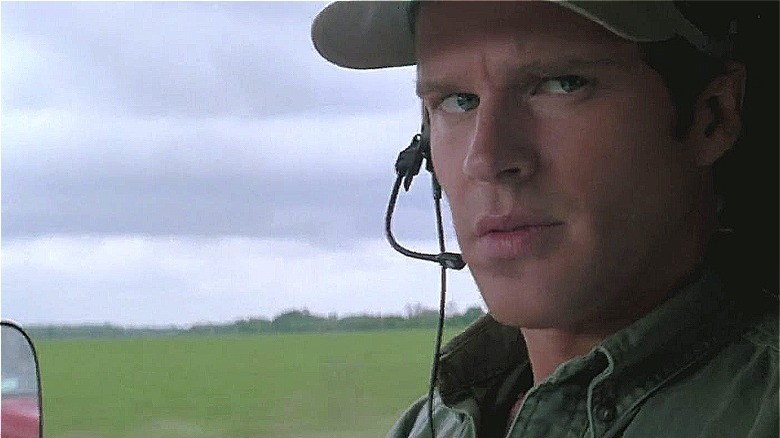 Warner Bros.
As if the destructive force of Mother Nature wasn't enough of an antagonist, the makers of "Twister" decided to throw in Dr. Jonas Miller, a rival storm chaser who is the bane of the Hardings' existence. Played by Cary Elwes, Jonas is not in the meteorology game for the love of science, but for the fame and glory. Unfortunately, Jonas's pride and obstinance prove to be his downfall.
Elwes has been a nonstop presence in the acting world, appearing in both film and television roles steadily over the decades. After "Twister," Elwes played the dorky new suitor of Jim Carrey's ex in the 1997 comedy "Liar, Liar," and also had roles in "The Informant," "Kiss the Girls," "The Cradle Will Rock," and "Shadow of the Vampire." He became an esteemed member of the horror film community when he played Dr. Lawrence Gordon in 2004's "Saw," a role which he reprised in "Saw: The Final Chapter" in 2010.
Still, his trademark role is the heroic and handsome Westley from the 1987 classic romantic adventure, "The Princess Bride." In 2014, Elwes published a best-selling book that contained stories about his experiences while making the film, titled "As You Wish: Inconceivable Tales From the Making of The Princess Bride." In 2021, Elwes co-starred with Brooke Shields in the Netflix original holiday romance, "A Castle For Christmas," and he can be seen in the upcoming "Mission: Impossible — Dead Reckoning Part 1."  
Jami Gertz as Melissa Reeves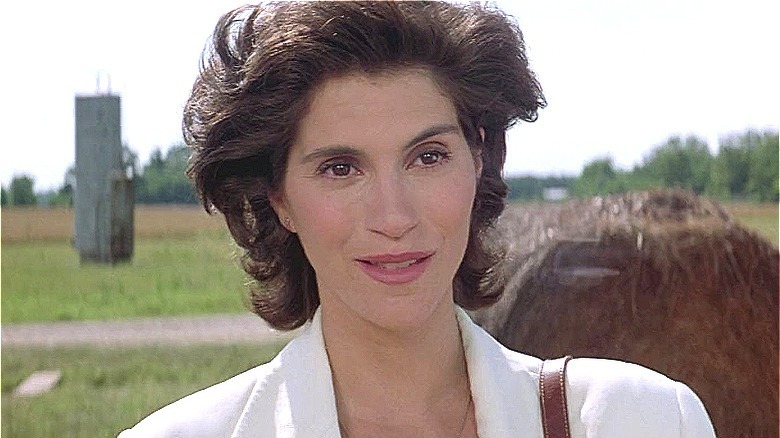 Warner Bros.
Jami Gertz played Dr. Melissa Reeves in "Twister," a reproductive therapist who is engaged to Paxton's Bill Harding. Melissa gets more than she bargained for when she agrees to tag along with the group of eccentric severe weather enthusiasts, and it isn't long before she comes to regret her decision, as she discovers that Bill isn't ready to leave his wild storm-chasing days behind him.
After her role in "Twister," Gertz had a six-episode guest role on the NBC medical drama, "ER," as Dr. Nina Pomerantz. She also appeared in the series "Ally McBeal" as Kimmy Bishop, for which she was nominated for an Emmy. Gertz starred in several made-for-TV movies in the early 2000s, including "Gilda Radnor: It's Always Something," "Fighting the Odds: The Marylin Gambrell Story," and "Lost Holiday: The Jim and Suzanne Shamwell Story." From 2002 to 2006, Gertz co-starred in the CBS sitcom "Still Standing" with "Game of Thrones" actor Mark Addy. She had a guest role on the hit Showtime series, "Entourage," as Marlo Klein.
In 2012, Gertz co-starred in the TV comedy "The Neighbors," a show about a family who movies into a community inhabited by extraterrestrials. After performing guest spots on the series "Difficult People" and "This Is Us," Gertz took on a supporting role in the 2022 Amazon original movie, "I Want You Back," starring Charlie Day and Jenny Slate.
Lois Smith as Meg Greene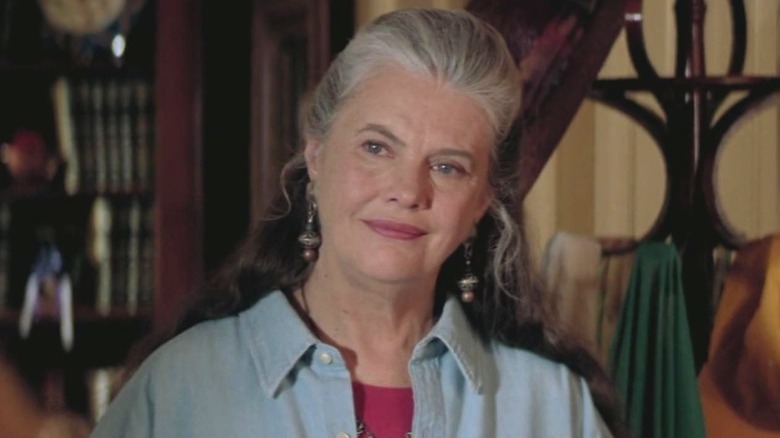 Warner Bros.
Actor Lois Smith plays Meg Greene, the beloved matronly figure in "Twister." Though she is only related by blood to Jo, Meg is the honorary mother to all of the members of the group. She generously feeds them before sending them on their way, but not before giving Jo some words of wisdom. When her home is hit by a high-category tornado, the troops rush to Meg's aid.
Smith has had a long film career that began in the 1950s with an appearance in Elia Kazan's "East of Eden" alongside James Dean. The veteran actor appeared in many more films from the late 1990s into the early 2000s, including "Larger Than Life," "The Eternal," "The Pledge," "Minority Report," and "Hollywoodland."
From 2003 to 2004, Smith had a recurring role on the ABC soap opera, "One Life to Live," playing Besty Cramer, and a four-episode stint on "ER" as Gracie, Samantha Talbert's (Linda Cardellini) wily grandmother. Smith also played Adele Stackhouse in HBO's "True Blood," the wise and beloved grandmother of Sookie (Anna Paquin) and Jason (Ryan Kwanten) Stackhouse. In 2012, Smith co-starred with Moira Tierney in the YouTube series drama, "Ruth and Erica," the story of a middle-aged woman who struggles to take care of her aging parents.
Today, Smith continues to have a steady acting career. In 2020, she appeared in the Showtime crime drama "Ray Donovan," which stars Liev Schreiber. She also appeared in the 2020 film "Tesla," and in Wes Anderson's "The French Dispatch" in 2021.
Alan Ruck as Robert Nurick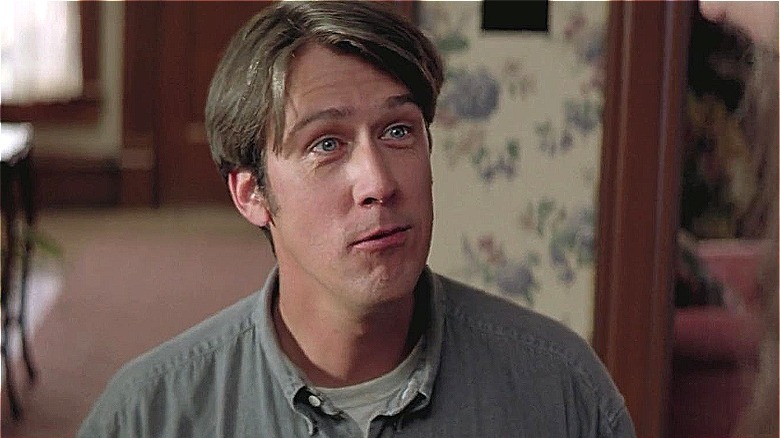 Warner Bros.
Among the unique team of storm chasers in "Twister" is Robert "Rabbit" Nurick, the map man who plans the best routes to the tornado's path. He is played by actor Alan Ruck: A familiar face to many, perhaps because of his role in the 1986 John Hughes comedy, "Ferris Bueller's Day Off." Ruck played Ferris's best bud, Cameron Frye, whose social awkwardness and emotional state juxtaposed the bold titular character. Ruck has maintained a steady acting career in films and television, mostly in supporting roles. Following his appearance in "Twister," Ruck went on to co-star in the ABC sitcom "Spin City" alongside Michael J. Fox. Ruck played the obnoxious assistant deputy mayor, Stuart Bondek, until its cancellation in 2002. He also appeared in guest roles on television series such as "Scrubs," "Stargate Atlantis," "Medium," "Ghost Whisperer," and "Boston Legal," as well as the feature films "Cheaper By the Dozen," "The Happening," and "I Love You, Beth Cooper."
In 2016, Ruck joined the cast of Fox's "The Exorcist," based on the supernatural horror film franchise. The show was canceled after two seasons despite high praise from critics and audiences. Currently, Ruck has a starring role in the HBO black comedy "Succession," in which he plays Connor Roy, the eldest son of billionaire Logan Roy (Brian Cox). Ruck can also be seen in the Hulu original miniseries, "The Dropout," as Dr. Jay Rosen.
Scott Thomson as Jason Rowe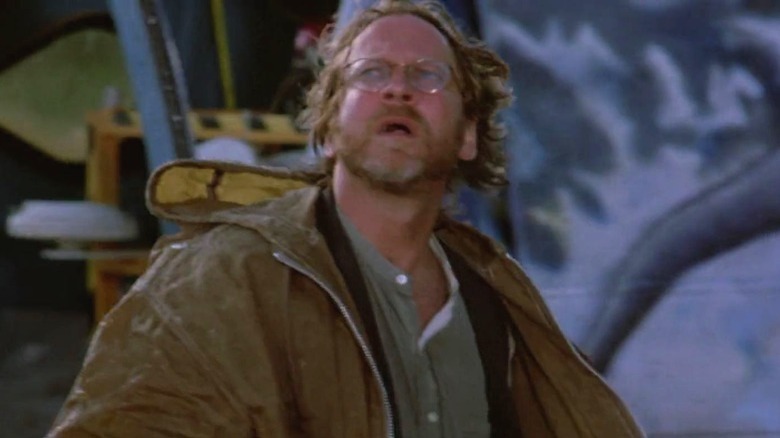 Warner Bros.
Scott Thomson played Jason "Preacher" Rowe in "Twister," yet another storm chaser enthusiast and part of Jo's team. Thomson first gained notoriety in the 1980s, when he starred as the xenophobic jerk, Chad Copeland, in the "Police Academy" films. Still, others may remember him from classic 80s films "Fast Times at Ridgemont High," "Ghoulies," "Johnny Dangerously," and an uncredited role as a beach thug in "RoboCop."
Following "Twister," Thomson appeared in several films in the late '90s and early 2000s, including "Jack Frost," "Blast From the Past," "Loser," and "Clockstoppers." He also dabbled briefly in voice acting, performing the role of Franco in the Italian animated series, "The Spaghetti Family." In 2009 and 2010, he made guest appearances in the TV shows "Big Love," "Ghost Whisperer," and "True Blood."
In 2015, Thomson made his final film appearance in "Greater," a sports drama that tells the true story of college football player Brandon Burlsworth. It seems that Thomson may have put his acting days behind him for the time being, as he has not made any appearances in film or television since the release of "Greater."
Jeremy Davies as Laurence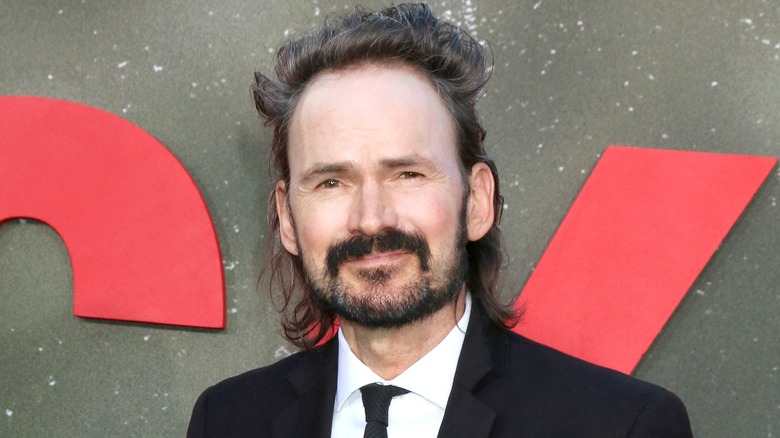 Kathy Hutchins/Shutterstock
A fellow storm-chaser, Laurence is played by Jeremy Davies in "Twister." Though he was relatively unknown in mainstream Hollywood at the time, Davies has gone on to become a much more prominent figure for his recent television performances. Many of Davies' acting credits through the 1990s and 2000s consist of independent films, including "Spanking the Monkey," "The Locusts," "The Million Dollar Motel," "Ravenous," "Secretary," and "Dogville." Davies also appeared in the Steven Spielberg war epic, "Saving Private Ryan," in 1998.
In 2008, Davies joined the ABC series "Lost" as a regular cast member for the mystery drama's fourth season. Davies played Dr. Daniel Faraday, a physicist with expertise in the enigma of space-time. Audiences would later discover that Daniel was the son of Charles Widmore (Alan Dale) and Eloise Hawking (Fionnula Flanagan), who were among the original inhabitants of the island and members of the DHARMA Initiative. When "Lost" concluded in 2010, Davies continued to make appearances in several television shows, including "Hannibal," "Constantine," and the FX Western drama, "Justified," where he earned an Emmy for his performance as the shady criminal Dickie Bennett.
Davies continued his career in television through the 2010s, appearing on TV shows like "Sleepy Hollow," "American Gods," and "Twin Peaks." He played the character of Dr. John Deegan in the CW's Arrowverse for shows "The Flash," "Arrow," and "Supergirl." In 2021, Davies played Terrence in the acclaimed supernatural horror, "The Black Phone."  
Sean Whalen as Allan Sanders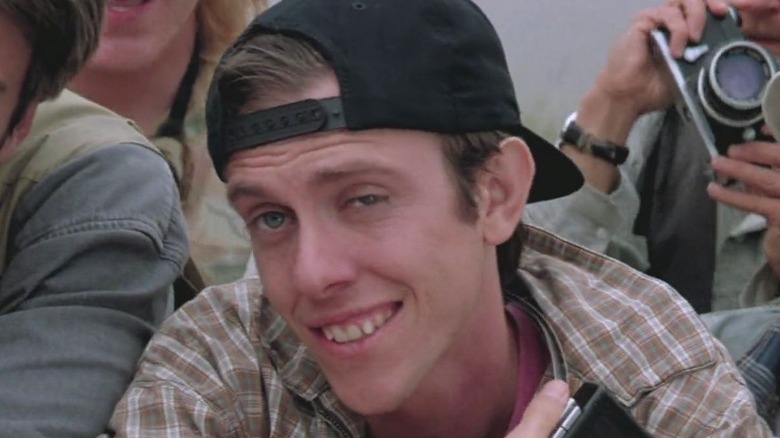 Warner Bros.
Hey, it's that guy! From that movie! Yep, Sean Whalen's face has appeared in many, many different titles over the years, including his role in "Twister" as Allan Sanders. Since the 1990s, Whalen has appeared in nearly 140 films, TV shows, and commercials. Some might recall him from a famous "Got Milk?" commercial, in which he played an Alexander Hamilton enthusiast who desperately tries to answer a radio trivia question with a mouthful of peanut butter. Though his career has consisted mainly of supportive character roles, Whalen seems to happily embrace his status as a consistently familiar face (as observed by his Instagram account and other social media profiles).
Whalen has acted consistently since his role in "Twister." He took on roles in such popular '90s movies as "The Cable Guy," "Men in Black," and "Never Been Kissed." In 2001, Whalen had a recurring role on the sci-fi series "Special Unit 2," which aired on UPN for two seasons. He then went on to have several TV appearances over the years, showing up in series like "Sabrina the Teenage Witch," "Star Trek: Enterprise," "Scrubs," "Lost," "It's Always Sunny in Philadelphia," and "Shameless."
Between acting gigs, Whalen is also an acting coach and teacher. From 2018 to 2020, Whalen ran the podcast "Acting Class Weekly," a series that gave advice to hopeful actors and had discussions with others in the biz.
Todd Field as Tim Lewis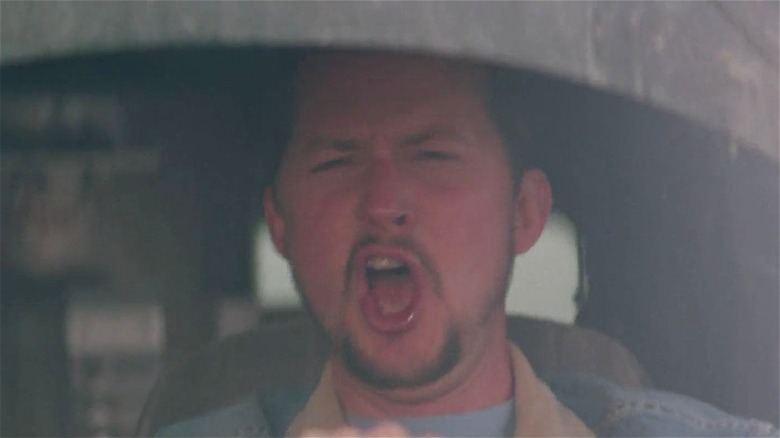 Warner Bros.
Yet another member of Jo's crew is Tim "Beltzer" Lewis, played by Todd Field. A memorable sequence in "Twister" shows the gang merrily racing to get ahead of a storm in a convoy of vehicles, as each of them rocks out to their own brand of chase music. For Beltzer, it's the rousing melody of Rogers and Hammerstein's "Oklahoma!", which he happily belts out in the driver's seat.
After "Twister," Field took on acting roles in feature films such as Stanley Kubrick's "Eyes Wide Shut," and the 1999 remake of "The Haunting." However, in the early 2000s, Field's focus shifted from working in front of the camera to behind it. He directed and co-wrote the 2001 drama, "In the Bedroom," starring Sissy Spacek and Tom Wilkinson as a middle-aged couple grieving over the murder of their son. The movie received high critical praise and several Academy Award nominations.
Field followed up his first indie hit with 2006's "Little Children," in which Kate Winslet and Patrick Wilson play neighbors who have an affair amidst their shambling marriages. The film was also a critical success, garnering Oscar nominations for Kate Winslet and Jackie Earle Haley.
After a decade and a half without a credit, Field has recently returned to the fold directing the richly anticipated "Tar," with Cate Blanchett in the lead role as a prominent orchestra conductor.
Bill Paxton as Bill Harding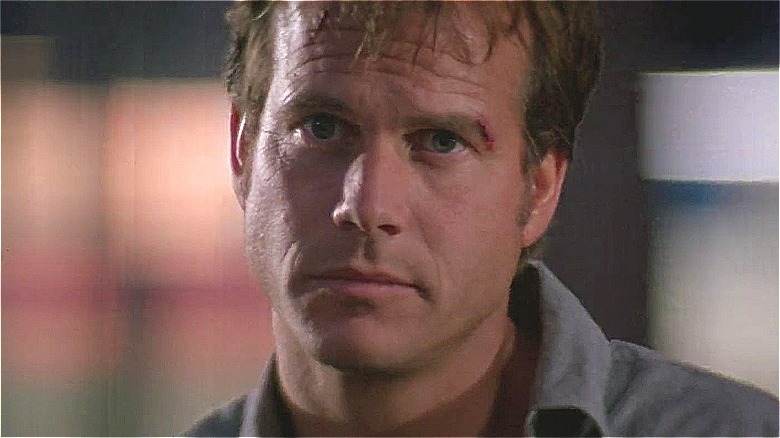 Warner Bros.
Star of both big and small screens, Bill Paxton played Bill Harding in "Twister." As a former storm chaser, Bill has since retired and is about to begin a new job as a weather anchor — an occupation that his ex-wife, Jo, deems to be a step down. Although Bill is trying to put his old life behind him, he can't help but get sucked into the excitement once more as Jo and her crew endeavor to put the experimental "Dorothy" machine to work. 
In 1997, Paxton played historian Brock Lovett in the James Cameron action romance epic, "Titanic." Over the next decade, he would act in a variety of genres, including the films "Mighty Joe Young," "Vertical Limit," "Spy Kids" 2 and 3, "Thunderbirds," and "The Good Life."
In 2006, Paxton was cast in the HBO drama "Big Love," which aired for five seasons. Paxton starred as Bill Henrickson, a devout fundamentalist Mormon who practices polygamy with his three wives (played by Jeanne Tripplehorn, Ginnifer Goodwin, and Chloe Sevigny). The show was nominated for several awards, including three Golden Globe nominations for Paxton.
Paxton lived with heart issues for the majority of his life, a condition that may have indirectly led to his death in 2017. Days after having emergency corrective surgery, Paxton had a stroke and died on February 25 (as reported by People). A year later, the actor's family filed a wrongful death suit against the anesthesiologists involved in the surgery. The suit was settled in February 2022, and the family was awarded $1 million (via Deadline). 
Philip Seymour Hoffman as Dustin Davis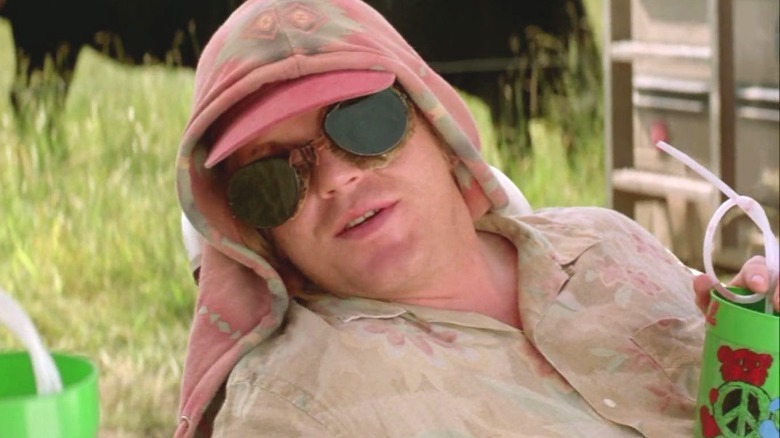 Warner Bros.
Of all the storm chasers in the "Twister" crew, the exuberant and outgoing Dustin Davis (played by Philip Seymour Hoffman) is perhaps the most memorable. Whether he is speeding down the road in his customized school bus or blasting Van Halen from a loudspeaker, Dustin knows how to leave a lasting impression.
Though Hoffman's career began in the early 1990s, he was still a relative unknown until "Twister." Following his appearance in the action disaster film, Hoffman played a boom mic operator named Scotty in Paul Thomas Anderson's "Boogie Nights" in 1997. He went on to have prominent roles in several more films, including "The Big Lebowski," "Patch Adams," "Magnolia," "Almost Famous," and "Punch-Drunk Love."
Hoffman caught the attention of many film critics when he starred as the titular character in the historical drama, "Capote," in 2005. The movie was based on true events which occurred in the life of writer Truman Capote, the author of "In Cold Blood," a work of nonfiction that told the story of a murdered family in Kansas. He was awarded the Academy Award for best actor in 2006 for his performance.
In 2013, Hoffman appeared in the "Hunger Games" series as Plutarch Heavensbee, who was featured in the films "Catching Fire" and "Mockingjay" Parts 1 and 2. "Mockingjay Part 2" would be Hoffman's final recorded performance, as he died of an accidental overdose in 2014 at the age of 46.