Thor: Ragnarok's Tessa Thompson Wants To Star In A Saga Movie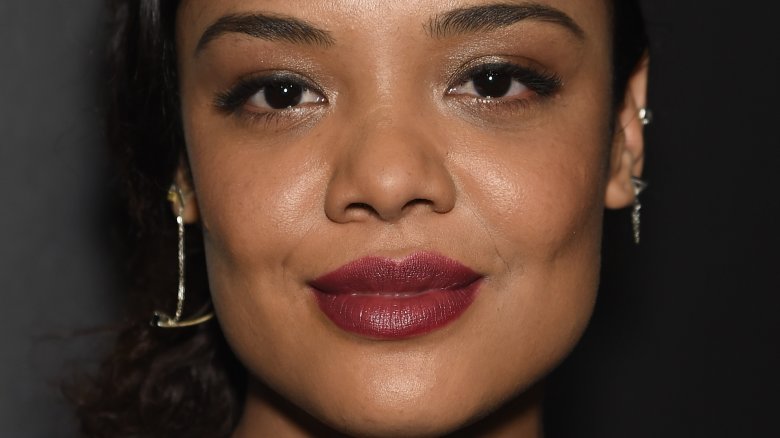 Getty Images
For those of you who think Thor: Ragnarok standout Tessa Thompson would be the perfect person to play Alana in a film adaptation of the Saga comic series, you aren't alone. Thompson, who won critics and fans over with her badass portrayal of Valkyrie in the third Thor film, revealed that she would absolutely love to star in a Saga movie.
The conversation started when a fan noted that, after seeing Thompson's performance as Valkyrie, he believes she should play Alana. "After watching Thor: Ragnorok, I'm convinced Tessa Thompson would be a perfect Alana in a Saga movie adaptation," the fan wrote. Thompson then responded, "Oh my. I'm very obsessed with Saga. That would be so dreamy." Shortly after, the actress tweeted the cover image from Saga issue #8 with the caption, "Mood." The cover depicts Alana blowing a massive pink bubble of chewing gum while reading a book, her visored helmet resting on her thigh. 
Unsurprisingly, the internet freaked out when Thompson expressed her interest in portraying Alana on the big screen. Fans quickly started dream-casting the potential movie (Star Wars actor Oscar Isaac currently seems to be the top contender for Marko, Alana's husband) and creating art that places Thompson's face on Alana's body. Original Thor movie writer Zack Stentz even tweeted his approval, writing that the idea is "literally [a] perfect pairing of actress with material" and that he would be "happy to write" a Saga adaptation with Thompson in the lead.
Written by Brian K. Vaughn and illustrated by Fiona Staples, Saga is an epic space opera comic book series that pulls inspiration from Star Wars and infuses fantasy elements akin to those featured in Game of Thrones. The series centers around Alana, of course, and her husband Marko, who are from extraterrestrial races that have long been at war. Along with their daughter, Hazel, the two flee from authorities on both sides of an intense galactic war. 
Though Thompson's eagerness to play Alana in a Saga movie is exciting, there hasn't been any official word that such a project is actually in the works. Hopefully if talks of a Saga adaptation do start to surface, Thompson's name will be at the top of the list for potential stars.