Who Plays Governor Martin Mendez On Blue Bloods?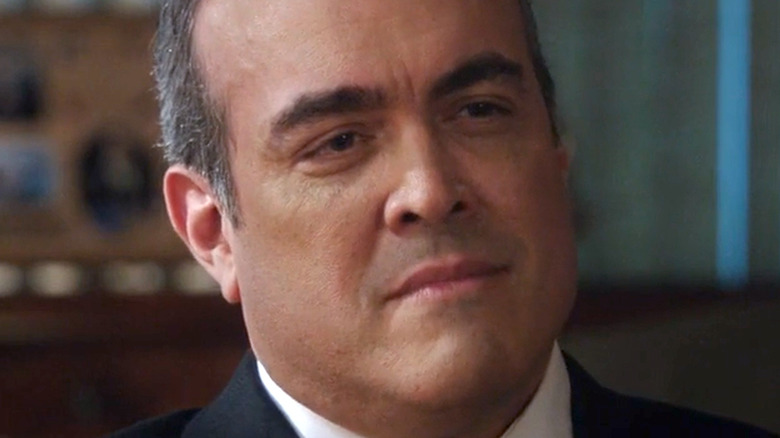 CBS
With over 200 episodes under its belt, it's safe to say that "Blue Bloods" is a big hit with fans. According to TVByTheNumbers, the crime drama has previously proven to be a ratings powerhouse for CBS. It has also attained an impressive audience score on Rotten Tomatoes. The series is known for its accurate portrayal of policing, compelling drama, and memorable characters. Indeed, these memorable characters not only include series regulars, but also recurring stars.
Throughout the series, NYPD Commissioner Frank Reagan (Tom Selleck) constantly tangles with adversaries on both sides of the law. He is often forced to make difficult decisions and deal with less than favorable individuals like Governor Martin Mendez. The character first arrives in Season 8, Episode 9 ("Pain Killers') and has been a recurring persona on the series. Police brutality is a topic of interest throughout Season 11 of "Blue Bloods," and Governor Mendez makes a move that threatens the pensions of those that commit such infractions. Frank and the Governor both want reform, and both engage in their own form of political manipulation to get their desired results.
Governor Mendez's role showcases the political side of policing and how much it factors into how the criminal justice system works. While his presence is brief, the character has significantly impacted the series, and it shouldn't be surprising given who is bringing the divisive personality to life.
David Zayas plays Governor Martin Mendez on Blue Bloods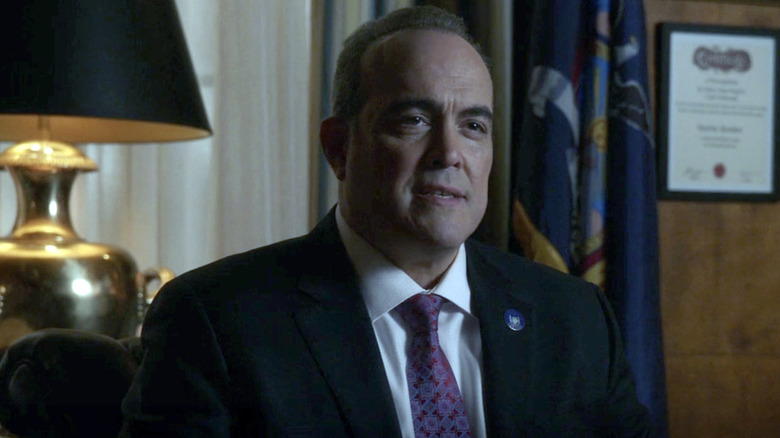 CBS
Former "Dexter" actor David Zayas has played Governor Martin Mendez in six episodes of "Blue Bloods." Throughout his career, Zayas has accumulated an impressive number of credits to his name. This includes roles on "Bloodlines," "Deadly Class," "Shut Eye," and "Law and Order." One of his bigger claims to fame is playing the Batman character Saul Maroni in "Gotham." Of course, he is best known for playing Angel Batista on "Dexter" and "Dexter: New Blood."
Zayas had dreams of becoming an actor when he was 13 years old after seeing Al Pacino's performance in the 1975 classic "Dog Day Afternoon." But before he could make it in Hollywood, Zayas served in the Air Force and then worked as an NYPD officer for almost 15 years. He would eventually make a move to acting, where he got his big break playing Enrique Morales on the HBO series "Oz." In an interview with NPR, Zayas talked about how the journey has been a difficult yet worthwhile affair, saying, "When you're 13, you don't think of the challenges that come with [acting], the sacrifices you have to make, the cesspools you might have to swim through to get there. And it's all worth it. I wouldn't have it any other way."
The man has a solid amount of experience both on and off camera, which is most assuredly why he continues to impress every time he steps on the screen. It's no surprise that shows like "Blue Bloods" continue to utilize his skills, and it will be interesting to see what he does next.