Paper Girls' Ronald Reagan Comes By His Acting Chops Honestly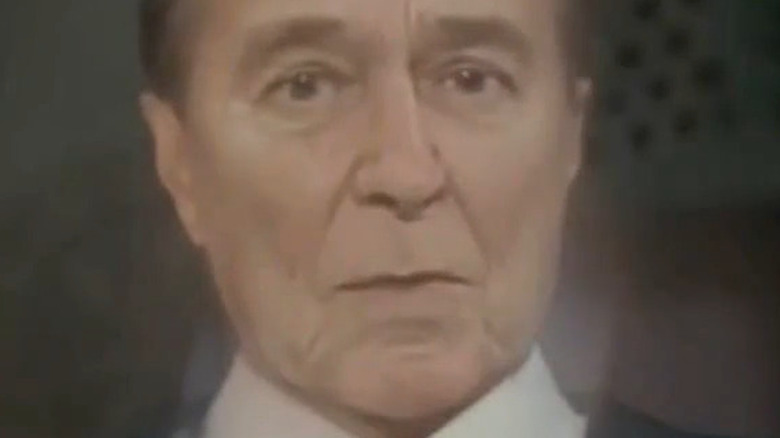 Amazon Studios
"Paper Girls" wants to remind viewers that the 1980s sucked at times. Sure, the music was great and the fashion was groundbreaking, but it was still a decade marked by sociopolitical anxieties, national hysteria, and the threat of nuclear war. Ronald Reagan was the president of the United States for most of the decade too, and his role in governing the country made him a polarizing figure.
Reagan is a presence through the Amazon series, which begins in the year 1988 and follows a quartet of 12-year-olds as they brace themselves for a life-changing adventure. Newspaper headlines highlight that Reagan is taking a tough stance on America's turbulent relations with Russia, but he also makes a couple of cameos. One of the characters, Erin (Riley Lai Nelet), dreams of becoming a politician someday, and she's occasionally visited by Reagan in her dreams.
There were no ghosts of divisive politicians involved in the making of "Paper Girls," though the characterization of the former president is so on-point that you'd be forgiven for thinking he was the real deal. In actuality, Reagan was played by a performer who's a relative newcomer to the screen, but he does have some impressive acting credits to his name already.
Marcus Truschinski is a veteran of the stage
Marcus Truschinski is the name of the actor who plays Ronald Reagan on "Paper Girls." Per IMDb, the Amazon series is only his second on-screen role, but he is a veteran of the stage and he's played some major characters throughout the years. 
According to The Courier, Truschinski's love for theater stems back to his high school days. The actor told the outlet that there's a picture depicting him and some of his classmates watching a "Macbeth" stage show at the American Players Theater. Fast forward to the year 2022, and the "Paper Girls" star can claim that he's now part of the theater's acting group, and he's played the title character in the aforementioned Shakespearian tragedy.
Landing the lead role in a William Shakespeare play is no small feat, but playing significant parts in beloved stage shows is nothing new for the actor. The American Players Theater notes that Truschinski's other stage credits include "Pride & Prejudice" and "Death of a Salesman," in which he played Mr. Darcy and Biff Loman, respectively. Now that he's appeared on a hit streaming series, though, it wouldn't be surprising if he becomes a regular on the screen as well.