Mark Wahlberg Clarifies His Controversial Boogie Nights Comment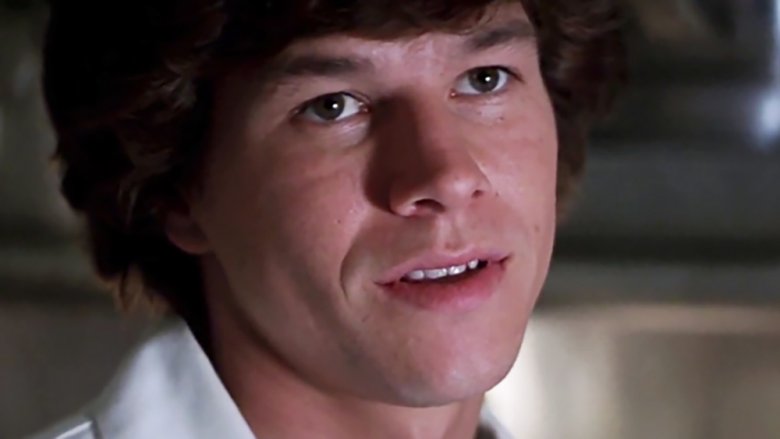 Mark Wahlberg won't take a role like Dirk Diggler ever again, but he wants to set the record straight as to why.
Last month, Wahlberg stated during an appearance at the UIC Pavilion in Chicago that playing porn star Dirk Diggler in director Paul Thomas Anderson's Boogie Nights was at the top of his personal list of bad career choices. "I just always hope that God is a movie fan and also forgiving, because I've made some poor choices in my past," Wahlberg remarked at the time. "Boogie Nights is up there at the top of the list." The 46-year-old actor's comment spread like wildfire, and now, he has opened up to PEOPLE (via Entertainment Weekly) to clarify what he said.
During the premiere of Daddy's Home 2 on Sunday, Wahlberg stated that he was actually trying to say he hopes The Man Upstairs will have a sense of humor about his portrayal of Dirk Diggler. "I was sitting in front of a couple of thousand kids talking about and trying to encourage them to come back to their faith, and I was just saying that I just hope he has a sense of humor because I maybe made some decisions that may not be okay with him," said Wahlberg. 
He then commented that the discussion about Boogie Nights began when someone asked if he would accept a similar type of role now. "I don't know if that would make my wife [Rhea Durham] all that comfortable," Wahlberg noted. "I don't want to compromise my artistic integrity or choices based on my faith or my family, but I also have other things to consider, and being a little bit older and a little wiser, the idea of having to explain that movie and the reason behind it to my kids is another issue."
Though it's great to finally hear the genuine meaning behind Wahlberg's remark, it comes only after one of his fellow Boogie Nights co-star caught wind of it–and expressed their disappointment in knowing he would say something like that. Julianne Moore, who received an Academy Award nomination for her performance as Amber Waves in the film, told Andy Cohen on Watch What Happens Live that she was "really surprised" by Wahlberg's words. "Oh my God, I think he should thank God for Boogie Nights. It made his career!" she said. "Yeah, my God, it's a great movie. He was great in it." 
Sounds like Wahlberg will stick to more straight-laced characters from now on.