Some Only Murders In The Building Fans Have A Bleak Opinion Of Steve Martin's Character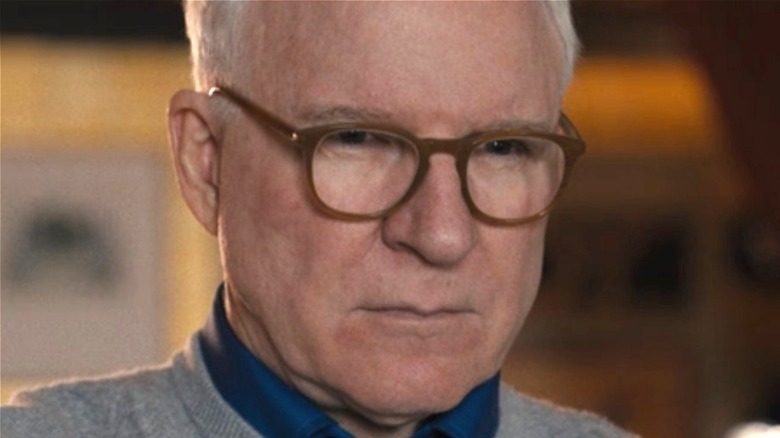 Hulu
"Only Murders in the Building," which was created by Steve Martin and John Hoffman, premiered on Hulu in August of 2021 and was immediately well received. The first season has a perfect Tomatometer score on Rotten Tomatoes, alongside a 93% audience score. Two weeks after the premiere, the series was swiftly renewed for a second season, which began airing in June of 2022 (via Variety).
The series follows three residents of the Arconia, a luxury apartment complex in Manhattan. This trio includes former crime show actor Charles-Haden Savage (Martin), struggling Broadway director Oliver Putnam (Martin Short), and an enigmatic young woman named Mabel Mora (Selena Gomez). All of the central cast members share an obsession with true crime. When one of the other residents of the building is murdered, the three decide to start a podcast together to investigate what may have happened to the dead resident.
As the co-creator and one of the three main stars, Martin is an undeniably essential part of "Only Murders in the Building." However, some fans have a bit of a bleak opinion on the veteran comedian's role in the show — here's what they have to say.
Some fans think Martin is the show's weakest link
In a Reddit thread discussing the series as a whole, one fan, u/PoisonIvvy, declared somewhat of an unpopular opinion. First, they noted that they had mixed feelings about the show, calling it charming while also noting that they don't always connect with the humor. Then, they continued, "Martin Short carries it IMO, Gomez is fine but I actually think Steve Martin is the weakest of the three, not that his acting is bad, it's just that none of his comedic moments land for me."
Another fan, u/Delicious-Tachyons, jumped in to agree and noted that they think Martin is hit or miss, depending on the script. On the other side of the spectrum, u/AthenaGrande admitted that they aren't typically a fan of either of the two septuagenarian actors, but also added that they like them in this series. This user wrote, "This is actually one of my favorite things I've seen them in. I normally can't really stand either of them, but they feel so different than their normal characters."
This opinion is definitely a rare one. Another Reddit post, which noted that Martin was named TVLine's performer of the week, was full of praise for Martin's performance in the series. For example, u/taydraisabot wrote, "I never thought we'd see this greatness from him on screen ever again. He's ageless and limitless." Further, another fan wrote, "More like Performer of our LIFETIME."
Martin didn't always plan to play Charles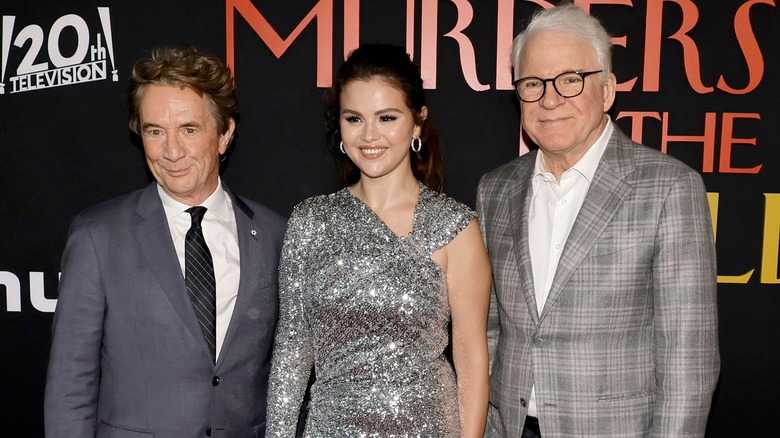 Kevin Winter/Getty Images
As mentioned above, Steve Martin is not only one of the stars of "Only Murders in the Building," but also the co-creator alongside John Hoffman. And, as it turns out, when Martin first came up with the idea, he had no intention of playing Charles. In a 2021 interview with the New York Times, Martin explained that he developed the idea for the series over the course of many years, but hadn't imagined himself in the mix of actors until he told the idea to Martin Short.
Martin said, "Marty [Short] said, 'You know, you're old — we could do this.'" Notably, producer Dan Fogelman added that he believes this sort of humble process is just part of who Martin is. Fogelman said, "I don't think Steve operates from a place of, what's a vehicle I can create for myself? He thinks, 'What's an idea that I find funny or interesting?' Then it probably takes somebody nudging him to do it himself."