Who Plays Mac On Amazon Prime's Paper Girls?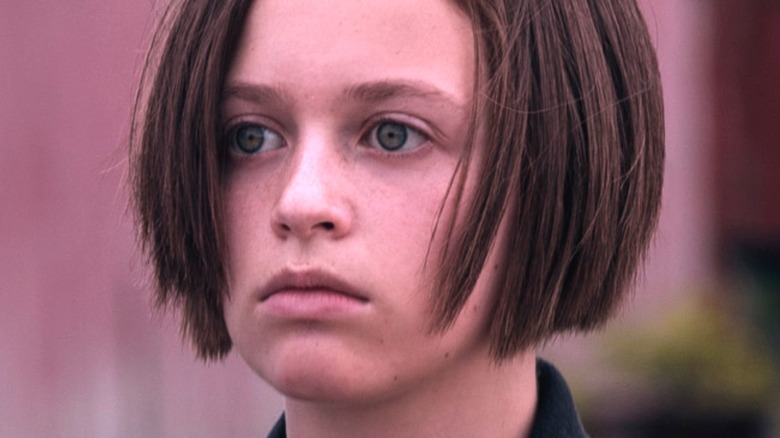 Anjali Pinto/Prime Video
Amazon Prime's "Paper Girls" comes to streaming to fill the void left behind by "Stranger Things." It's another action-packed adventure set in the 1980s (for a short time at least), following a group of four children as they find themselves in the midst of a time-venturing war. Based on the comic books of the same name written by Brian K. Vaughan, "Paper Girls" promises to be an exceptional hit from Amazon, starring talented young cast members to bring this sci-fi world to life.
Among the titular paper girls is Mac, played by Sofia Rosinsky. Mac's the tomboy of the group and the roughest around the edges. She has a curt personality and has no problem speaking her mind to the others. Suffice to say, she gets on the other girls' nerves every so often, but there's a softer side to her deep, deep down. Fortunately, Sofia Rosinsky is up to the task of portraying such a complex character, and she has plenty of acting experience under her belt to get the job done.
Sofia Rosinsky has ample experience with short films
Sofia Rosinsky may be young, but she already has an impressive filmography to her name. She's starred in numerous short films over the years, many of which she's worked alongside her sister, Alexis, and according to IMDb, she's produced and written some shorts, as well. 
In terms of projects fans may have seen her in before, she starred in an episode of "Criminal Minds: Beyond Borders" titled "Paper Orphans." Apparently, she has a knack for appearing in projects related to "Paper." In 2016, she starred in the R-rated horror flick "The Other Side of the Door."
Audiences may also recognize her from her role in the Disney Channel original series "Fast Layne," where she played Zora Morris. The show only aired for one season back in 2019, but she played the best friend to lead Layne Reed (Sophie Pollono). 
"Paper Girls" is by far her most high-profile role to date, and she has ample projects in the works. She's a talented young actress, and more people will get a chance to see that once "Paper Girls" debuts on Amazon Prime Video on July 29.