Who Plays Erin On Amazon Prime's Paper Girls?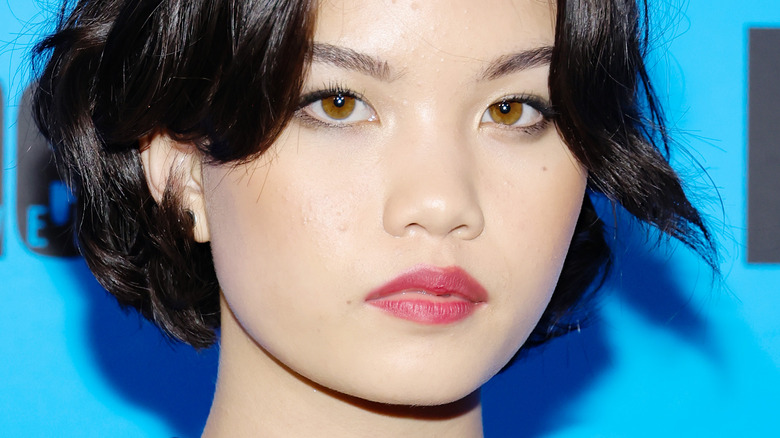 Amy Sussman/Getty Images
Comic lovers who have been wanting a throwback '80s adventure ala "Stranger Things" but with more female perspective are about to get their wish. Based on the popular comic penned by the imaginative Brian K. Vaughan, "Paper Girls" is an upcoming Amazon Prime series that will bring to life the coming-of-age saga of newspaper delivery girls Erin, Mac, KJ, and Tiff, who become embroiled in a time-bending struggle to protect the future. And for those who are afraid that it may be too derivative, never fear. Looper's sister-site /Film learned at the "Paper Girls" San Diego Comic-Con panel that Vaughan himself believes the series will be an antidote to the over-glorification of the '80s in film and TV. 
Right at the forefront of the story is the main character, Erin. The typical perfectionist who abides by the rules, she is thrown out of her comfort zone when she and her fellow paper girls encounter a spaceship on their regular route (via Entertainment Weekly). The themes of "Papers Girls" could prove a challenge for any actor, not to mention one so young. But judging from previous filmography, the actor who portrays Erin seems to be up to the task.
Riley Lai Nelet's credits are few but powerful
Netflix
Even at a young age, Riley Lai Nelet has been establishing herself as an actor to watch in high-concept sci-fi TV. In addition to one-off roles on episodes of "American Housewife" and "Generation," Nelet had a significant supporting part on the Netflix series "Altered Carbon." Based on the book of the same name, the series uses the lens of sci-fi to explore resonant themes that are becoming more and more relevant today. In this futuristic society, people are able to transfer their consciousness into other bodies, known as "sleeves." This way, characters such as protagonist Kovacs (Joel Kinnaman) are essentially able to live forever. One of these most formidable sleeve-users is Reileen, who is played by Dichen Lachman as an adult.
Like many captivating antagonists, Reileen has a fleshed-out backstory that makes her situation even more tragic. Nelet plays Reileen as a child who never really had a chance to be well adjusted. Traumatized by her father, Reileen is ultimately sold to the Yakuza and climbs up the crime ladder. "Altered Carbon" has many dark parts, and these flashbacks are certainly some of the darkest. With "Altered Carbon" already under her belt and "Paper Girls" on the way, Riley Lai Nelet looks ready to take genre TV by storm.