Why Mabel's Coat In Only Murders In The Building Season 2 Episode 6 Means More Than You Think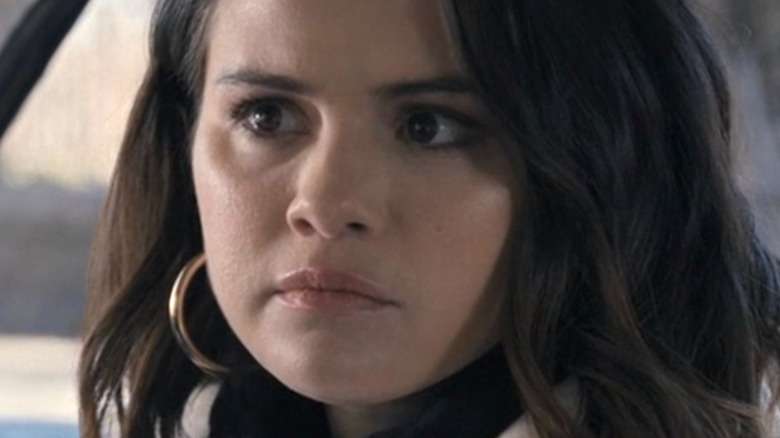 Hulu
Mabel Mora (Selena Gomez) is having a hard time in "Only Murders in the Building" Season 2. After being framed for the murder of Bunny Folger (Jayne Houdyshell), the former board president of the Arconia, at the end of "Only Murders in the Building" Season 1, Mabel has been forced to deal with multiple attacks on her reputation. Not only has she been saddled with the unpleasant "Bloody Mabel" nickname, but Gomez's amateur investigator has also struggled to deal with some complex emotions surrounding her final, traumatic interaction with Houdyshell's Bunny.
Unfortunately, things only get worse for Mabel in Episode 6 of "Only Murders in the Building" Season 2. For starters, the episode, titled "Performance Review," sees the conniving Cinda Canning (Tina Fey) conduct an interview with an unfortunate figure from Mabel's past. Later, in the episode's closing moments, Mabel accidentally catches her girlfriend, Alice Banks (Cara Delevingne), when she is in the midst of recreating Bunny's murder scene in her art studio.
That discovery sends Mabel running to the subway only to end up in the same train car as the paint-bombed suspect that escaped her, Charles (Steve Martin), and Oliver (Martin Short) earlier in the episode. In case that wasn't bad enough, the episode then promptly concludes with Charles and Oliver watching a video of Mabel appearing to leave the subway after allegedly stabbing their paint-bombed suspect.
The episode's game-changing final scene makes it clear that Mabel's life is probably only going to become more complicated moving forward. That said, what might not be as clear to "Only Murders in the Building" viewers is the significance of the memorable outfit that Mabel wears throughout the final act of "Performance Review."
Mabel's outfit is a homage to one classic film character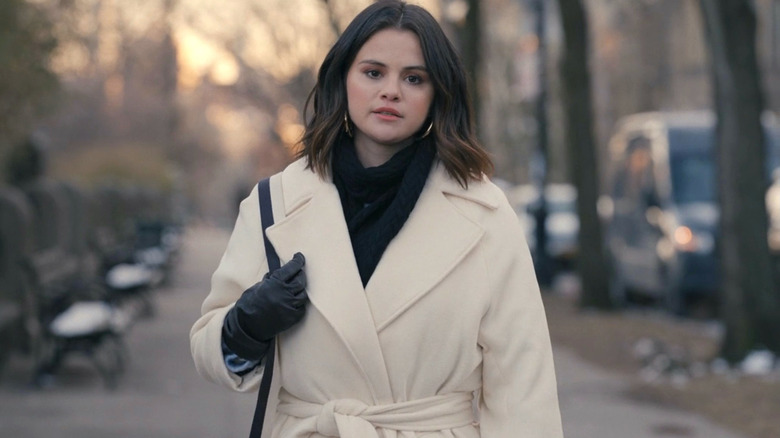 Hulu
A recent post on the official "Only Murders in the Building" Facebook page spotlights a quote from the show's costume designer, Dana Covarrubias, which reveals an interesting detail about one of Mabel Mora's most memorable outfits to date. 
The post in question features an image of Selena Gomez's Mabel wearing the white wool coat and black scarf that she does at the end of Episode 6 of "Only Murders in the Building" Season 2. The image is accompanied by a quote from Covarrubias in which the costume designer reveals that Mabel's black and white look in "Performance Review" was directly inspired by an outfit that Kim Novak wears in "Vertigo." In the same quote, Covarrubias notes, "Like Mabel, Novak's character, Madeleine, is hiding an aspect of herself."
As anyone familiar with "Vertigo" will already know, it makes a lot of sense for Gomez's Mabel to wear the same outfit that Kim Novak's character dons at one point in "Vertigo." Novak's character is, after all, hiding some dangerous secrets throughout most of that 1958 masterpiece, all of which eventually come back to haunt both her and her investigator, John "Scottie" Ferguson (Jimmy Stewart).
With all that in mind, even though Mabel doesn't seem to be quite as duplicitous of a figure as Novak's character is in "Vertigo," she is someone who is prone to keeping secrets. That was the case throughout "Only Murders in the Building" Season 1 and it's clear that Mabel hasn't totally shaken that habit in the show's sophomore season. Therefore, while fans will have to wait to learn more about some of Mabel's remaining secrets, her outfit in Episode 6 of "Only Murders in the Building" Season 2 serves as both a loving homage to one classic film character and a subtle confirmation that Mabel still isn't nearly as forthcoming as she probably should be.