Thor: Ragnarok Debuts To Massive $121 Million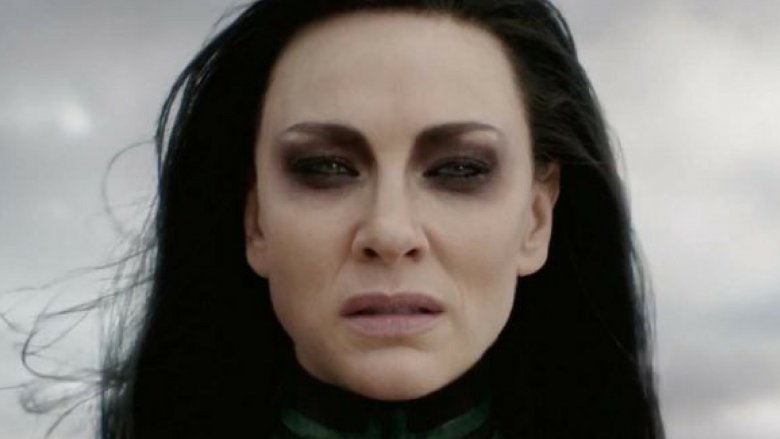 Thor is officially a box office god. Thor: Ragnarok topped its competitors in its opening weekend with an absolutely massive $121 million, far above initial projections and surpassing both of the character's first two standalone films.
Ragnarok begins with Thor (Chris Hemsworth) finding out that his brother Loki (Tom Hiddleston) is pretending to be their missing father Odin (Anthony Hopkins). This leads to some lax rule on Asgard, with things getting even worse when the villainous goddess of death Hela (Cate Blanchett) is released from her cage. 
Hela quickly gets to work destroying Thor's home, starting by blasting his hammer to pieces and banishing him to the desolate planet of Sakaar. There, he is captured by the warrior Valkyrie (Tessa Thompson), who brings him to the Grandmaster (Jeff Goldblum), a nefarious ruler who forces him into gladiatorial contests against his former "friend from work" Hulk (Mark Ruffalo). Eventually, Thor, Hulk, Loki, and Valkyrie team up to take down Hela. 
The film, directed by Taika Waititi, has received the love of critics, with a 93 percent on Rotten Tomatoes– good for a spot as one of the best reviewed MCU movies ever. Audiences were also fully on board with what they saw, awarding it with an A CinemaScore and an 89 percent audience score on Rotten Tomatoes.
The first Thor film debuted in 2011 to a solid $65.7 million, and the second continued to build on that success by opening to $85.7 million. Ragnarok is already well on the way to surpassing their domestic totals, with Thor eventually going on to earn $181 million and The Dark World going on to bring in $206.3 million.
Ragnarok's $121 million opening is good for the seventh highest opening of any MCU film to date, beating out this summer's Spider-Man: Homecoming, which debuted to $117 million. The film was not able to top Iron Man 2's $128 million or Guardians of the Galaxy Vol. 2's $146.5 million; it also lost out to Iron Man 3, Captain America: Civil War, Avengers: Age of Ultron, and the top dog, The Avengers. (via Box Office Mojo)
"November has been a hotbed for blockbusters and is as important to any given year as even the hottest summer months and has been the launch pad for some of the biggest franchises in box office history including Harry Potter, The Hunger Games, and Twilight, not to mention the traditional home for James Bond," said Paul Dergarabedian, senior media analyst with comScore, to Variety. "Now Thor joins the rarefied air that is the $100 million November opening club, becoming only the ninth film to ever reach this threshold and the first to do it within the first part of the month."
Second place for the weekend went to A Bad Moms Christmas, which fell a long ways away from the god of Thunder with just $17 million. That film, which stars Mila Kunis, Kristen Bell, and Kathryn Hahn, fell below the opening of its 2016 predecessor, which brought in $23.8 million in its first weekend, despite opening in a bigger number of theaters. The movie also earned only a B CinemaScore, compared to the first movie's A rating.
You can view this weekend's full box office results (via Box Office Mojo) below.
Top 10 Weekend Box Office Gross
1. Thor: Ragnarok: $121,005,000 (– percent), $121,005,000 Total Domestic Gross   
2. A Bad Moms Christmas: $17,030,000 (– percent), $21,556,106 Total Domestic Gross  
3. Jigsaw: $6,700,000 (-59.7 percent), $28,836,471 Total Domestic Gross   
4. Tyler Perry's Boo 2! A Madea Halloween: $4,650,000 (-53.7 percent), $42,958,423 Total Domestic Gross 
5. Geostorm: $3,035,000 (-48.6 percent), $28,770,341 Total Domestic Gross
6. Happy Death Day: $2,815,000 (-44.6 percent), $52,967,505 Total Domestic Gross   
7. Thank You For Your Service: $2,260,000 (-40.8 percent), $7,355,730 Total Domestic Gross   
8. Blade Runner 2049: $2,235,000 (-45.7 percent), $85,456,130 Total Domestic Gross   
9. Only the Brave: $1,910,000 (-45.5 percent), $15,290,467 Total Domestic Gross   
10. The Foreigner: $1,550,000 (-55.0 percent), $31,947,983 Total Domestic Gross