Danielle Fishel's Early Experience On Boy Meets World Sounds Terrifying And Abusive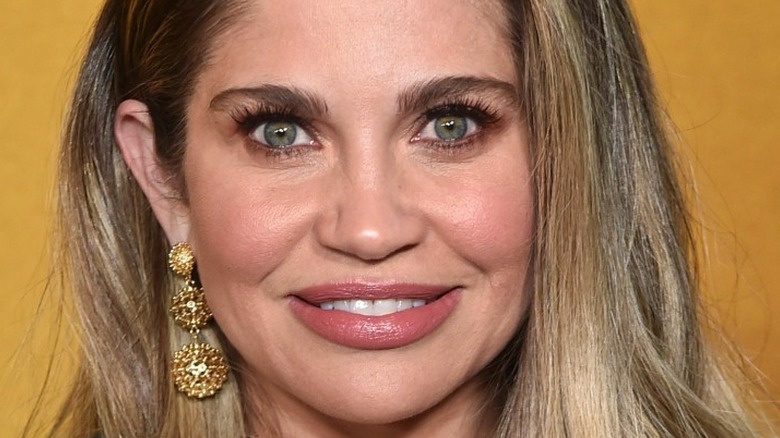 Alberto E. Rodriguez/Getty Images
The ABC series "Boy Meets World," which had a seven-year run, follows Cory Matthews (Ben Savage) navigating his adolescence and college years with his best friend Shawn Hunter (Rider Strong) and his longtime love, Topanga Lawrence (Danielle Fishel), by his side. The show amassed a dedicated fanbase and had a three-season Disney Channel reboot titled "Girl Meets World." One of the reasons fans were drawn to "Boy Meets World" was the dynamic between Cory and Topanga, who marry in the show's seventh season. As the couple has undeniable chemistry, some viewers may be surprised to learn that Fishel was not the first choice to play the ambitious Philadelphia native.
While recording a July 2022 episode of her podcast, "Pod Meets World," co-hosted by Rider Strong and Will Friedle, who played Eric Matthews, Fishel shared she had limited acting experience before she auditioned for Topanga when she was 12 years old (20 minutes). She did not initially secure the role and instead, was cast as a minor character. According to the actress, the show's director, David Trainer, was not impressed with the original Topanga, and Fishel was able to audition once again. She was picked for the part and returned to the show's set to rehearse the first episode just days later. Unfortunately, she had a negative experience during her first rehearsal day.
Danielle Fishel shared she teared up during the first rehearsal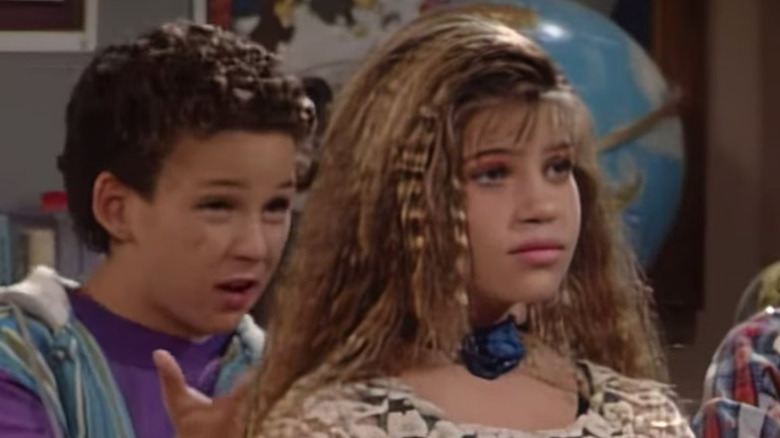 Buena Vista Television
During the 31:10 mark or so of the "Pod Meets World" episode, Danielle Fishel explained that she had difficulty perfecting the cadence of her lines, as she had a tendency to speak quickly as a child. This habit displeased the co-creator of "Boy Meets World," Michael Jacobs, who made his feelings known while giving notes to the cast after the rehearsal.
"Michael starts off the notes by saying 'Danielle, I'm going to have to give your notes all in one time at the end and I'm going to give everyone else their notes now because if I made everyone sits here through all of the notes I have for you, we would all be here for hours and no one would ever get to go home,'" recalled Fishel. She shared that she found the comment upsetting and spent the remaining hour of the notes sessions tearing up. After Jacobs finished his thoughts with Fishel's castmates, he sat with her and her mother to go over how he wanted her to improve her acting abilities. According to the mother of two, the producer warned that he would replace her if she did not take his notes seriously. She stated she practiced her lines for hours to ensure she fulfilled Jacobs' requests. Her efforts paid off as her performance impressed the writer during the network run-through.
"Michael says 'this time Danielle' and he stands up and all the writers stand up alongside him and he says 'let's give Danielle a round of applause. You know, you did exactly what I asked of you, thank you, thank you, congratulations, it was wonderful,'" said the actress.
She shared she felt insecure during later seasons of 'Boy Meets World'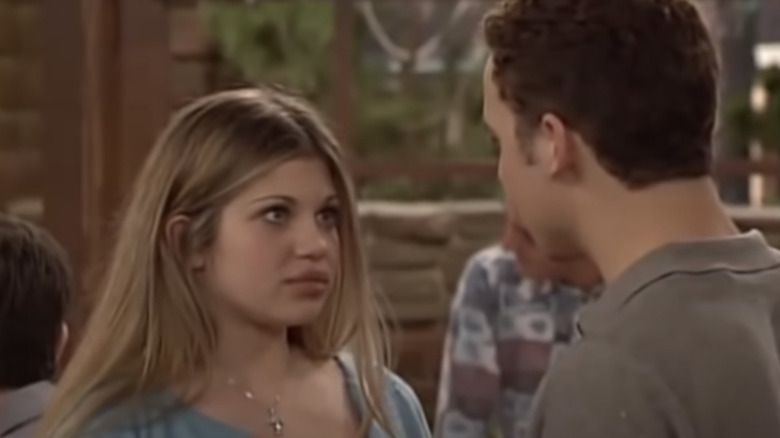 Buena Vista Television
During a July 2022 interview with Entertainment Tonight Canada, alongside Rider Strong and Will Friedle, Danielle Fishel shared that she felt insecure while filming later seasons of "Boy Meets World" (around 2:30). She explained she gained some weight and suggested she did not appreciate how that aspect of her life was written in the show. While she did not specify the moment she was referring to, in Season 7, Episode 17 ("She's Having My Baby Back Ribs"), Topanga is unhappy with her body and decides to adhere to a strict diet. Due to a series of miscommunications, Cory and his friends believe the college student is pregnant and throw her a surprise baby shower.
"I became really self-conscious and I don't necessarily think that we handled that in the best way on the show," said Fishel. During the Entertainment Tonight Canada interview, the "Girl Meets World" star noted that she did not feel comfortable voicing her displeasure about specific storylines.
"Nobody liked working with someone who always had a complaint about something that was going on. And now I think if someone were to write something that I found offensive or that I thought was misogynistic, I would be the first person to say 'yeah, I'm not going to do this,'" shared Fishel.