We Finally Know Kate Winslet's Next HBO Project After Mare Of Easttown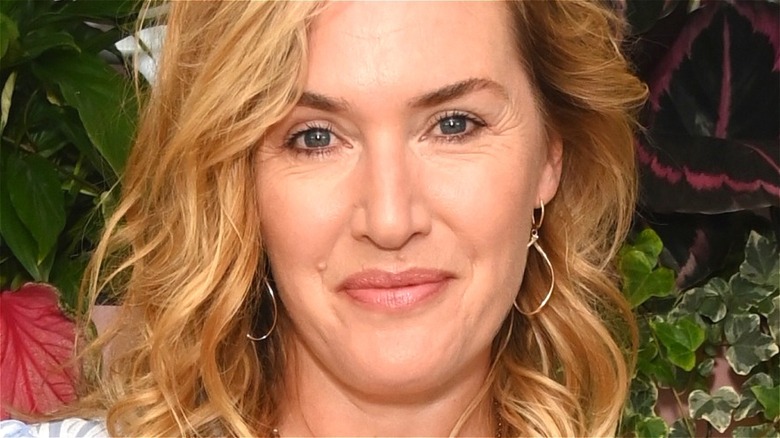 David M. Benett/Getty
Kate Winslet is committed to working with HBO again. The Oscar-winning actor teamed up with the premium cable network last year for the critically acclaimed crime drama, "Mare of Easttown." That series marked the first time in a decade that Winslet and HBO had collaborated on a project together. As a matter of fact, "Mare of Easttown" was the first HBO project that Winslet had starred in since the 2011 adaptation of "Mildred Pierce." Winslet won a Primetime Emmy Award for her performance in that miniseries (via IMDb), which itself earned more than its fair share of acclaim when it originally aired (via Rotten Tomatoes).
10 years later, Winslet and HBO reunited for "Mare of Easttown" and experienced similar critical and popular success. The 2021 thriller not only received widespread attention and acclaim during its time on the air (via Rotten Tomatoes), but Winslet also claimed her second Primetime Emmy Award for her performance as the series' titular detective. In other words, it seems safe to say that "Mare of Easttown" was a successful collaboration for everyone involved.
Now, Winslet and HBO are set to reunite on another project. However, it sounds like fans of "Mare of Easttown" should prepare themselves for Winslet's next HBO series to be very different from that successful drama.
Kate Winslet will lead The Palace for HBO
According to The Hollywood Reporter, Kate Winslet has officially signed on to star in a new HBO limited series titled "The Palace." The project, which will also be executive produced by Winslet, was created by Will Tracy, whose previous writing credits include episodes of "Succession" and "Last Week Tonight with John Oliver." The new limited series will reportedly follow an authoritarian regime as it proceeds to fall apart over the course of a single year.
In addition to Tracy and Winslet, "The Palace" is also set to be directed by acclaimed filmmaker Stephen Frears. An industry veteran, Frears has directed noteworthy films like "The Hit," "High Fidelity," "My Beautiful Laundrette," "Dangerous Liaisons," "Philomena," and "Florence Foster Jenkins." In recent years, he has also helmed a handful of memorable TV shows, including "A Very English Scandal," "Quiz," and "State of the Union."
"The Palace" is, notably, one of two HBO projects that Winslet has recently become involved in. Just a few weeks ago, it was announced that Winslet would also star in and produce "Trust," a limited series that is currently in development at HBO (via Variety). As of now, it's unclear which project viewers can look forward to seeing Winslet in first. Either way, her involvement in both projects makes it explicitly clear just how eager Winslet is to continue working with HBO, which should come as welcome news to all the "Mare of Easttown" fans out there.