Aquaman Takes Flight In New Justice League Photo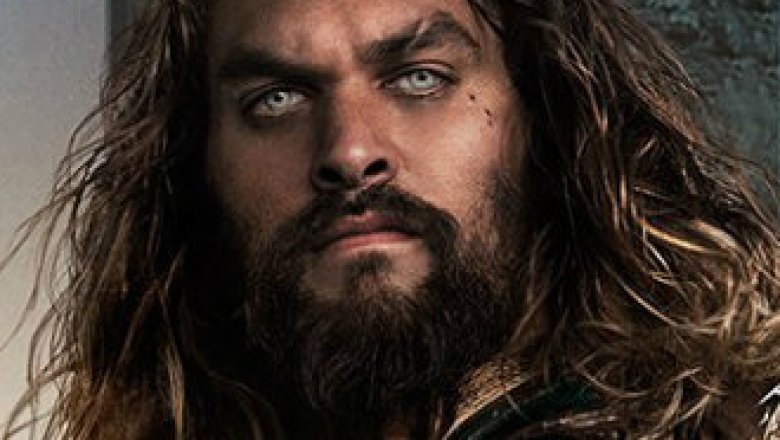 Does this mean we can call Aquaman a "flying fish"?
Entertainment Weekly has released an exclusive new photo (shown below) from DC's upcoming Justice League film, which features Jason Momoa's Aquaman taking to the skies to team up with Ray Fisher's Cyborg in an effort to destroy the villainous alien Parademons. 
Momoa called Aquaman's in-flight fight sequence "one of the coolest scenes in the movie," and then explained how his character actually launches himself into the air for the high-intensity attack. "I originally ride the Batmobile. I jump off with my trident–my trusty pitchfork–and stab Parademons. They pull me up into the sky, so I basically fight them in the air," the actor said. "I get to bite into their wings, and tear their wings off. He falls to the ground, and Cyborg saves him. My character's kind of savage."
As most DC fans will agree, "kind of savage" is a bit of an understatement for Momoa's Aquaman. Rocking a ton of tattoos and long beard, the new aquatic vigilante is a far cry from the clean-cut Aquaman of comic book yesteryear. And, according to Momoa, that's exactly what Justice League director Zack Snyder was going for with the underwater hero. "When Zack was creating the character, he really wanted this outlaw Josey Wales type, someone who's the outsider," Momoa said. "He wasn't really accepted on land, and not really accepted in Atlantis. That was kind of an interesting thing for me with this character. I could relate to it, coming from Iowa and being Hawaiian. I grew up in Iowa, it's a great place. But I'm born in Hawaii. Half my family's in Iowa, half my family's in Hawaii. Not being fully accepted in either, I can definitely relate."
Unfortunately, Momoa's connection to Aquaman doesn't extend into battling evil-doers in mid-air alongside a cybernetically enhanced hero, though something tells us the rough-and-tumble actor would be thrilled if it did. 
Alongside Momoa in Justice League are Gal Gadot as Diana Prince/Wonder Woman, Ezra Miller as Barry Allen/The Flash, Ben Affleck as Bruce Wayne/Batman, and Henry Cavill as Clark Kent/Superman. The film also stars Amber Heard as Mera, Jeremy Irons as Alfred Pennyworth, Diane Lane as Martha Kent, Connie Nielsen as Hippolyta, J.K. Simmons as Commissioner James Gordon, Ciarán Hinds as Steppenwolf, Joe Morton as Silas Stone, Robin Wright as Antiope, Jesse Eisenberg as Lex Luthor, Billy Crudup as Henry Allen, Kiersey Clemons as Iris West, Julian Lewis Jones as King Atlan, and Willem Dafoe as Nuidis Vulko. 
Here's the official plot synopsis for the film: "Fueled by his restored faith in humanity and inspired by Superman's selfless act, Bruce Wayne enlists the help of his newfound ally, Diana Prince, to face an even greater enemy. Together, Batman and Wonder Woman work quickly to find and recruit a team of metahumans to stand against this newly awakened threat. But despite the formation of this unprecedented league of heroes–Batman, Wonder Woman, Aquaman, Cyborg and The Flash–it may already be too late to save the planet from an assault of catastrophic proportions."
Justice League is due out in theaters on November 17.