A Workaholics Reunion Is Coming To Fox's Ghosted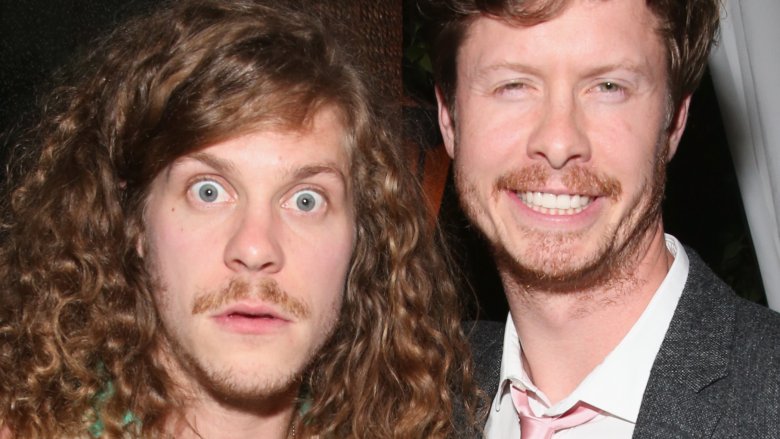 Getty Images
Ghosted is welcoming two Workaholics alums to its cast. Entertainment Weekly reports that Blake Anderson and Anders Holm are set to guest star on the ghostly comedy, which features Adam Scott and Craig Robinson as two new recruits of the Bureau Underground, an organization responsible for fighting paranormal activity in Los Angeles.
Anderson is set to play Jared, while Holm will play Chaz. Together, the pair host a popular reality show called Ghost Studz, which looks to explain paranormal activity. Scott's Max and Robinson's Leroy end up getting mixed up in the show when they go undercover to follow some real-life paranormal activity in an abandoned mental hospital. When Jared and Chaz are put in danger, it's up to Max and Leroy to save them.
Anderson and Holm both starred in Workaholics, which went off the air earlier this year after seven seasons. The pair already has another reunion set alongside their co-star Adam DeVine in the upcoming Netflix film Game Over, Man!, in which they will play three friends who are close to finally getting their video game financed before their benefactor is kidnapped by terrorists, sending them on a mission to get him back.
 Anderson has been relatively quiet since Workaholics went off the air, lending his voice to an episode of Uncle Grandpa and appearing in the Adult Swim sitcom The Jellies. Holm, meanwhile, reprised his role as Casey Peerson on Hulu's The Mindy Project. Alongside that show's creator Mindy Kaling, he is next set to lead the NBC midseason comedy Champions.
Ghosted airs on Sundays at 8:30 p.m. E.T. on Fox. Anderson and Holm will appear in the show's Nov. 19 episode. You can view a still of them on the show below.