The Everybody Loves Raymond Character Fans Can't Help But Love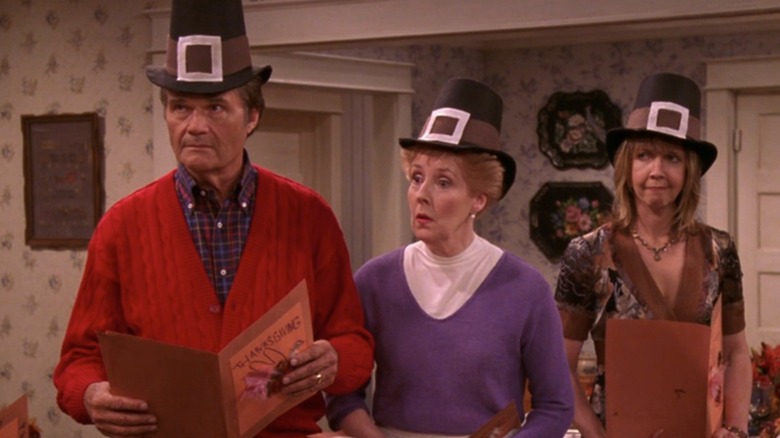 CBS
Ray Romano may have objected to the title of "Everybody Loves Raymond," but the stand-up comic-turned-sitcom star had the last laugh. The sitcom was a fast hit, garnering 69 Emmy nominations over the course of its nine-season run from 1996 to 2005. Moreover, Romano secured a nearly $50 million dollar paycheck for the show's 8th season, making him the highest-paid sitcom actor at the time. 
Part of the success of "Everybody Loves Raymond" comes from its universal portrayal of the suburban family in a manner that's not too cloying. Indeed, the Barones spend ample time bickering and degrading one another, yet they're linked by an unbreakable bond–and the fact that they live across the street from one another. Each member of the Barone family contributes to the comedic balancing act, whether it's Doris Roberts' overbearing mother Marie or Brad Garrett's underappreciated older brother Robert.
Several characters outside of the immediate Barone clan have left their mark on "Everybody Loves Raymond." Here's one who has remained a fan favorite.
Pat MacDougall was a fan favorite
While "Everybody Loves Raymond" primarily looks at the marriage between Raymond and Debra (Patricia Heaton), the series is also invested in Robert's love life, particularly his on-again-off-again relationship with the bubbly Amy MacDougall (Monica Horan). In Season 7, viewers were introduced to Amy's conservative Presbyterian parents Hank and Pat MacDougall, respectively played by Fred Willard and Georgia Engel.
On the r/EverybodyLovesRaymond subreddit, u/NewShinyThings confessed their love of Pat, who made a strong impression over her 13 episodes on the series. "Who else loved Pat? She wasn't afraid to stand up to Marie and she was actually quite funny!" The soft-spoken Pat was a welcome foil to Marie Barone's nosy, brash personality, as well as a character capable of delivering unlikely jabs. Adding to the hilarity was Engel's high-pitched delivery, once described as "sound[ing] like an angel has just sniffed some helium, per The New York Times.
Another user added that Pat and her husband were a much-needed addition towards the end of the series' run. "Amy's family gave the show a much needed boost in the later seasons," wrote u/NoonTimeHoopsMVP. "They were great. The contrast between both families was hilarious."
Apparently, the network thought the MacDougalls were nearly funny enough to warrant their own series. "When I finished doing 'Everybody Loves Raymond,' there was very serious talk about there being a spinoff of Brad and Amy's parents, and they would have used Fred Willard and me as Amy's parents," Engel said on a panel at the 2018 Television Critics Association's Summer Press Tour (via TV Insider). "The disappointment was so great when that didn't happen," she admitted. Luckily, the missed opportunity freed the actress up for a late-career resurgence on Broadway.