Modern Family Fans Agree This Dunphy Family Member Deserved More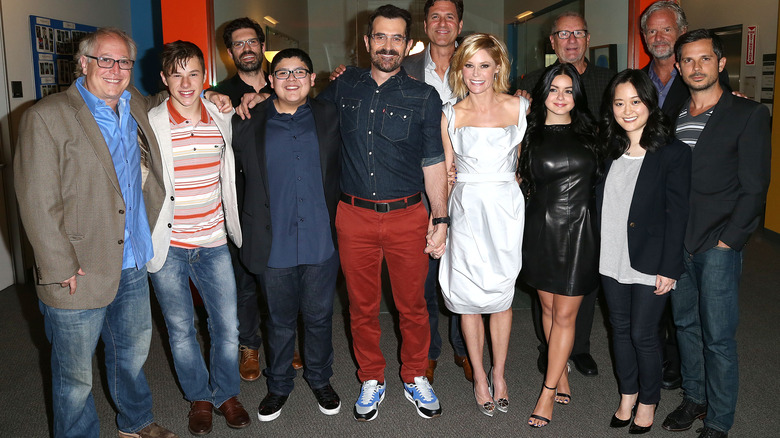 Frederick M. Brown/Getty Images
The ensemble cast of "Modern Family" is arguably the main reason the ABC sitcom remained popular for 11 seasons on air. The entire premise of the show is that it's a goofy and outrageous commentary on real family life. There's the duo of Phil (Ty Burrell) and Claire Dunphy (Julie Bowen) who may not see eye to eye all the time, but share an unabashed love for their three kids Haley (Sarah Hyland), Alex (Ariel Winter), and Luke (Nolan Gould), no matter how much trouble they put them through. Claire's brother Mitchell (Jesse Tyler Ferguson) and his husband Cameron (Eric Stonestreet) also start a family of their own, a journey that encompasses much of their storyline on the series. "Modern Family" also featured Claire and Mitch's father Jay (Ed O'Neill), his younger wife Gloria (Sofia Vergara), and her lovable son Manny (Rico Rodriguez). 
The characters literally grew up before our eyes on "Modern Family." We see families grow, marriages get strained, and life throwing everything possible at a big family just trying to do their best. There were so many overlapping storylines that provided a plot for all of those hilarious jokes to land. While most of the characters had pretty well-thought-out stories during their "Modern Family" lifespans, fans believe that there is one member of the Dunphy family who deserved a way better ending. 
Alex's storyline could've been better
A now-deleted user took to Reddit to condemn "Modern Family" writers for the portrayal of Alex Dunphy. The main criticisms included Alex's lackluster romantic interests and her embodying the dorky middle child stereotype. "There just wasn't episodes about her in general besides the smart one who takes care of the family when they are out being reckless," the fan wrote. Other fans like u/AsgardianJude were quick to support the opinion in the comments, remarking on the seeming lack of personal growth for Winter's character. "Now it feels that she doesn't even exist," they complained. "They're bringing unnecessary characters like Dylan's mom, step children etc but Luke, Alex aren't getting screen time!"
Others disagreed with the idea that Alex had a limited character arc on "Modern Family." Alex got to pursue the education she dreamed of and score a good job. While she felt left out sometimes at college, some viewers believe that she came out on top. "Despite that those blips you can say she now has it all," u/quangtran wrote. 
In a recent interview with Digital Spy, Winter seemed to agree that Alex's story could have been stronger, especially in the early seasons. "When she was younger I just felt like we didn't explore other sides of her as much," Winter said. 'There's so much more to Alex and I think over the years, you know, seasons seven, eight and onwards, we really explored her and explored her life as much as you can in a family sitcom."