HBO Max Is Giving Game Of Thrones Fans The Chance To Watch In A Whole New Way
Years after concluding, "Game of Thrones" remains one of HBO's most talked about original series, in spite of the cultural reevaluation it's undergone since its conclusion. The characters of Westeros are still quite memorable, and the show's story beats have stuck with television lovers everywhere. While most believe that the show's final season went terribly wrong – with its final episode, especially, reaching disfavor with the show's fans – the program's unforgettable nature is a very good thing.
Devotees preparing to return to Westeros (and HBO) for the show's upcoming prequel series "House of the Dragon" might be looking for a way to rewatch the entirety of "Game of Thrones," in binge format or episode by episode so they can catch new details they missed their first time around. Fortunately, the program is up in its entirety on HBO Max for viewing — and soon enough, they'll get to see the show in a way they've never gotten to before.
The show will be available to stream in 4K Ultra soon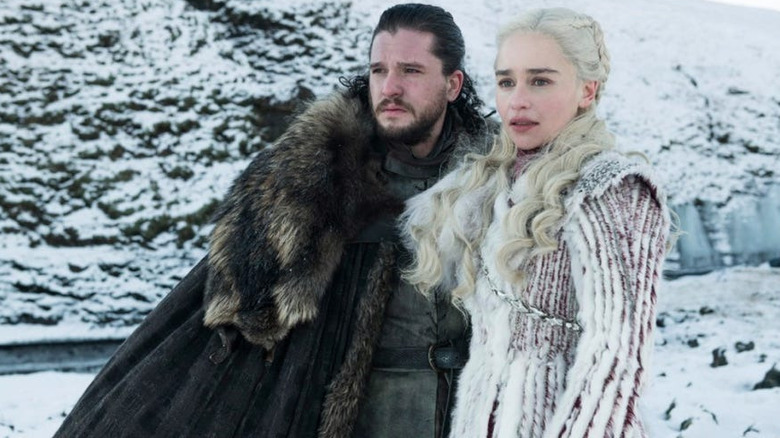 HBO
Per Variety, HBO Max will make "Game of Thrones" available in 4K Ultra HD sometime in August. The show will also boast HDR 10, with Dolby Vision and Dolby Atmos. This marks the first time it will be made available on HBO Max in such a high quality format. The service has not released a specific date for the show's re-release, but for those who are hoping to see "House of the Dragon" in this format, Variety reports that it will be released in these specs on August 21 when it debuts.
Variety also notes that fans who want to see the show in 4K Ultra HD will have to pay a little extra for the privilege, as the series will only be available in this format for ad-free tier subscribers. That means a difference of five dollars for those who subscribe to the platform's ad-free option. Fans will also naturally need equipment and a proper internet speed to enjoy the show this way. With that said, for those who can't wait one minute more to see the show in high quality, "Game of Thrones" is currently available on 4k UHD DVDs and for purchase digitally through VUDU.