Jackass Star Poopies Makes A Triumphant Return To Shark Week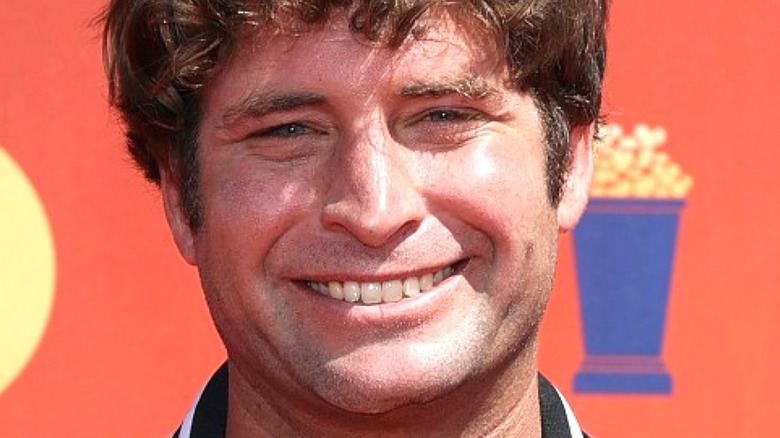 Rich Polk/Getty
Summertime means one special thing to cable television fans: Shark Week is fast approaching. The yearly Discovery event spotlights everyone's favorite fish with special programming, themed events, and documentaries highlighting stories from those who have encountered sharks and the behavior of sharks themselves. The network also seeks to correct shark-related urban legends and myths through the application of science. That isn't to say that the week doesn't have its silly side. In addition to the hard facts, there are also shark-related movie marathons on Turner Classic Movies and several shark-related wrestling matches put on by AEW on TBS and TNT.
Per Discovery's official website, this year's line-up will mark the event's 34th edition, and is slated to be hosted by Dwayne "The Rock" Johnson, who shall be acting as its master of ceremonies. There will be documentaries with fresh footage of shark behavior previously unseen by human eyes, and a special program created by everyone's favorite group of daredevil death defiers: the crew from MTV's "Jackass."
"Jackass Shark Week 2.0" will focus on one merry prankster in particular — Poopies — who returns to the event after experiencing an incredibly scary moment during 2021's Shark Week.
Poopies reenters the ocean
During 2021's Shark Week, "Jackass" star Poopies was bitten on his left wrist and hand by a shark after attempting to jump the marine predator on water skis in a tribute to the legendary sitcom "Happy Days." Poopies fell into the water after losing his grip on the pull line, and the harrowing, chaotic, and bloodsoaked aftermath played out before Discovery's cameras. Per TV Insider, Poopies — whose real name is Sean McInerney — has endured months of rehabilitation and surgeries in an attempt at repairing muscle, nerve, and tendon damage done by the bite. He still isn't back at 100%, suffering from limited mobility in his left hand as of press time.
After his near-death experience, Poopies admitted that he carried with him a fear of getting back into the ocean. But as a fresh clip from 2022's Shark Week, posted to Discovery's YouTube channel, proves, you can't keep a good man down. During "Jackass Shark Week 2.0," Poopies dives with a group of "Jackass" regulars among a mellow pod of sharks to help him get over his phobia. During the clip, Poopies expresses both wonder and joy at the situation. "They're loving me down here. I'm loving them back," he says. 
After the dive, Poopies admits that it's a relief to realize he's no longer afraid of sharks and that he can be among them without fearing for his own safety. He declares that he wouldn't have gone down into the briny depths again without the support of his friends. Brotherhood and bravery — that's definitely the "Jackass" way.