The Office's Mindy Kaling Reveals Her Favorite Episode That She Wrote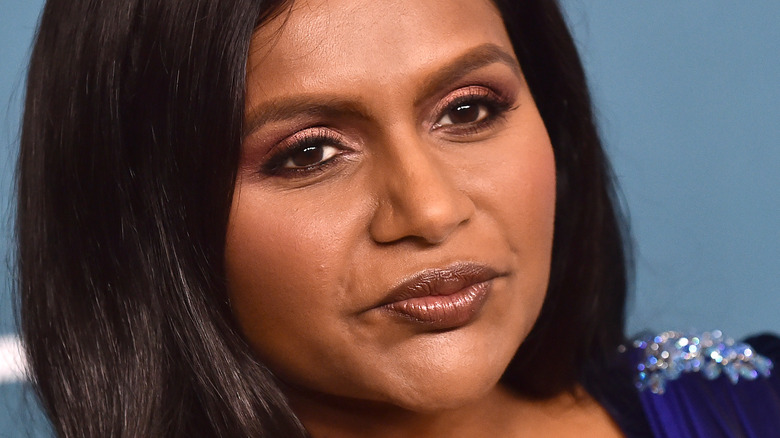 DFree/Shutterstock
Everyone has their favorite episode of "The Office," but only a handful of people can say they actually wrote one. Such was the gift of some of the cast of the Emmy-award-winning sitcom that gave us weekly reunions with the likes of John Krasinski, Jenna Fischer, and Steve Carell. In the early stages of the show, which was adapted from Ricky Gervais' revered Brit-based original, many of the writers of the U.S. version found themselves in front of the camera, as well as frantically scribbling away behind it.
One of the most notable double-shift staff members for Dunder Mifflin was Mindy Kaling, who appeared on the show as Kelly Kapoor. Along with Paul Lieberstein as the overly bullied Toby, B.J. Novak as Ryan, and Michael Shur as Dwight's cousin, Mose, Kaling initially joined the show as a writer before finding a desk in the annex of the iconic workplace from hell. Script-wise, Kaling's work earned her an Emmy nomination for Parts 1 and 2 of "Niagra" (via IMDb), which saw Jim (John Krasinski) and Pam (Jenna Fischer) finally tie the knot. Among the incredible 29 episodes she worked on, though, Kaling's favorite was one that probably stands as a high point of the show for a lot of fans show — and a low point for Michael's foot.
The Injury was Mindy Kaling's favorite episode she wrote for The Office
In Andy Greene's "The Office: The Untold Story of the Greatest Sitcom of the 2000s," Mindy Kaling revealed that her favorite episode she wrote for the show was "The Injury," which is deemed one of the best episodes of "The Office" in its nine-season run. In the 12th episode of the show's 2nd season, the Dunder Mifflin Scranton branch is thrown into disarray when it's discovered that fearless manager Michael Scott (Steve Carell) has accidentally burned his foot on a George Foreman grill. According to Kaling, though, the origins of the injury were very different initially, and a little more believable than the final ludicrous result.
"I think the original idea was that Michael had fallen asleep in the sun and had sunblock all over him except for his foot ..." she revealed. "Actually, the name of the episode was 'My Grilled Foot' for the longest time until we thought that might be too weird." Yeah, sure — because that's the weirdest thing about this whole plotline. 
Besides reaching a new level of idiocy for Michael, "The Injury" also set up the early stages of the surprising friendship between Dwight (Rainn Wilson) and Pam after the former rushed to Michael's aid and got a concussion for his efforts. From here, an unexpected camaraderie formed, leading to Dwight being there for one of Pam's most heartbreaking moments. To think, all we needed was a car accident and a grilled foot to get us there.