The Devastating Death Of Taurean Blacque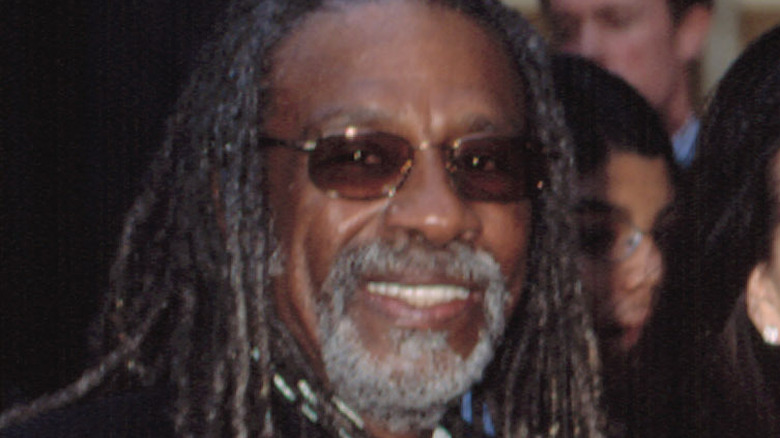 Everett Collection/Shutterstock
Taurean Blacque, the actor who played the exceptionally well-dressed Detective Sgt. Neal Washington on the 1980s police drama "Hill Street Blues," has died at the age of 82. As confirmed by Deadline, the "Hill Street Blues" actor passed away in Atlanta after a brief illness, although the exact cause is not yet known.
On July 21, one of Blacque's children, Rodney Middleton, took to Facebook to announce his father's passing, as well to share a couple of images and post the message "Thank you all for your prayers,calls [sic] and texts to me and my family. My father pass [sic] away today. At 2:52 pm est."
Blacque was born Herbert Middleton Jr. on May 10, 1940, in Newark, New Jersey. He appeared in all 144 episodes of the influential show and was even nominated for an Emmy for outstanding supporting actor in a drama series for his efforts in 1982 (via IMDb).
As Encyclopedia.com notes, before landing the vaunted role of Detective Washington, Blacque worked a variety of jobs, including truck driver, subway conductor, laundromat manager, and mail carrier. In 1969, a friend of his suggested that the two of them try out acting, which had a huge impact on the rest of Blacque's life. He told USA Today (via Encyclopedia), "Once I found out that acting was my niche, I poured all my energies into it."
Blacque appeared in many television shows and was a national spokesperson for adoption
Besides "Hill Street Blues," Taurean Blacque appeared on "The Bob Newhart Show," "Sanford and Son," "Charlie's Angels," and "Taxi." As far as film, he had roles in "Rocky II," "The Hunter," and the Disney animated feature "Oliver & Company."
However, "Hill Street Blues" is what put Blacque on the proverbial map, and he brought his own touches to the role. He once told TV Guide (via Encyclopedia.com), "I think the original concept was that hip, jive black man, you know; but I wanted to turn it around a little, give him some depth, not get into that stereotype." The influence of "Hill Street Blues" on police procedurals should not be underestimated, and "Chicago P.D." even shares a set with the show.
After "Hill Street Blues," Blacque was in 102 episodes of the soap opera "Generations" alongside Vivica A. Fox in 1989 and 1990. He then appeared on "True Colors," "In the Heat of the Night," "Savannah," and "Kevin (Probably) Saves the World," the latter being his last acting credit.
Blacque had two biological and eleven adopted children, which in 1989 led to a request from then President George H.W. Bush to become a national spokesperson for adoption. He is survived by 12 children, 18 grandchildren, and 2 great-grandchildren. The world will remember Blacque not only for his hat-wearing and toothpick-wielding Detective Neal Washington but also for his efforts in bringing attention to the process of adoption.