Boy Meets World's Danielle Fishel Just Recreated One Of Her Most Iconic Topanga Moments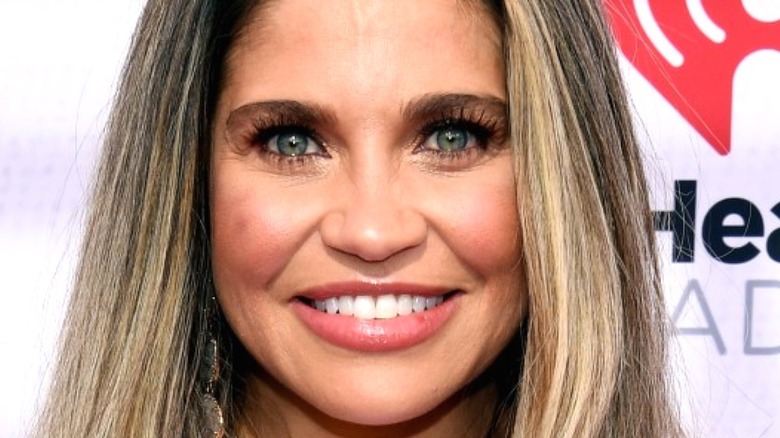 Jon Kopaloff/Getty
Starting in 1993 and running to 2000, and acting as a cornerstone of ABC's TGIF programming block, "Boy Meets World" was about Cory Matthews (Ben Savage) and the life lessons that he learns while growing up, going to school, and interacting with his family, friends, and neighbors. Joining him was a robust and colorful supporting cast, which includes best friends, brothers, teachers, principals, and a love interest known as Topanga (Danielle Fishel). As the series progresses, both Cory and Topanga develop feelings for each other, and eventually decide to elope, and the series ends with the newly formed couple moving to New York when Topanga accepts an internship.
Fourteen years later, Disney relaunched the series with "Girl Meets World," which ran from 2014 to 2017, and saw many of the original cast return, like Savage and Fishel. However, this series focused on the children of Topanga and Cory and followed many of the same story beats as the well-loved predecessor show. These days, Fishel is on the other end of a camera and in the director's chair, where she utilizes her lifelong experience as an actor to help guide the next generation. In an interview with USA Today, Fishel said that when she was offered the chance to direct, she wanted to work with children, and added, "I know what it's like to be balancing work, and school and friends and now they have the added stress of social media. I know how important it is to have people around you be patient and understanding when they give you notes (about acting) and not make you feel as if you're doing something wrong." 
Recently, Fishel took to social media to show off a faithful recreation of a famous scene, which highlights how she is still a kid at heart.
Fishel did a shot-for-shot remake on Instagram of Topanga's dance about the donut in the sky
Taking to Instagram to promote her podcast, "Pod Meets World," Danielle Fishel posted a side-by-side video where she recreated one of the most famous scenes from "Boy Meets World." The original version sees Cory reading a poem-like construct about the donut in the sky, space, and humpback whales, while Topanga engages in an interpretive dance where her motions reflect the words that Cory is reading. She flails about, swinging her arms wildly, and at one point crudely draws on her face with red lipstick. Fishel manages to nail all of her mannerisms from the original show, and even the editing cuts are the same. Needless to say, for fans of "Boy Meets World," this clip is an absolute delight to watch.
For fans of the show who need more "Boy Meets World" in their life, "Pod Meets World" can act as a supplement to the halcyon days of the original series. Joining her in discussing concepts and issues from "Boy Meets World" are show alumni Will Friedle and Rider Strong, who played Cory's brother Eric and cult-joining best friend Shawn, respectively. When asked why Ben Savage is not on her show, Fishel elaborated in the first episode of "Pod Meets World" (via Cinema Blend), "Ben Savage is doing his own thing. He's doing Lifetime movies. He's busy. We would love for him to have been a part of the show. We asked him to be a part of the show." She then added that Savage didn't think that Fishel's show was quite his thing, and she respected his decision. Either way, it is nice to see that Fishel still remembers those sweet Topanga moves.