Every Crypto Celebrity Who Gets Roasted In South Park: The Streaming Wars Part 2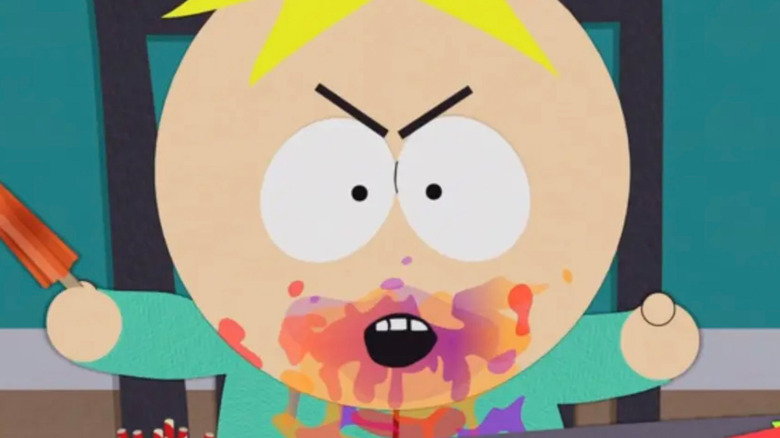 Paramount+
"South Park" premiered all the way back in 1997, but the show keeps running strong today. Part of the reason is due to the fact that creators Trey Parker and Matt Stone often mock current events. The world hasn't gotten any less absurd in the last 25 years, so Parker and Stone aren't lacking for targets.
Like the name suggests, their latest made-for-TV film, "South Park: The Streaming Wars Part 2" takes aim at the ongoing competition between streaming services like Netflix, Amazon, and Hulu–and the irony that their film is only available on the Paramount+ streaming platform certainly isn't lost on them. "The Streaming Wars Part 2" also mocks the current cryptocurrency fad, and especially the celebrities who have shilled for crypto companies.
The story begins when an unscrupulous water park owner named Pi Pi hatches a scheme to solve South Park's water storage by selling the city his urine-tainted park water–a plan he refers to as his "streaming service." Sure enough, celebrities are all too happy to shill for Pi Pi and his plan.
The roster of celebrities is a who's who of cryptocurrency spokespeople. Here's who gets roasted.
LeBron, Gwyneth, Reese, Larry David, and of course Matt Damon all take shots
As reported by The Hollywood Reporter, "The Streaming Wars Part 2" pokes fun at LeBron James, Gwyneth Paltrow, Reese Witherspoon, Larry David, and Matt Damon. All have filmed ads for cryptocurrency in recent years. In case you're not up on the latest doings of crypto celebrity spokespeople, here's why Parker and Stone are making fun of them:
In January 2022, LeBron James and the LeBron James Family Foundation teamed up with Crypto.com to "support educational and workforce development opportunities" (via Fortune).
In February, Larry David starred in a Super Bowl commercial for FTX (via The New York Times).
In March, Gwyneth Paltrow and Reese Witherspoon (and Mila Kunis) have been encouraging women to invest in cryptocurrency and NFTs as a form of empowerment (via The Wall Street Journal).
Matt Damon also recorded a Super Bowl ad. His was for Crypto.com and had the infamous slogan "Fortune favors the brave." In "The Streaming Wars Part 2," several animated celebs repeat this phrase before drinking the urine-laced water.
Of course, it's not the first time Parker and Stone have mocked Matt Damon. He was prominently featured in their 2004 puppet comedy "Team America: World Police." Back then, Parker and Stone mocked him for his earnest activism and opposition to the War on Terror. Now, it's all about making a buck–or a digital coin, as it were.