The Titanic Scene James Cameron Regrets Shooting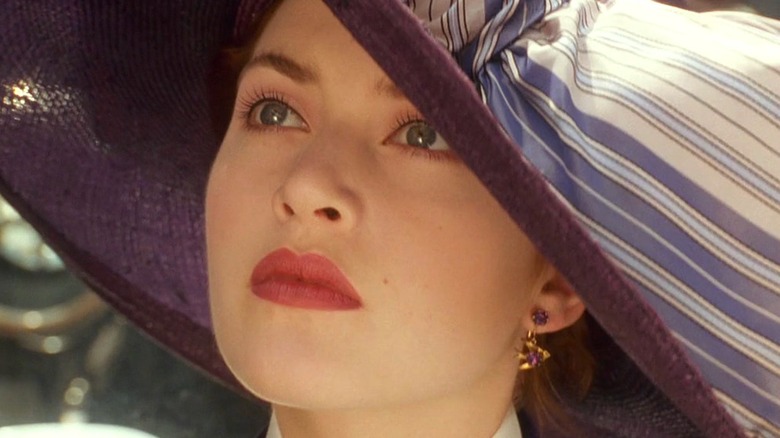 Paramount Pictures
To this day, writer-director James Cameron's "Titanic," the colossal tale of enduring love and tragedy aboard the RMS Titanic, remains one of the highest-grossing films of all time (despite some stiff competition, including Cameron's own "Avatar," it should be said). Starring a fresh-faced Leonard DiCaprio in his first blockbuster role opposite another then-star on the rise, Kate Winslet, "Titanic" dominated the Academy Awards in 1998, earning 11 Oscar wins out of 14 nominations, including best picture and best director statuettes for Cameron (via IMDb).
"Titanic" is unique in that it took a real-life event — the maiden voyage of the Titanic and its dramatic sinking from April 14 to 15, 1912, in the North Atlantic Ocean — and set a fictional story of a doomed romance within it. But, unlike the love fantasy that grows between poor artist Jack Dawson (DiCaprio) and melancholy aristocrat Rose Dewitt Bukater (Winslet), many of the characters in "Titanic" were based on the real-life figures aboard the ship. Among them were the "unsinkable" socialite Molly Brown, portrayed by Kathy Bates; the ship's builder, Thomas Andrews, played by Victor Garber; Captain Edward Smith, portrayed by Bernard Hill; and First Officer William Murdoch, played by Ewan Stewart.
Like other movies that blend a fictional story set against the backdrop of historical events, Cameron's script for "Titanic" took dramatic liberties with some of the characters in its retelling of the ocean liner's final hours. However, there was one storyline concerning the tragic demise of one of the historical characters that Cameron would come to regret.
Cameron regrets how he handled Murdoch's storyline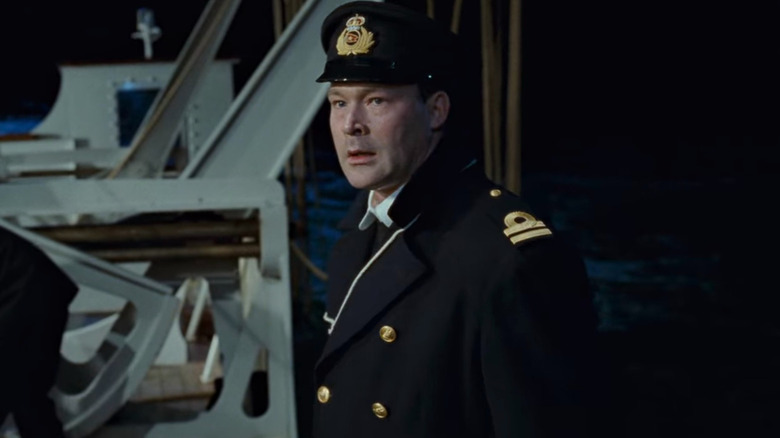 Paramount Pictures
While it's not unusual for directors to regret certain scenes in their films, James Cameron was haunted by a particular scene involving the legacy of First Officer Murdoch. The disputed scene happens in the third act of "Titanic," as chaos erupts on deck. As passengers fend for a place on the lifeboats, Murdoch takes to extreme measures as he shoots a passenger and then dies by suicide in front of the crowd.
In the 2017 TV special "National Geographic's Titanic: 20 Years Later with James Cameron" (via USA Today), Cameron admitted that he should have handled Murdoch's death on the ship better because it might not have been accurately portrayed. The filmmaker recounted, "I took the liberty of showing him shoot somebody and then shoot himself. He's a named character; he wasn't a generic officer. We don't know that he did that, but, you know, the storyteller in me says, 'Oh.' I start connecting the dots. He was on duty. He's carrying all this burden with him. [It] made him an interesting character."
Cameron went on to explain that he was thinking about it as a screenwriter and not as a historian, and he should have taken into account the feelings of Murdoch's family members. "I think I wasn't as sensitive about the fact that his family, his survivors might feel offended by that, and they were," he said.
In an August 2016 interview with USA Today, James P. Delgado, the director of the National Oceanic and Atmospheric Administration, said there is no clear evidence of Murdoch taking his own life. He noted how eyewitness reports claim an officer did shoot himself on the ship, but the identity of that officer was never specified.
If you or anyone you know is having suicidal thoughts, please call the National Suicide Prevention Lifeline by dialing 988 or by calling 1-800-273-TALK (8255)​.