Mark Ruffalo Was Worried Thor: Ragnarok Would Break The Marvel Cinematic Universe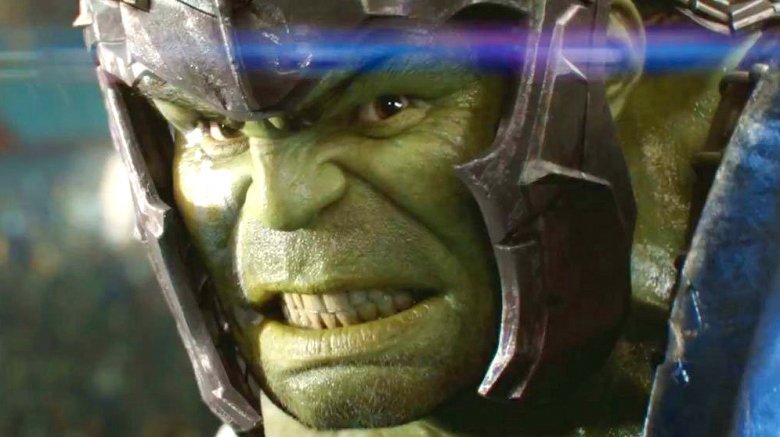 For Marvel luminary Mark Ruffalo, who burst onto the silver screen as the not-so-jolly green giant Hulk a few years back, the prospect of Thor: Ragnarok brought to mind the oft-murmured phrase "too much of a good thing." 
During a press junket for Thor: Ragnarok, Ruffalo revealed to Collider that he was genuinely panicked because the third Thor movie, directed by What We Do in the Shadows helmer Taika Waititi, veered off the tried and true path of the Marvel Cinematic Universe and into fresh territory. The Hulk/Bruce Banner actor admitted that the film makes so many big and bold changes with his character and Chris Hemsworth's Thor that he was initially worried the movie would break everything Marvel had been cultivating over the past few years. 
"You know how many times I was like, "Are we breaking the Marvel universe?" We threw everything out! We started all over again with this," Ruffalo said of how radically different Thor: Ragnarok is compared to other movies featuring Hulk and Thor. "We threw the Thor franchise out. We threw everyone's perception of Banner out. We threw everyone's perception of Hulk out. We threw everyone's perception of Thor out!"
While Ruffalo's remarks may stir up worry in some Marvel fans, Thor: Ragnarok has been called one of the studio's funniest movies thus far and has pulled in glittering reactions from critics and fans alike. The actor credits Waititi, who pushed the envelope in many different ways, for the film's immense success.
"We knew what we were doing and at the same time were like, 'Let's just do it. And let's go for it. And let's do it in the best and the most honest and fun way that we possibly can.' And Taika did that, and he wasn't afraid of that, to have that rebel mentality going into it," Ruffalo said. "We improvised a lot. We played. He created a space where we could just play. And we were making jokes, and he would throw a joke in, and then that would turn into another joke... That playfulness is really appealing on the screen."
It's clear that Ruffalo had a ball filming Thor: Ragnarok, even with his early worry, and it's likely that his co-stars had the same experience. Joining Ruffalo (and Hemsworth) in Thor: Ragnarok are Tom Hiddleston as Loki, Cate Blanchett as the Asgardian Goddess of Death Hela, Idris Elba as Heimdall, Jeff Goldblum as the Grandmaster, Tessa Thompson as Valkyrie, Karl Urban as Skurge, and Anthony Hopkins as Odin. Benedict Cumberbatch as Doctor Strange, Rachel House as Topaz, Clancy Brown as the voice of Surtur, Tadanobu Asano as Hogan, Ray Stevenson as Volstagg, Zachary Levi as Fandral, and director Waititi himself as Korg round out the cast. 
Here's the official synopsis for the film: "In Marvel Studios' Thor: Ragnarok, Thor is imprisoned on the other side of the universe without his mighty hammer and finds himself in a race against time to get back to Asgard to stop Ragnarok–the destruction of his homeworld and the end of Asgardian civilization–at the hands of an all-powerful new threat, the ruthless Hela. But first he must survive a deadly gladiatorial contest that pits him against his former ally and fellow Avenger–the Incredible Hulk!"
Thor: Ragnarok will hit theaters this Friday, November 3.