The Law & Order: SVU Star You Didn't Know Voiced A Hero In Green Lantern: Beware My Power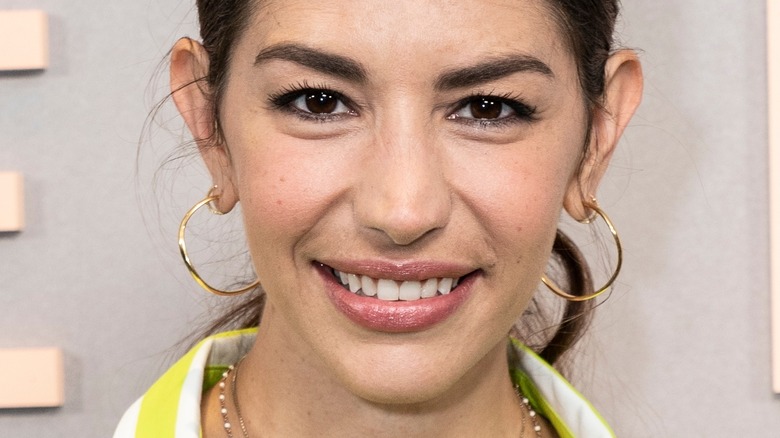 Lev Radin/Shutterstock
"Law & Order: Special Victims Unit" has hosted a slew of law enforcement characters over the years. Some stay throughout the show's run while others pop in for a little bit only to go away after a certain length of time. The latter was the case for Katriona Tamin, played by Jamie Gray Hyder, who showed up for 36 episodes across the procedural. 
She made her first appearance in the episode "I'm Going To Make You a Star," where she went undercover to capture a criminal. She then got transferred to SVU, working as a detective for a while, but following a particularly dangerous shooting where her life was put in jeopardy, she quit the New York Police Department so that she could focus on another career path. Hyder's time on "SVU" may have been short, but the actress isn't slowing down in the slightest. In fact, fans will be able to hear her next in "Green Lantern: Beware My Power," where she plays a fan-favorite member of the Justice League.
Jamie Gray Hyder plays Hawkgirl in Green Lantern: Beware My Power
Hawkgirl has been a staple within DC Comics since her first introduction in the 1940s. However, she became known to a much wider audience thanks to her inclusion in the popular animated series "Justice League" and "Justice League Unlimited." More recently, Hawkgirl could be found in a live-action setting on The CW as part of the network's Arrowverse. This time around, she was played by Ciara Renée and appeared on "Arrow," "The Flash," and "DC's Legends of Tomorrow."
Joining the extremely talented bunch of actresses who have played Hawkgirl over the years is Jamie Gray Hyder. She can be heard voicing the character in the newest DC animated project, "Green Lantern: Beware My Power," which becomes available on digital and Blu-Ray on July 26. It isn't her first time offering voiceover work, as she appeared in over a dozen episodes of "Voltron: Legendary Defender" as Zethrid. 
In "Green Lantern: Beware My Power," she's joined by an all-star cast, including the likes of Aldis Hodge as John Stewart, Jimmi Simpson as Green Arrow, and Keesha Sharp as Vixen, to name a few. Hyder's stepping into a massive legacy, and we can't wait to see what she manages to pull off in the part.