Fans Are Flipping Out Over Netflix's Surprise Spider-Man Trilogy News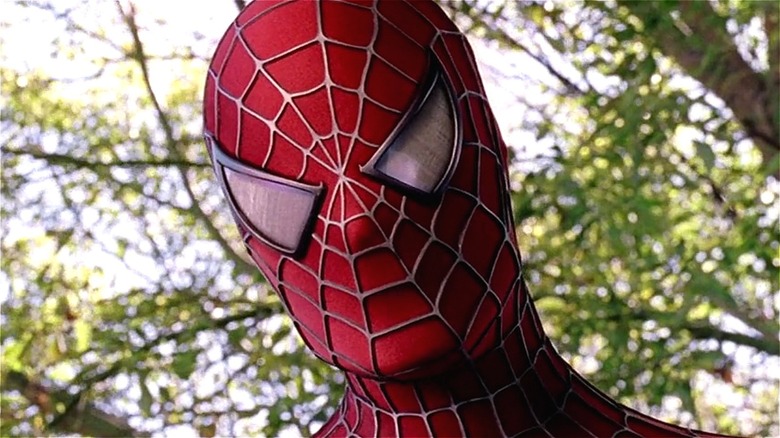 Sony Pictures Releasing
Spider-Man, Spider-Man, he knows how to thrill all of his fans! This tawdry jingle is especially true when Netflix releases a special announcement about the streaming future of the web-slinger's classic trilogy. 
Fans of the Sam Raimi "Spider-Man" films — which follow Peter Parker (Tobey Maguire) from his origin point as a high school nerd through his fraught trip into the world of superheroing and his romance with Mary Jane Watson (Kirsten Dunst) –  already knew that the second movie in the series was set to hit Netflix again in August (via Nylon). However, until a more recent announcement from the streaming platform, not even the most dedicated followers of the franchise knew how easy it was going to be to watch the first three live-action "Spider-Man" films.
Netflix's latest announcement makes seeking out the origins of the "Spider-Man" film series a whole lot easier than it was before. Before digging into the Andrew Garfield or Tom Holland-led eras of "Spider-Man," old and new recruits to the franchise can soon simply log onto Netflix.
The original Spider-Man movie trilogy will be on Netflix soon
According to an announcement from the official Netflix Twitter, all three of the Sam Raimi-directed "Spider-Man" films will be available to stream on the platform on August 1. Per Netflix Life, this will be the first time a Spidey-related big screen flick will hit the service since "Spider-Man: Into the Spider-Verse" left Netflix in 2021. 
Fans of Ol' Webhead received the news with rapturous joy. "It truly is Pizza Time," said @SentaiFive, referring to the very memeable moment in "Spider-Man 2" when Peter Parker shows up at Mary Jane's house with a pile of pizzas in his hand and utters, "It's pizza time!". Memes, were, in fact, the order of the day, as multiple fans of the movies replied to Netflix's tweet with a gif from "Spider-Man 3" in which Peter, under the influence of his newly-found symbiote suit, begins to behave in a loutish way and performs an odd victory dance outside of the Daily Bugle's offices. @dn_dynamite43's tweet exemplifies the thoughts of many fans who replied to this news with the same joyful gif.
Other fans took the time to share their opinions on the trilogy. "People who haven't rewatched these since they came out boutta learn that Tobey [Maguire] had the acting chops of a rock this entire trilogy," @tomytailfin_ said. In another reply, @verygoodwolf shared a gif in which Maguire's Parker declares "They love me," simply adding, "Yes, they do."