The Story Behind The 1932 Mobil Pegasus Horse Sign On American Pickers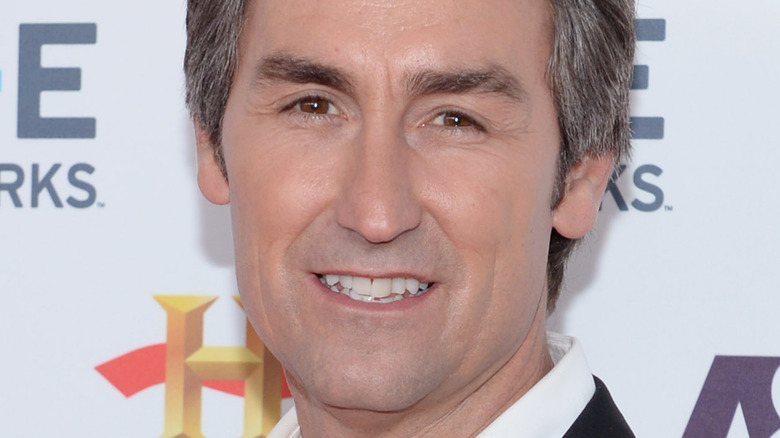 Andrew H. Walker/Getty Images
Although the series has been on the air for over a decade, Season 23 of "American Pickers" has seen host Mike Wolfe and company uncovering some of the most unique and fascinating antiques we've ever seen on the show. That was especially true during the episode "King of the Signs." As many longtime fans of the series will know, Wolfe is incredibly enthusiastic about automobile memorabilia, including vintage oil and gas signs, and in Episode 4 of Season 23, he and his brother Robbie discover a veritable goldmine of antique signs while driving through Southern California.
One of the most significant items that Wolfe discovers during this trip is a Mobilgas Pegasus sign dating all the way back to 1932 — a find so hot that it was teased by the official "American Pickers" Twitter account before the episode even aired. Although the sign itself is admittedly in pretty rough shape, having been covered by decades of grime and rust, the story behind this piece is actually pretty significant. As with many of the items Wolfe uncovers during his travels, the red Pegasus sign represents an iconic and influential piece of American history.
Mobil's Pegasus is extremely important to the history of the American oil industry
According to the American Oil and Gas Society, this iconic Pegasus logo was first trademarked in the year 1911 by a subsidiary of Vacuum Oil. The red Pegasus grew to even greater prominence in the year 1934, when, following the merger of Vacuum Oil and Standard Oil, a massive, rotating, red-neon sign of the Pegasus was erected atop the Magnolia Petroleum building in Dallas, Texas.
The sign became an iconic and beloved symbol within Dallas, per The Dallas Morning News. To this day, the Pegasus can still be seen plastered on various buildings and signs throughout the city. In addition, the logo's popularity was not just confined to one single location, as the Pegasus adorned Mobilgas and Mobil Oil products all across the country. That includes the 1932 sign that Mike Wolfe discovered on "American Pickers."
Even today, the red Pegasus remains one of the most recognizable symbols in the American oil industry, mostly due to its immense popularity throughout the mid to late 1900s. Although the sign in "King of the Signs" is definitely in need of a few repairs, the historical significance behind the sign's iconic red Pegasus makes it far and away one of the most exciting finds of the entire season.