The Real Reason The Game Of Thrones Prequel Bloodmoon Was Scrapped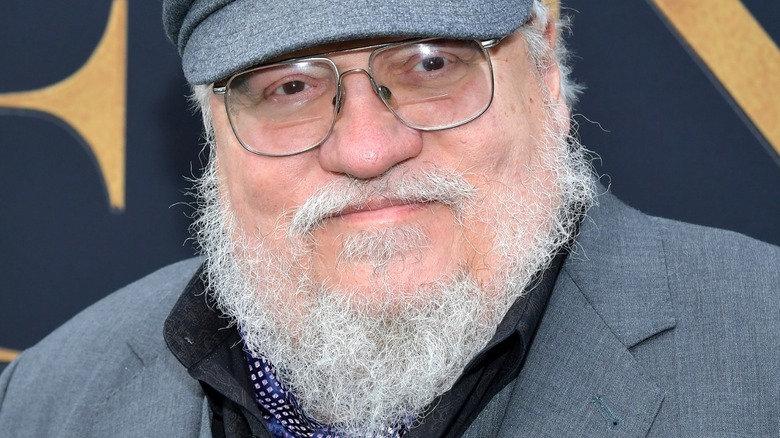 Amy Sussman/Getty
Before HBO released "Game of Thrones," the idea of such a successful long-form fantasy drama series seemed inconceivable. Now over a decade since it first premiered, there can be no doubt that "Game of Thrones" changed television forever. In the time since the series went off the air, millions of dedicated viewers have been craving something to replace the absence of fan-favorite characters like Arya Stark (Maisie Williams), Tyrion Lannister (Peter Dinklage), and Brienne of Tarth (Gwendoline Christie).
In August, HBO's prequel series "House of the Dragon" will grant the wishes of these legions of hungry viewers. Notably, the upcoming show actually wasn't the first "Game of Thrones" spin-off project announced. In fact, even before the "Game of Thrones" series finale aired, HBO greenlit a variety of projects, most notably a series tentatively titled "Bloodmoon," which would have depicted a time in Westeros known as The Long Night. 
Somewhat surprisingly, HBO ultimately opted to pass on the Naomi Watts-led prequel (via Deadline). With only a pilot shot, details on the inner workings of the abrupt cancellation weren't immediately clear. However, more recently, creators have come clean about just what made the project so doomed from the beginning.
After Game of Thrones, HBO needed another hit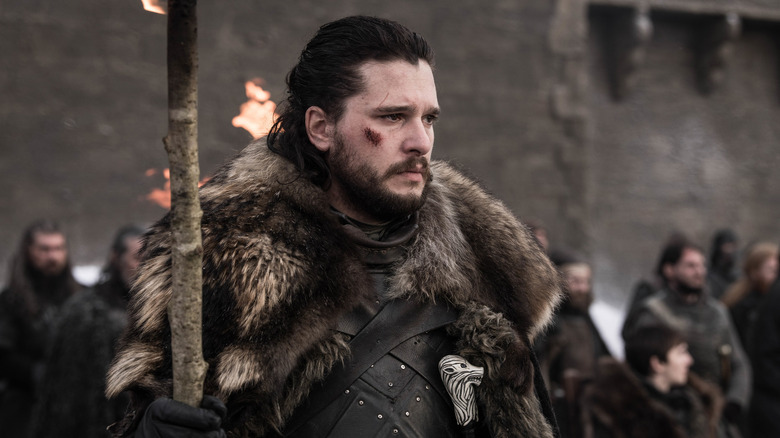 Helen Sloan/HBO
Before the tragically ill-fated spin-off "Bloodmoon," there was the franchise that started it all. In its heyday, "Game of Thrones" brought in millions of viewers per episode and became quintessential watercooler television (via Forbes). Even before it reached its final season, HBO was figuring out its next steps, determined to find the next big show. Instead of just one, they developed five.
The Hollywood Reporter detailed the development of these series, including a show about the Doom of Old Valyria and the famed queen from Dorne whom Arya's direwolf was named after. Some of these pitches were passed on, including author George R.R. Martin's "Dunk and Egg" story. Instead, it was the idea behind "Bloodmoon" that interested the network most.
"The desire at HBO was to not just offer up a sequel that's about the war for the throne. They wanted to do something so totally different that it would blow everybody's minds. I think that's why they went with The Long Night instead," Ryan Condal, showrunner of "House of the Dragon," hypothesized. The Long Night pilot covered a time long before the dragons, a world with which many "Game of Thrones" fans would be unfamiliar. Instead of going with what had been tested, creatives wanted something fresh and new. Unfortunately, it was never meant to be.
Even George R.R. Martin had doubts about Bloodmoon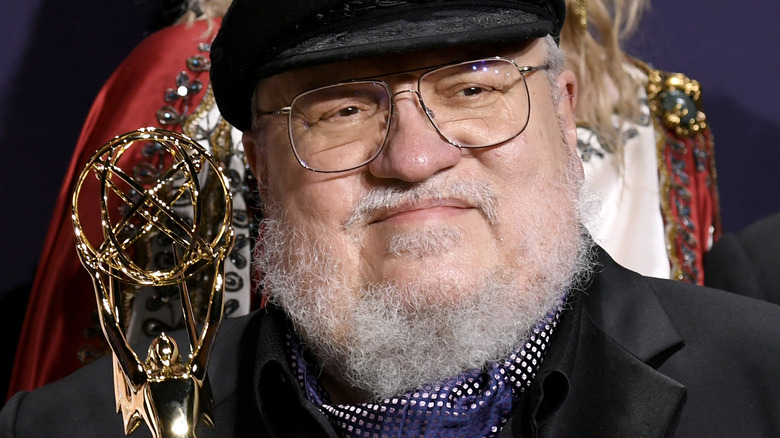 Frazer Harrison/Getty Images
According to The Hollywood Reporter, executives had high hopes for "Bloodmoon." It was the prime selection for a new "Game of Thrones" spin-off and was completely different from anything viewers had seen on HBO before.
"Tonally it felt very adult, sophisticated, and intelligent, and there was a thematic conversation at the center of it about disenfranchisement in the face of colonialism and religious extremism," Francesca Orsi, HBO's vice president of drama, said. But even before it started, the series hit a snag. In fact, "Game of Thrones" creator George R.R. Martin himself expressed some doubt. What made the project exciting, also made it a risk. There was very little information about The Long Night in the source material, and it wouldn't have been the high stakes that fans were used to.
"'Bloodmoon' was a very difficult assignment," Martin admitted. "We're dealing with a much more primitive people. There were no dragons yet. A lot of the pilot revolved around a wedding of a Southern house to a Northern house and it got into the whole history of the White Walkers." The production spent $30 million dollars on just the pilot, and many felt that it would not be a success. In the oral history "Tinderbox: HBO's Ruthless Pursuit of New Frontiers," Robert Greenblatt, chairman of WarnerMedia at the time, stated that he felt it would be a failure (per AV Club). And just like that, the project was dead. HBO didn't want new and refreshing. They wanted something tried and true.
House of the Dragon appeals to the masses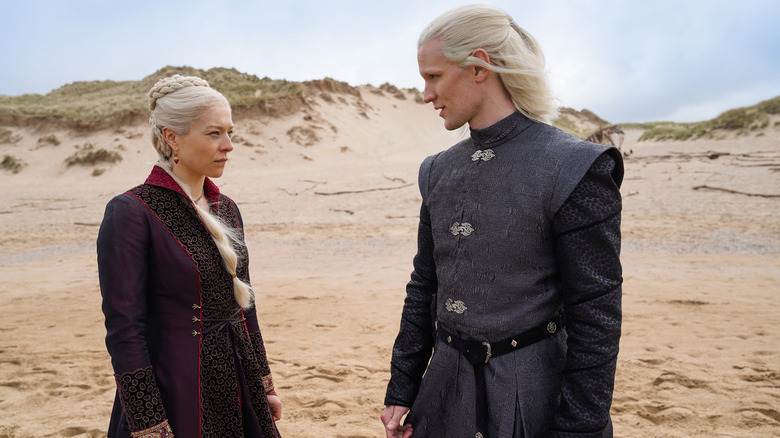 Ollie Upton/HBO
In spite of the millions of dollars pumped into "Bloodmoon," the series fell by the sword. Robert Greenblatt told The Hollywood Reporter that there was no ill will toward the failed series. In fact, according to Greenblatt, the pilot was "very well produced and looked extraordinary." However, the studio executives ultimately decided that they needed something that evoked emotions similar to the most triumphant days of "Game of Thrones." 
Enter "House of the Dragon," a show that certainly looks and feels like a "Game of Thrones" series.
Instead of an unfamiliar world, fans will be getting a deep dive into Targaryen history. Inspired by the Dance of the Dragons civil war depicted in George R.R. Martin's book "Fire and Blood," the upcoming series will once again revolve around the fight for the Iron Throne. However, instead of Targaryens fighting off a plethora of usurpers from the outside, this series will focus on Targaryens fighting Targaryens.
More specifically, the series will portray Princess Rhaenyra's (Emma D'Arcy) quest to reclaim her Targaryen birthright. To accomplish this task, she teams up with her duplicitous uncle Daemon Targaryen (Matt Smith) as well as a multitude of dragons. If it worked for Daenerys, it's sure to work for them, right? Viewers can find out when they catch the blood-soaked dragon-fest on August 21.