Where Sun, Sand And Romance Was Actually Filmed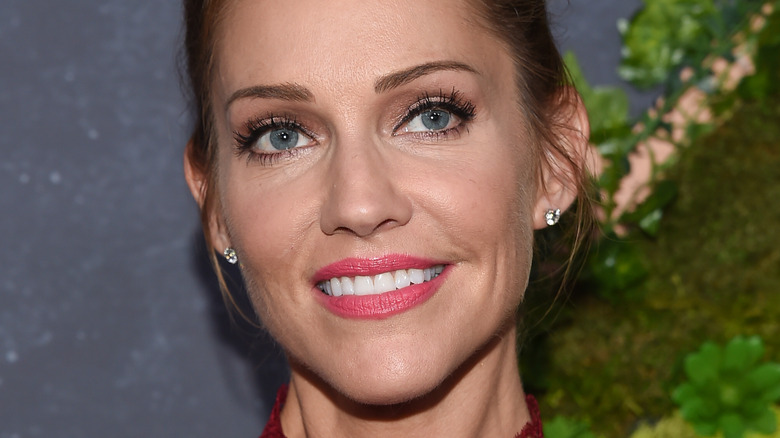 DFree/Shutterstock
Hallmark romance movies are all about escapism, which explains why so many of them have main characters leaving big cities to return to picturesque small towns, or taking trips to beautiful or interesting vacation destinations to find themselves — and new loves. 2020's "Sun, Sand, and Romance" is a film in the latter category, featuring a beachy locale complete with luxury hotel accommodations.
When it debuted in 2017, "Sun, Sand and Romance" was immediately notable for its inclusion of actors from popular sci-fi TV shows. Star Tricia Helfer is best known as Six on "Battlestar Galactica." Male lead Paul Campbell was also a recurring character in that series, playing presidential aide Billy Keikeya. Meanwhile, supporting actor Tim Russ played Tuvok on "Star Trek: Voyager." It turns out, these actors are as at home in earthly paradises as in outer space. The TV movie itself has a plot that's familiar to romance aficionados: publishing account executive Kate (Helfer), hoping for an engagement and a promotion, goes on vacation with her boyfriend Eric (Scott Elrod) to Cancun, Mexico. Eric discovers his hero, real estate developer Van Houghton (Russ), is also there — and spends all his time with him instead of Kate. Meanwhile, Kate reconnects with an old camp friend, Shep (Scott Campbell) who is now the activities director at the hotel. 
Of course, non-blockbuster films set in such places aren't always filmed there, especially when it's more convenient or inexpensive to film in less exotic locations. So where was "Sun, Sand and Romance" actually filmed?
Sun, Sand and Romance was filmed on location in the area that borders Cancun
Interviews and social media posts from the stars reveal that the TV movie was indeed filmed in the Cancun area. Sadie Robertson, who plays Chloe, the perky young assistant who eventually takes over for Shep, told TV Insider about being cast on the show. "When they asked me to shoot in Cancun for a month, I was like, 'Um, yes please!' It could not even be a job, it was like a dream," she said.
Campbell, who also produced the film, posted a few dispatches from on location. On June 5, 2017, he posted a selfie of himself, Helfer, and Robertson to Instagram that was captioned, "First day of production underway in Cancun." Filming ended on June 23, according to another post. Helfer, too, posted some images from Cancun, including one she confirmed in the comments was of a cenote, a watery entrance to an underground cave system generally found along the Caribbean coast in places like Tulum and Cancun, according to Thrillist.
However, the hotel zone in Cancun wasn't exactly the precise location for the film. As you may know if you've been a tourist there, "Cancun" as shorthand may refer to the entire Mexican region that Cancun borders: it acts as a "gateway" to other resort areas in the Yucatán Peninsula. A little sleuthing reveals that the distinctive white-with-black-trim beach umbrellas featured in the movie and on a post from Campbell's instagram belong to the Hyatt's Andaz Mayakoba Resort in Riviera Maya, about an hour away.
Specifically, the resort in the film is located in the town of Playa del Carmen
Campbell has actually discussed the location in the town of Playa del Carmen, which is in the Riviera Maya region. In an interview on YouTube, he noted that the production was originally slated to be filmed in Georgia, but that did not work out. So instead, the crew (and his family) packed up and headed for sunny Mexico. "To be perfectly honest, it was mostly vacationing and occasionally there were cameras around us filming," he explained. "Somehow, I don't know how this happened, but we lucked into this insanely beautiful resort property in Mexico." 
The actor and producer related that the Andaz was brand-new at the time and travelers hadn't quite discovered it yet, so the crew had the run of the five-star resort with very few people around. Using the hotel and its environs turned out to be a huge advantage, because producers were able to make the film look much more expensive than it was. "You can't buy a set like that," Campbell said. He joked that they stayed an extra week just to apply for citizenship. 
Fans also believe that the zip-lining scene, in which Shep pushes Kate to step out of her comfort zone by literally pushing her off a zip-lining platform, took place at Xel-Há (per Facebook). This touristy activity park in Tulum is not far from Cancun or Playa del Carmen, and it is listed as part of the attractions for both areas.