MTV Launching Jersey Shore Spinoff Floribama Shore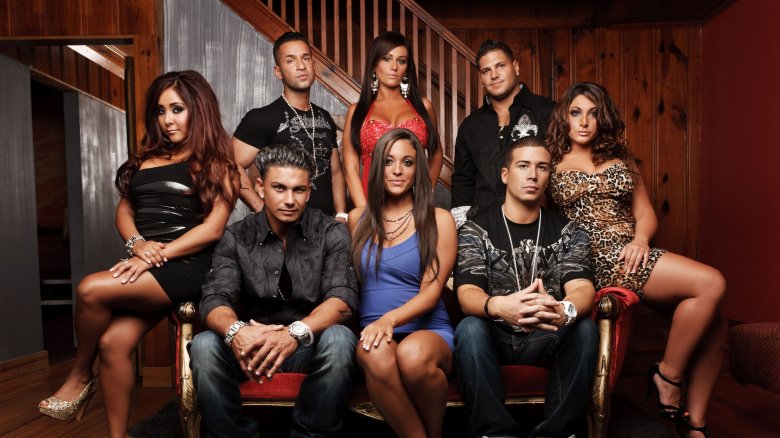 Cabs are here! Er, Lyfts are here! Uh... cabs are back? Oh sweet lord, it's been so long.
Whatever your rallying cry, pop that shirt off and pour a shot of vodka down your throat, because MTV has announced it's launching a full-fledged spinoff series of its wildly-successful Jersey Shore, this time with a whole new cast in a whole new locale, according to a report by Deadline.
The series, Floribama Shore, is being produced by Jersey Shore creator and executive producer SallyAnn Salsano with her 495 Productions company. MTV released a cast photo and a duck phone-themed teaser for the show, and you can check out both right now.
Really, this brief teaser is what should fill you with the most confidence. These producers know that damn duck phone is the gravitational force that tied the entire original Jersey Shore series together, and hopefully the new gator phone is up to the task of being 1) inexplicable and 2) highly annoying to the residents it serves.
Speaking of which—the residents! Floribama Shore is bringing in a whole new cast of hard-partying beach bum twenty-somethings to make gloriously questionable decisions to be preserved on film eternally. 
Those eight cast members we're looking forward to meeting are Gus Smyrnios, 22, from Tallahassee, FL; Candace Rice, 24, from Memphis, TN; Nilsa Prowant, 23, from Panama City Beach, FL; Kirk Medas, 25, from Atlanta, GA; Aimee Hall, 24, from Perdido, AL; Kortni Gilson, 21, from Panama City Beach, FL; Codi Butts, 25, from Westminster, SC; and Jeremiah Buoni, 22, from Amelia Island, Florida.
Right away, our take as Shore scientists is that what we've got here appears to be no nicknames of the "The _____" variety, a younger cast overall than there was on the Jersey Shore, a potential Panama City Beach alliance, and at least one Italian surname in the mix to keep us all mindful of where this party all started. If we had to guess who will be the first to successfully pierce the zeitgeist with a GTL-esque catchphrase, we're going with Codi—it feels like he's probably got a few in his back pocket.
Jersey Shore premiered in December 2009 and instantly rocketed to the center of the pop cultural conversation with its intimate look at eight housemates partying and fighting it out up and down the coast of New Jersey. Part of its appeal was the controversy it stirred up, with subjects of the show frequently facing arrest and getting in real fights. The show and MTV were also critiqued for marketing the show as a celebration of "guido" culture, a term for working-class Italian-Americans that was noted by some as being offensive.
The series format has been spun off into a number of different shows both in the United States and internationally, with Salsano's series Party Down South on CMT or spinoffs like the UK's Geordie Shore, Poland's Warsaw Shore, and Mexico's Acapulco Shore being examples of the different shows the mothership has inspired over the last decade. In August, the original cast of Jersey Shore (minus cast members Ronnie Ortiz-Magro, Vinny Guadgnino and Deena Cortese) reunited for the special Reunion Road Trip: Return to the Jersey Shore.
Floribama Shore will premiere this fall with a first season of eight episodes on MTV, which were quietly filmed over the summer. Hopefully they can spin on the sort-of oddball name for the show a little better when we hear it in context; just reading it, our eyes keep wanting to parse the title as a word scramble for a Barack Obama cousin or something.
The new series debuts on Monday, November 27 at 10 pm.