Why Billy And Max From Stranger Things 2 Look So Familiar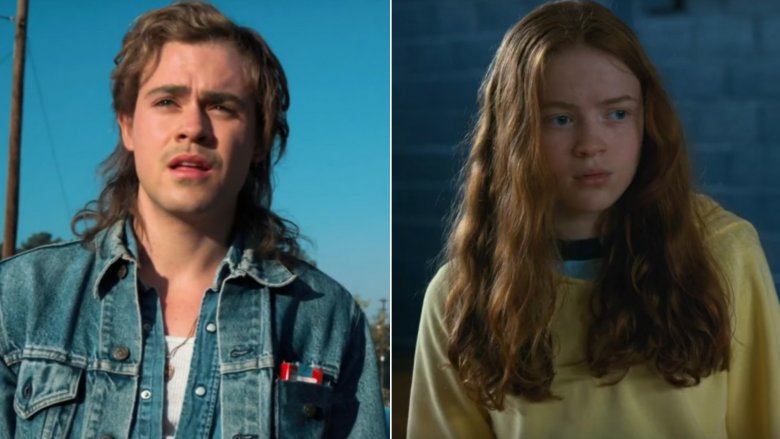 Stranger Things 2 has officially arrived in style—just the like Netflix original series' two new California kids on the block, Billy and Max. One's a loose cannon with a mullet who makes all the high school girls swoon; the other's a skateboarding tomboy who's an absolute wizard on the Dig Dug cabinet. Both new Hawkins kids, however, are surrounded by all sorts of mystery... so before we figure out what exactly is up with these two strangers, let's take a look at where we've seen actors Dacre Montgomery and Sadie Sink before.
And don't worry if you haven't started the Stranger Things' second season yet, or are only a couple episodes in—this feature is entirely spoiler-free. 
Better Watch Out (2016)
Not long before the release of Stranger Things 2, Dacre Montgomery's career started with the small role of Jeremy in the 2016 Australian-American horror comedy Better Watch Out—a critically acclaimed and over-the-top film chock full of teenage talent.
"I lucked out," the film's director, Chris Peckover, told Movie Pilot. "I feel like between Levi [Miller], Olivia [DeJonge], Ed [Oxenbould] and Dacre, we found the most talented Australian teenagers and put them all in one film. They're all blowing up right now, and I'm not surprised. When we were working together you could see they were all incredible. I don't know if I would say I kickstarted their careers, but I've certainly got to play a role in the early stages...They all gave the best performances of their lives to this movie."
Indeed, Better Watch Out got Montgomery off to a blazing start, and to say the young Aussie actor is "blowing up right now" might be a bit of an understatement.
A Few Less Men (2017)
Dacre Montgomery's next movie would be far from a critical hit, but it's noteworthy nonetheless.
Starring as main man Mike in A Few Less Men—a direct sequel to the also critically panned Australian-British comedy A Few Best Men—Montgomery plays his part in the slapstick, although he isn't really to blame for the film's failures as much as the script. Less generally takes a "quantity over quality" approach to comedy, slinging male-genitalia-based jokes as frequently as possible, hoping some of them warrant a few laughs. Admittedly, some do... but all too few.
Critical reception aside, Montgomery's role in A Few Less Men helped propel him onto even bigger and better (and more powerful) things.
Power Rangers (2017)
Dacre Montgomery's biggest pre-Stranger Things role is unquestionably that of Red Ranger Jason Scott, the leader of the titular superheroes in the Dean Israelite-directed Power Rangers film—a role he landed despite never having watched the original kids' action series.
"It's 100 percent true," Montgomery told The Hollywood Reporter. "I kind of missed it. I'd love to blame that I was on the west coast [of Australia], in the most isolated city on the planet, but I think Power Rangers really had reached every corner of the earth, so I don't know, I just missed it!"
Nevertheless, Montgomery still got to deliver the film's most iconic line. "[It] happened three and a half months into the five-month shoot," Montgomery recalled. "On the day, me and the other guys were all like whispering in the corner, 'What the hell? What are we going to have to do? How is Dean going direct this?' Dean comes up to me and the rest of the group, and he whispered in my ear. He's like, 'Dacre, I want you to say it like a prayer.' I was like, 'This is different.' We all walk to the morphers, the crane booms down, comes to my face and then I said, 'It's morphin' time.' I said it like a prayer."
Annie (2012)
Sadie Sink, the young actress behind Stranger Things 2's Max, started acting professionally at 10 years old, after an obsession with 2006's High School Musical inspired her to act in a rural Texas community theatre, which led to her auditioning for—and landing—the lead role in Broadway's 2012 revival of Annie.
Interestingly, it was on Broadway where Sink first met Stranger Things' Caleb McLaughlin (The Lion King) and Gaten Matarazzo (Les Misérables). "If you're a child, and you're on Broadway, you automatically know every other child in a production," she told Vogue. "It's a proper community. There's a park on 43rd Street where we would all go to let off energy before we had to go back and perform another show."
Though Annie was her biggest Broadway gig, Sink also gained valuable acting experience when she starred alongside veteran Helen Mirren in 2015's The Audience. "Our first rehearsal with her," Sink recalled, "I was like, 'OK, I gotta get this right!' But it wasn't scary after that. She's such a nice person and I don't really get nervous around her."
American Odyssey & TV cameos (2013-2016)
While hitting it big on Broadway, Sadie Sink made her television debut in March 2013, guest starring as Lana on the eighth episode of FX's period drama The Americans, titled "Mutually Assured Destruction." She then popped up on an episode of the CBS procedural police drama Blue Bloods, titled "Insult to Injury." Jump ahead to 2016, and the tween Sink again made a small-screen cameo on the Tina Fey-created sitcom Unbreakable Kimmy Schmidt, where she played... well... a 'tween girl' on the episode "Kimmy Sees a Sunset!"
Of course, Sink didn't merely make cameos. Before landing the role of Max on Stranger Things' second season, the young actress was notably featured as a main cast member on the NBC thriller American Odyssey, where she played Suzanne Ballard, the daughter of Odelle and Ron Ballard.
Chuck (2016)
Sadie Sink made her big-screen debut in 2016's biographical sports drama Chuck, in which she plays the title character's daughter, Kimberly. The Philippe Falardeau-directed film follows the life of Chuck Wepner, whose 1975 fight with boxing legend and heavyweight champion Muhammad Ali may or may not have inspired Sylvester Stallone's screenplay for Rocky.
The film received generally positive reviews, and—though her role was minimal—helped bolster the young star's résumé.
The Glass Castle (2017)
Sadie Sink's most prominent big-screen role to date is that of a young Lori Walls in the 2017 American biographical drama The Glass Castle. Based on Jeannette Walls' 2005 memoir of the same name, the film follows an autobiographical account of the author's poverty-stricken childhood existence with her family and father (played by Woody Harrelson).
The film has received mixed reviews, with Forbes arguing it's the perfect example of how our moviegoing culture's obsession with Rotten Tomatoes' Tomatometer can inaccurately reflect a film's quality. Regardless, Jeannette Walls praised the cast of her heavy story, Sink included. "This cast really became a family and that is a really beautiful thing," Walls told Variety. "The thing with each of these great performances was that there was a lot of trust happening."