Thor: Ragnarok Has Already Topped $100 Million Overseas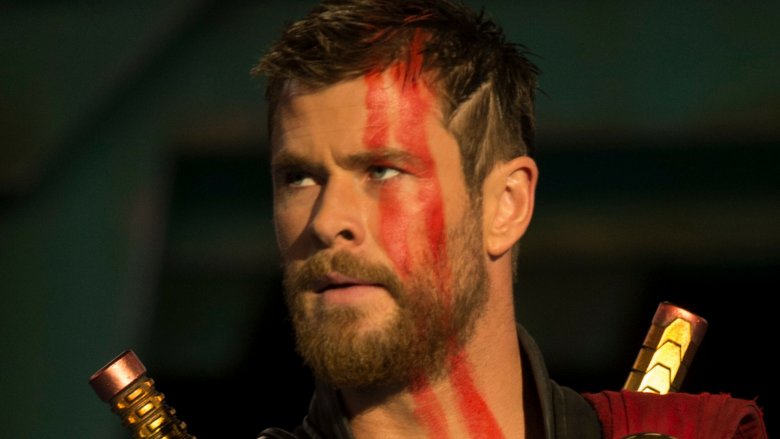 Thor: Ragnarok is already a box office superhero. Variety reports that the film brought in $107.6 million in its overseas opener, ahead of a huge projected domestic opening next weekend.
Ragnarok features the titular hero (Chris Hemsworth) contending with Loki's (Tom Hiddleston) lax rule on Asgard during his time masquerading as their missing father Odin (Anthony Hopkins). This leads to the freeing of Cate Blanchett's Hela, who unleashes hell on the planet, destroys Thor's hammer, and banishes him to the desolate planet of Sakaar.
There, he is captured by Valkyrie (Tessa Thompson), who brings him to the Grandmaster (Jeff Goldblum), a nefarious ruler who cuts off his hair and forces him to fight against the Hulk (Mark Ruffalo). Although Marvel is saving the battle for the big screen, we do know that, eventually, the pair will escape and head off on an intergalactic adventure to take down Hela. (They also get some help from Benedict Cumberbatch's Doctor Strange, in one of the film's few stops on Earth.)
Ragnarok debuted in 52 percent of overseas markets, with the United Kingdom bringing in the biggest bucks with $15.8 million. This is 27 percent ahead of Doctor Strange and represents the biggest October opening in the U.K. ever, not counting the country's beloved James Bond films. Other market hauls include $15.3 million from South Korea, $8.4 million from Australia, $8.3 million from Brazil, $7.4 million from France, $5.5 million from Indonesia, and $5.4 million from Taiwan.
Ragnarok's overseas opening weekend puts it just ahead of Guardians of the Galaxy Vol. 2, which earned $106 million earlier this summer. The film also tops fellow Marvel movies like Iron Man ($99 million), Iron Man 2 ($92.6 million), and Captain America: The Winter Soldier ($75.2 million). However, it couldn't beat out the likes of Spider-Man: Homecoming ($139.5 million), The Avengers ($185.1 million), or Captain America: Civil War ($200.4 million). (via Box Office Mojo)
Ragnarok will expand even further next weekend. The movie is set to hit the lucrative China and Japan markets, along with its debut in Germany, Russia, and Mexico. Nov. 3 will also see the movie's U.S. box office debut, where it is projected to make as much as $125 million. The movie should easily top the openings of the previous two Thor films, which brought in $65.7 million and $85.7 million, respectively. (via Box Office Mojo)
Thor: Ragnarok, which has already received the love of critics with a 96 percent on Rotten Tomatoes, is directed by Taika Waititi based off a script from Eric Pearson, Craig Kyle, and Chris Yost. The movie, which also stars Karl Urban and Rachel House, hits theaters on Nov. 3.