Who Cobra Kai Fans Think Would Win In A Fight Between Chozen And Mike Barnes
Since diving back into the world of martial arts throughout "Cobra Kai," Daniel LaRusso (Ralph Macchio) has had a lot on his plate. Strained family relationships aside, he's reconnected with childhood rival Johnny Lawrence (William Zabka) following his reopening of the long-dormant Cobra Kai dojo. For the most part — thanks somewhat to the returns of villains John Kreese (Martin Kove) and the subject of much fan discussion, Terry Silver (Thomas Ian Griffith) — they've managed to bury the hatchet and let their teenage feud go, which hasn't been an experience entirely unique to Daniel and Johnny.
Johnny Lawrence occupied much of Daniel LaRusso's focus in "The Karate Kid," though he wasn't his prime focus come "The Karate Kid Part II." Instead, that film put the skilled yet pompous son and student of Sato Toguchi (Danny Kamekona), Chozen Toguchi (Yuji Okumoto), in that spot. He and Daniel were at each other's throats throughout the film, but Chozen's arrogance proved to be his undoing. He reemerged during the third season of "Cobra Kai," and despite some residual animosity between them, Chozen and Daniel soon find common ground, and the former vows to help take down Cobra Kai once and for all. 
With Johnny and Chozen back in the "Karate Kid"-"Cobra Kai" spotlight, many fans think it's time for Mike Barnes (Sean Kanan) of "The Karate Kid Part III" fame to do the same — either as a thorn in Daniel's side or potentially as a reluctant ally. Fans have also begun to wonder if Terry Silver's old accomplice could defeat Chozen or if the Miyagi-Do standout would reign victorious.
Fans think Chozen could defeat Mike Barnes with ease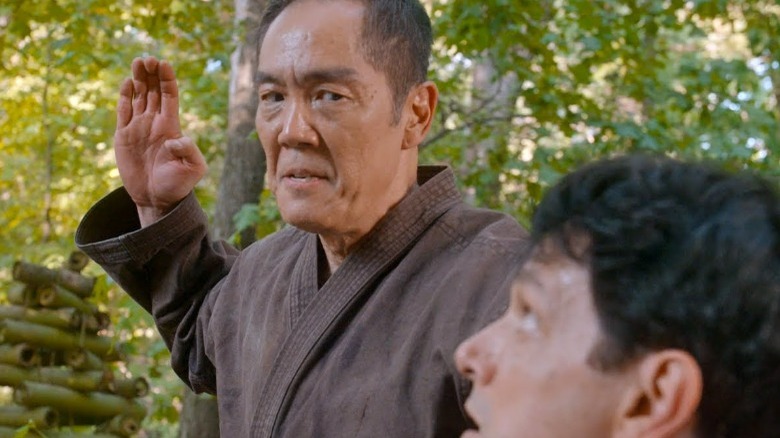 Netflix
Redditor u/Certified_Cichlid asked the "Cobra Kai" community if they think Mike Barnes or Chozen Toguchi would stand as the winner following a fight between them. Numerous fans of the show tossed in their two cents on the matter, and it became overwhelmingly clear that the favorite is Chozen. This belief stems from the fact that Chozen never gave up his Miyagi-Do training, making him one of the most well-rounded combatants on "Cobra Kai." Therefore, if Mike were to clash with Chozen — unless he too never stopped training in the years since the events of "The Karate Kid Part III" — his loss is all but inevitable.
Of course, as of this writing and the end of a huge moment-filled Season 4, Mike Barnes has yet to pop up on "Cobra Kai," meaning there's no guarantee that he and Chozen will square off. Then again, with Terry Silver's Season 4 mention of calling in old friends to help run his Cobra Kai empire, it's not out of the realm of possibility that Barnes could make a comeback. Not to mention, actor Sean Kanan hasn't outright ruled out a return to his iconic role, admitting as much in an April 2021 interview (via YouTube). "I can neither confirm nor deny," he said, adding that it wouldn't be fair to the minds behind "Cobra Kai" to delve further into the subject.
All signs point to Mike Barnes' return on "Cobra Kai," likely at the side of his former business partner Terry Silver. Time will tell if this turns out to be the case and if he'll stand toe-to-toe against Chozen Toguchi as a result.