The Boys' Spin-Off Series Gen V Release Date, Cast, Trailer, Plot And More Details
We may receive a commission on purchases made from links.
Even before the premiere of the critically-acclaimed third season of "The Boys," plans were in place for the world of Homelander (Antony Starr) and Billy Butcher (Karl Urban) to expand, going less MCU and more BFU (guess what the "F" stands for?). Currently, in addition to the existing animated anthology show "The Boys Presents: Diabolical," Amazon has a live-action series focusing on a younger generation of supes in the works.
Announced in late 2020, this then-unnamed spin-off was pitched as "part college show, part 'Hunger Games' — with all the heart, satire and raunch of 'The Boys'" according to an early Variety report. Fans were understandably intrigued by this idea, anticipating that it might be about the G-Men, which is a super team of teens spoofing the X-Men in "The Boys" comics by Garth Ennis and Scott Derrickson. Eventually, after the epic finale of "The Boys" Season 3, fans got their first taste of this new show courtesy of a Twitter video from its cast announcing that it's titled "Gen V." 
Since then, more details about "Gen V" have surfaced demonstrating just how it will fit in with some of the ongoing developments in the Vought-ruled world of "The Boys."
When will Gen V be released?
Though fans have known about "Gen V" for more than two years now, for most of that time Amazon kept bystanders in the dark about just when this first live-action spin-off of "The Boys" would become available on its streaming service.
Finally, just five days after the two-year anniversary of the video announcing the show's title, it was reported that "Gen V" will premiere on September 29. On that date, the show's first three episodes will drop on Amazon Prime Video. New episodes will then premiere on a weekly basis, culminating in its series finale hitting Amazon on November 3. This means that "Gen V" will consist of eight episodes in total.
Now, Variety has noted that promotion for "Gen V" is currently impacted by the ongoing WGA and SAG-AFTRA strikes. Nevertheless, it seems this September 29 release date is set in stone, whether or not its actors become available for promotion before that point in time.
What is the plot of Gen V?
While "Gen V" takes place in the same universe as "The Boys," its cast of characters differs almost entirely from the team of heroes that fans of the existing show have come to love and/or love to hate. To give viewers a better idea of just to expect from "Gen V," Amazon Studios published a plot summary ahead of its premiere in a press release.
Notably, the superheroes around whom "Gen V" revolves are the first to have knowingly received their superpowers from the chemical Compound V. Just like the X-Men they so closely resemble, the scientifically-augmented heroes in "Gen V" all live and train at an academy, and they race to rank higher than their classmates based on their accomplishments. "These young, competitive heroes put their physical and moral boundaries to the test," reads Amazon's summary. "They quickly come to learn that ambition comes with sacrifice, and the difference between right and wrong is not as clear as they once believed. When the university's dark secrets come to light, the students must come to grips with what type of heroes they are going to become."
Who is starring in Gen V?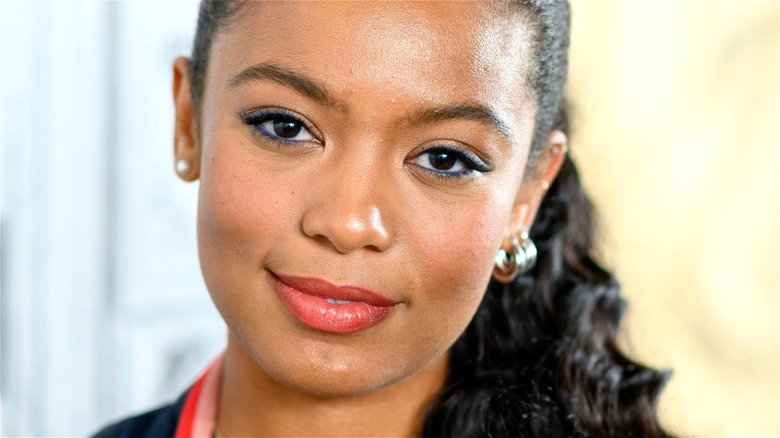 Roy Rochlin/Getty
There's a central mystery to "Gen V," and the person in charge of solving it is Marie Moreau. Portrayed by Jaz Sinclair ("Chilling Adventures of Sabrina"), she's a blood-manipulator at the Vought-run Godolkin University who longs to become the first Black woman to join the Seven. Assisting her sleuthing is her roommate, a size-shifter named Little Cricket, portrayed by Lizze Broadway of "Ghosted." Chance Perdomo ("Chilling Adventures of Sabrina") costars as Andre Anderson, a hero nepo baby with magnetic powers who's struggling with the pressure to someday take on the identity of his father supe, Polarity. 
His best friend is a young hero named Luke Riordan, aka Golden Boy — played by Patrick Schwarzenegger ("The Staircase") — who can set himself aflame. He's dating Cate Dunlap (Maddie Phillips of "Teenage Bounty Hunters"), who has the power of extreme persuasion. Also among this group is Jordan Li, an ultra-ambitious student who can change at will between male and female identities and who is thus played by two actors, Derek Luh ("Shining Vale") and London Thor ("Shameless").
Also appearing throughout "Gen V" are prominent staff members. Shelley Conn of "Bridgerton" plays Indira Shetty, the powerful dean who doesn't possess any actual superpowers, and legendary character actor Clancy Brown portrays Brink Brinkerhoff, a professor of crime-fighting with a luminous track record. Additionally, Jason Ritter ("Gravity Falls") was cast in an undisclosed role. On top of all that, Jensen Ackles (Soldier Boy), Jessie T. Usher (A-Train), Chace Crawford (the Deep), Claudia Doumit (Victoria Neuman), Colby Minifie (Ashley Barrett), and P.J. Byrne (Adam Bourke) will pop up to play the same characters they did on "The Boys." 
Who is showrunning, producing, and directing Gen V?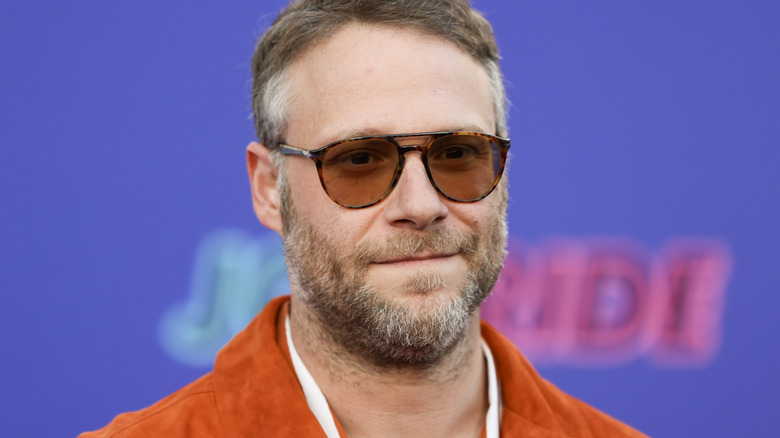 Rodin Eckenroth/Getty Images
So who's bringing the world of "Gen V" to life? Well, Michele Fazekas and Tara Butters are serving as dual showrunners. In the past, these two have collaborated on quite a few projects, including more than 90 episodes of "Law & Order: Special Victims," "Dollhouse," "Hawaii Five-0," "Agent Carter," and "Emergence," among others. They'll be joined here by "The Boys" executive producers Seth Rogen, Evan Goldberg, and Erik Kripke, alongside original comic book authors Garth Ennis and Darick Robertson.
As for directing duties, those are being split between Nelson Cragg, Steve Boyum, and Rachel Goldberg. Cragg previously helmed two episodes of "The Boys," and in addition to directing on shows like "Them," "American Crime Story," and "American Horror Story," he's also served as cinematographer on series like "Breaking Bad" and "Homeland." Boyum has also directed on "The Boys" before and has worked on shows such as "Criminal Minds," "Goosebumps," and "The Old Man," in addition to being a prolific stuntman. Lastly, Goldberg helmed an episode of the upcoming "Agatha: Darkhold Diaries," as well as episodes from projects like "Mayans M.C.," "American Gods," and "Cloak & Dagger."
Is there a trailer for Gen V?
Just about three weeks before the first episodes of "Gen V" were set to arrive on September 29, 2023, Amazon released an official full-length (and very bloody, explicit) trailer for the spinoff of "The Boys." The quick-paced clip package begins with the seemingly kind Professor Brink Brinkheroff (Clancy Brown) assuring students that Godolkin University, this special school for superpowered young people, is the perfect place for them to exploit their abundant potential.
The clip package continues with an introductory rundown of each main character's superpowers — super-speed, summoning metallic objects, or becoming a human fireball, among them. All those collegiate and powerful seem to quickly make guarded friendships with another while also razzing one another. They'll be bonded by a dark and dangerous conspiracy they uncover and then fight against, resulting in a journey that will include lots of blood, violence, profanity, puppets, and reckoning with their anxieties about the superhero way of life.
What comic is Gen V adapting?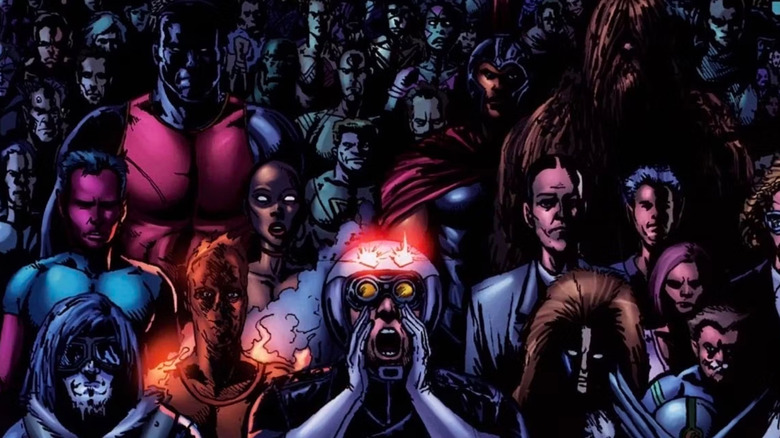 Image Comics/Scott Derrickson
While "Gen V" may sport a distinct title from its progenitor, the source material for the upcoming spin-off show is, in fact, Garth Ennis and Scott Derrickson's "The Boys" comics. In particular, "Gen V" is adapting a storyline titled "We Gotta Go Now" — distinct from the events of Season 2, Episode 5, which utilizes this very same title. This story, which revolves around the G-Men superhero team, spans issues 23 through 30 of "The Boys," available to modern day readers as Volume 4 of the graphic novel collection series.
So, anyone interested in comparing the new "Gen V" show to its source material need only read through "The Boys" Volume 4. That said, it seems likely that "Gen V" will differ in at least a few significant ways from this original comic book storyline, especially considering Amazon is describing the upcoming batch of episodes as Season 1. If "Gen V" continues into an implicit future season or seasons, then it may well enter into uncharted territory.
Where to watch previous seasons of The Boys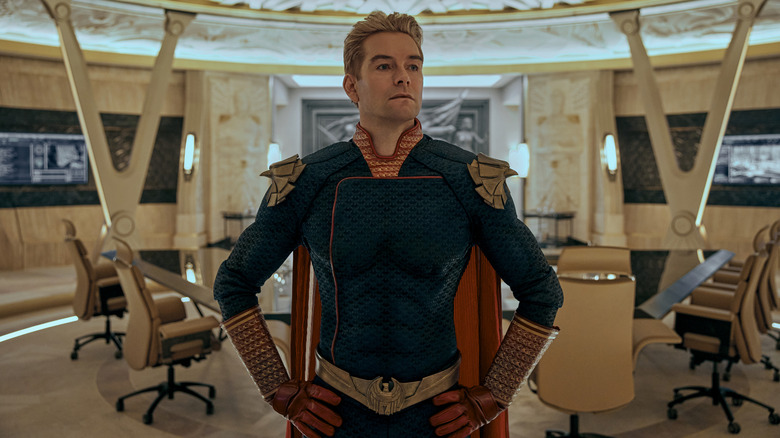 Amazon Prime Video
Since "Gen V" revolves around a brand new group of characters, it's likely even viewers entirely unfamiliar with past seasons of "The Boys" can follow its central story, albeit while missing the inevitable references and callbacks to the main show. That said, new viewers may still want to catch up on "The Boys" prior to checking out "Gen V" either to become accustomed to the series' idiosyncratic style for the first time or even just to become better informed about the universe in which it takes place.
Because "The Boys" is one of the streaming service's flagship shows, Amazon Prime Video is the only place past episodes are available. Since an Amazon subscription is required to watch "Gen V" anyway, new viewers can always start with old episodes of "The Boys" before "Gen V" premieres to the streaming service on September 29.