Blue Bloods' Bridget Moynahan Dishes On Her Most Challenging Family Dinner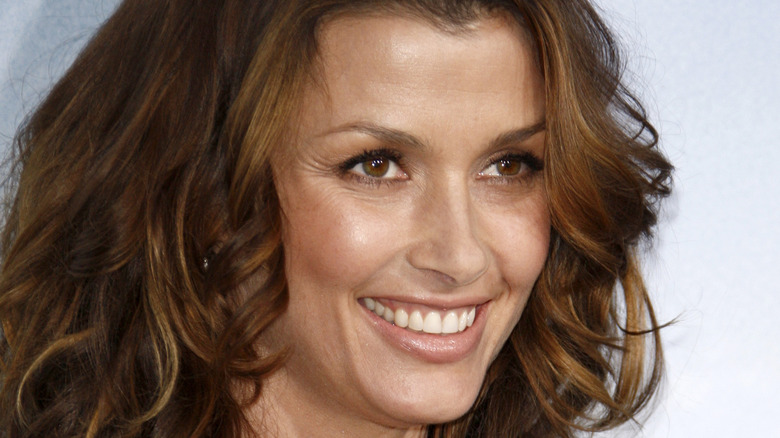 Kathy Hutchins/Shutterstock
Assistant district attorney Erin Reagan (Bridget Moynahan) stands out from the rest of her family on the CBS drama "Blue Bloods." Whereas her brothers are boots-on-the-ground law enforcement agents like a beat cop or detective, Erin instead chose a path that sees her handle a different aspect of the law. As a member of the Reagan family Erin grows up entirely surrounded by the law enforcement lifestyle. Not only are her brothers working for law enforcement; her father is the current New York City Police Department commissioner and her grandfather served in the same capacity as well.
Although Erin does most of her fighting in the courtroom, it is noted that she at one point wanted to be a police officer like her siblings, but decided to go in a different direction. This doesn't mean she is helpless or leads a comfortable life, as she has been wounded several times over the course of the series by unhinged criminals, and her father, Frank Reagan (Tom Selleck), has mentioned that she is more proficient with a firearm than her brothers. Erin also has a fairly complicated past with her ex-husband, which results in her being somewhat apprehensive of romantic relationships. 
One of the most enduring aspects of "Blue Bloods" is the famous dinner scenes that see the family gather and discuss topical subjects, past events, and the future. It seems as if one dinner scene proved to be quite challenging for Moynahan, but which one and why?
Moynahan isn't a fan of moo-shu pork calzone
CBS
Appearing on "Live With Kelly and Ryan," the topic of the famous "Blue Bloods" dinner scenes came up, and Bridget Moynahan was asked if there was anything she didn't want to eat and if there were any difficult scenes involving the filming of the aforementioned moments. Moynahan didn't miss a beat, and answered, "There was one time that they had a moo-shu pork calzone, which I had never heard of. I had to talk about it on screen, so I had to eat it every single time. And it was early in the series so it was taking about four hours to do the dinner scenes. So it was four hours of eating a moo-shu pork calzone." She was referring to the 5th episode of Season 3, "Risk and Reward."
This was not the first time she brought up the experience, and she once told HuffPost, "That was not good and I will never do that again. I don't know why somebody came up with that concept, a moo shu pork calzone. You shouldn't combine the two."
Although Moynahan wasn't a fan of that particular meal, the dinner scenes are a reoccurring element of "Blue Bloods," and these moments form the backbone of the show. The different opinions of the Reagan family are often on full display, and the family likes to talk and express their thoughts. Sometimes they get into some slight disagreements, but the family remains strong despite the fact. Even the actors themselves have stressed the importance of these dinner scenes.
Both Moynahan and Selleck have said that people's love of nostalgia helps make the dinner scenes popular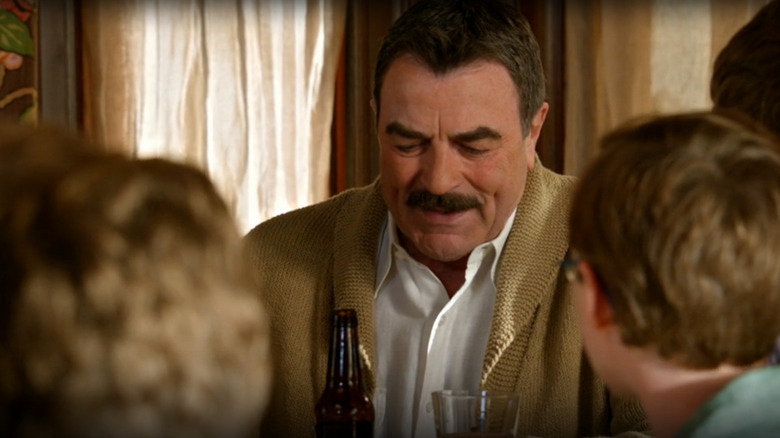 CBS
Speaking with People, Bridget Moynahan revealed that she moved on to eating mashed potatoes, and later cucumbers during the famous dinner scenes, which is probably easier on the stomach than four hours of moo-shu pork calzone. She also went on to describe what she thinks makes the dinner scenes so special by saying, "With the older generation, it kind of brings back the memories of when they used to do that. And the younger generation, kind of, is yearning for that. So it's hitting everyone, I think."
The popularity of the dinner scenes isn't lost on Moynahan's co-star Tom Selleck, who told CBS58, "It seems to be one of, or the most favorite thing for our audience is when family gets together for our weekly dinner." He added, "Most people don't have the time for that anymore, or they never had it and they wish they did, or they had it once and they can't do it anymore and I think all that is part of the nostalgia of enjoying that." 
Although most fans probably aren't envisioning eating the same thing for several hours, there is a certain well-loved charm of the Reagans' gathering. To see the multi-generational family share a meal is definitely one of the best elements of the show, assuming Moynahan doesn't have to gorge on moo-shu pork calzone again.