The Karate Kid Reference To Johnny's Fighting You Might Have Missed In Cobra Kai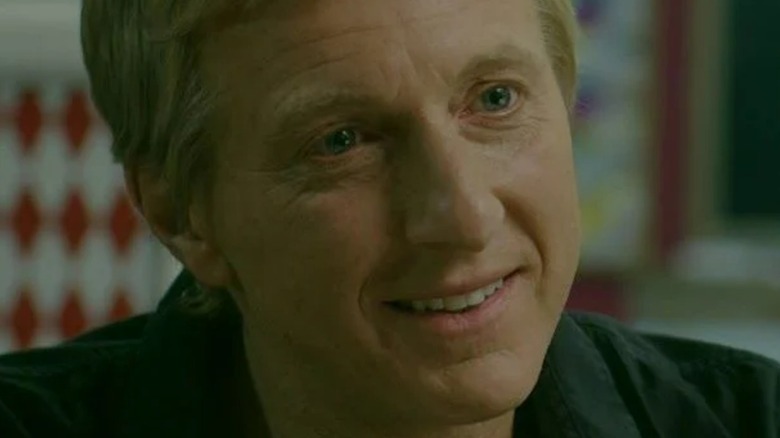 Netflix
Upon its arrival in 2018, "Cobra Kai" presented viewers with some interesting ideas about the future of the "Karate Kid" franchise. Decades after Johnny Lawrence (William Zabka) lost to Daniel LaRusso (Ralph Macchio) at the 1984 All Valley Karate Tournament, they've taken on the task of training a new generation of martial arts stars under the Miyagi-Do, Cobra Kai, and later Eagle Fang banners. There's plenty of shocking drama and hilarious hijinks along the way as audiences get to know these newcomers, as well as plenty of nods to years gone by.
While telling the next chapter of the "Karate Kid" story, "Cobra Kai" has given fans tons of Easter eggs and references to the film series that started it all. From an homage to one of the driving forces behind the original film to a strange callback to the legendary Mr. Miyagi (Pat Morita), the show has consistently found ways to honor its roots in a way that generally doesn't feel too forced or inappropriate. In fact, oftentimes these looks to the past can enhance the emotional resonance of certain moments, such as one pivotal scene that took place during Season 4.
If you look closely, Season 4 of "Cobra Kai" hides a subtle yet cool callback to Johnny Lawrence's "Karate Kid" fighting style.
Devon Lee used one of Johnny's old moves to great success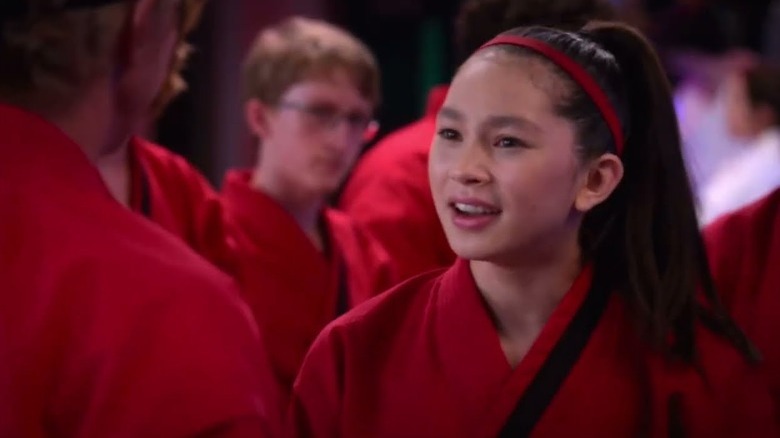 Netflix
Season 4 of "Cobra Kai" introduced viewers to Devon Lee (Oona O'Brien): a quick-tempered, confident student of the Eagle Fang dojo who takes to her training under Johnny Lawrence in no time. Naturally, her prodigious skills land her a spot in the All Valley Karate Tournament, where she makes it to the quarter-finals before losing to Cobra Kai standout Tory Nichols (Peyton List). During one of her bouts, she faced a student of the Xtreme Martial Arts dojo, and as pointed out by Redditor u/IslandGirlChick, she won using a fake-out kick — the same one a young Johnny famously used in "The Karate Kid."
Given that Devon has studied martial arts under Johnny, it should come as no surprise that she uses his old techniques in the modern day. When she did at the tournament, Johnny had a clear look of pride on his face, seemingly taking a moment to appreciate the fact that she internalized his lessons. At the same time, according to William Zabka in an interview with Variety, Johnny's not the keenest on reminiscing over his days as a Cobra Kai recruit. "He just wants his kid back, he wants love, and he wants to run a dojo without any interference — [to] live a nice, simple life. But he's got a long way to go there," he said of the character's "Cobra Kai" journey.
At the end of the day, Johnny's time under the ruthless John Kreese (Martin Kove) and the roof of the Cobra Kai dojo will always be a part of him. Although as he distances himself from those dark days, at least he's found a silver lining to them in the form of the knowledge he passes on to his students. After all, without his training and the moves he learned over the years, Devon and the rest of the Eagle Fang crew wouldn't have done as well as they did at the All Valley Karate tournament — even though they didn't ultimately win.