Dancing With The Stars' New Co-Host Is A Fresh Prince Alum, And It's Just Too Perfect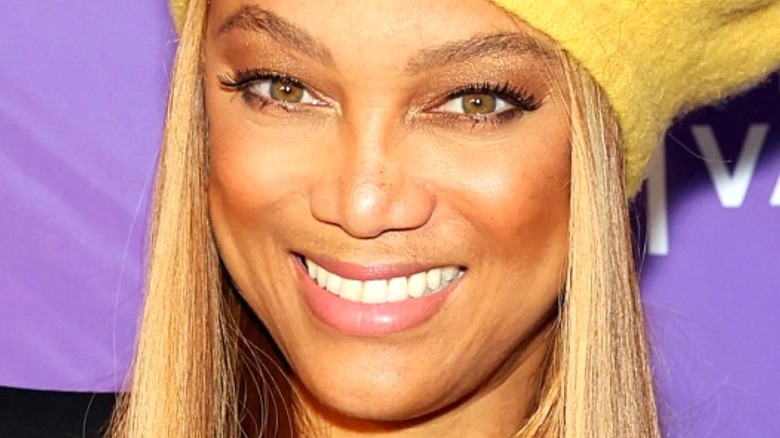 Monica Schipper/Getty
A few months ago, "Dancing with the Stars" left ABC after 16 years on the network. The hit reality competition was dropped in favor of Monday Night Football, but, fortunately, the preference for sports didn't spell the end of the popular dance-themed series. "Dancing with the Stars" was subsequently picked up by Disney+ and it will reportedly air on the streaming service for the next two years. Furthermore, the show will continue to air live episodes as Disney+ execs aim to bring more subscribers to the platform.
Suffice to say, "Dancing with the Stars" has experienced some significant changes in recent times. It remains to be seen how well the series will perform on Disney+, but its numbers should be boosted by the appointment of a brand-new co-host who rose to fame as one of the main cast members on "The Fresh Prince of Bel-Air." That said, some viewers will also remember him fondly from his time as a participant on "Dancing with the Stars."
Alfonso Ribeiro is returning to Dancing with the Stars for Season 31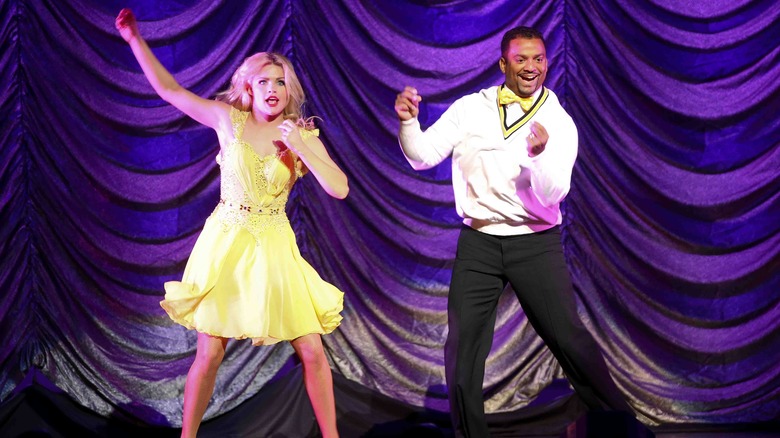 Debby Wong/Shutterstock
Now, this is a story all about how "Dancing with the Stars" hired a co-host who knows how to get down. According to People, "Fresh Prince of Bel-Air" star Alfonso Ribeiro will present the 31st season of the reality series alongside Tyra Banks. The pair go way back having attended junior high school together, and Banks' first acting job just so happened to be on the sitcom that turned Ribeiro into a household name.
Per the report, Ribeiro revealed that he's excited to return to "Dancing with the Stars." The actor won the Mirrorball Trophy as a contestant back in 2014. However, he is now looking forward to immersing himself in his new role and hanging out with some old friends. "I'm super excited," Ribeiro told People. "For me to be asked now to cohost with Tyra, and be part of the great crew and dancers and friends... to be able to be on stage with them and to be part of that family again, is quite special for me."
The "Fresh Prince of Bel-Air" alum went on to state that he also plans on getting to know all of the contestants and lightening the mood during the more serious moments. "I feel like sometimes it gets a little serious and while it needs to be that also, it also needs to be light and fun and cheery," he added.
Alfonso Ribeiro is the perfect person to co-host Dancing with the Stars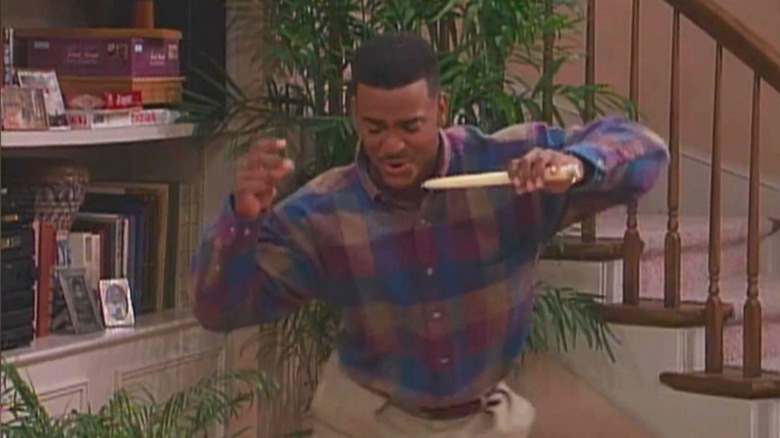 NBC
Alfonso Ribeiro has made significant contributions to "Dancing with the Stars" in the past, but his world-class boogying pre-dates his time on the reality competition. The actor is mostly remembered for playing Carlton Banks on "The Fresh Prince of Bel-Air," the '90s sitcom which saw him turn a goofy shuffle step dance routine into a cultural phenomenon.
The routine in question went on to become universally known as the "Carlton Dance," and it's still fondly remembered by fans of the comedy series to this day. In fact, he once told Jimmy Kimmel that he can't go anywhere without fans asking him to do it, much to his annoyance (per NY Post). "What makes you think that you just gonna ask a random person to dance for you, and they're gonna be like 'Oh my God, I've been waiting for you to ask!"
Of course, the actor is still more than happy to bust out a shuffle every once in a while. As the aforementioned People article highlighted, the performer incorporated Carlton's famous routine into his Mirrorball Trophy-winning performance on "Dancing with the Stars." Hopefully, he'll do some shuffling in the upcoming season, but even if he doesn't, most fans will agree that he's a perfect fit to co-host the competition.