The Ms. Marvel Finale Scene That Some Fans Are Already Calling Iconic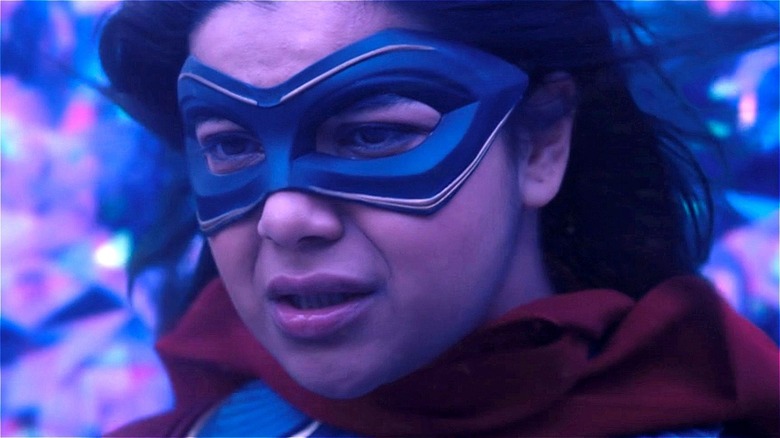 Marvel Studios/Disney+
Contains spoilers for "Ms. Marvel" Episode 6, "No Normal"
The Disney+ series "Ms. Marvel" reached the conclusion of its first season with a rip-roaring conclusion. Kamala Khan (Iman Vellani) tracks down her friends Bruno Carrelli (Matt Lintz ) and Kamran (Rish Shah), who are on the run after Kamran's newly-emerged powers blow a hole in the mini-mart run by Bruno's family in Episode 6, "No Normal." Of course, Kamala and Kamran are both reeling from the fallout of their encounter with the ClanDestines at Aamir (Saagar Shaikh) and Tyesha Khan's (Travina Springer) wedding and Kamala's subsequent battle with them, including Kamran's mother Najma (Nimra Bucha), during her visit to Pakistan.
In "No Normal," the Department of Damage Control is in hot pursuit of Kamran after the destruction of the Circle Q convenience store. No one knows how to find either he or Bruno except for Kamala and, with the help of Aamir, Nakia (Yasmeen Fletcher), and Zoe (Laurel Marsden), the team is able to take a stand against the DODC and get Kamran to safety with the Red Daggers in Pakistan. In the closing moments of the episode, Bruno reveals to Kamala he's been studying her genes and he has learned that she might have a mutation that has gifted her with her powers. Her family accepts that she is a superhero and supports her new vocation, cheering Kamala on as she takes on the mantle of Ms. Marvel. One last plot twist links Kamala's life and that of another Marvel heroine.
Fans of the show are all having a great time with some of the smaller moments that took place during "No Normal," including what is sure to be a very memorable moment in from the mid-credits.
Fans loved Carol's reaction to Kamala's room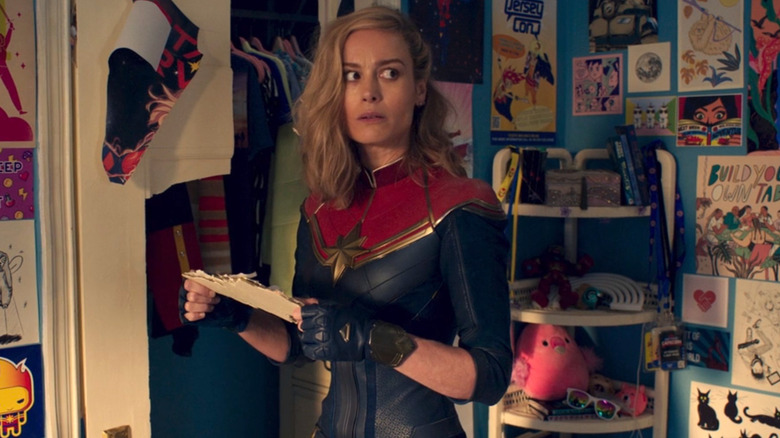 Marvel Studios/Disney+
Fans of "Ms. Marvel" are familiar with Kamala's deep and abiding admiration of Carol Danvers (Brie Larson), who is her hero when it comes to all things superheroic. In the show's mid-credits scene, Carol suddenly finds herself in Kamala's room after the two seemingly switch places after Kamala's bangle starts glowing. Following the sudden change of location, she's understandably mystified and a little freaked out at being unexpectedly dumped in the room of one of her superfans. 
This "Ms. Marvel" scene sets up the upcoming film "The Marvels," in which Kamala and the rest of Carol's team must try to figure out where Carol's been transported to and get Kamala home. Viewers took to social media following the release of "No Normal" to express their delight over this instantly iconic scene. Twitter user @brieIzrson shared the scene and added, "THIS SCENE WHEN CAROL DANVERS LOOK AROUND KAMALA'S ROOM AND SEE ALL HER CAPTAIN MARVEL POSTERS SO ICONIC!" Other fans replying to the thread agree. "Girl confused someone fangirls her way too hard, while also not knowing why she's in someone's bedroom. Pretty cool," said @UnRayao, adding a laughing emoji. "CAROL ASKING HERSELF IF I'M HERE WHERE IS SHE?" laughed @bakerlarry84.
Fans will have a bit of long wait for the next chunk of Kamala's adventure — "The Marvels" won't be released until 2023.