Why Did Nina Dobrev Leave The Vampire Diaries?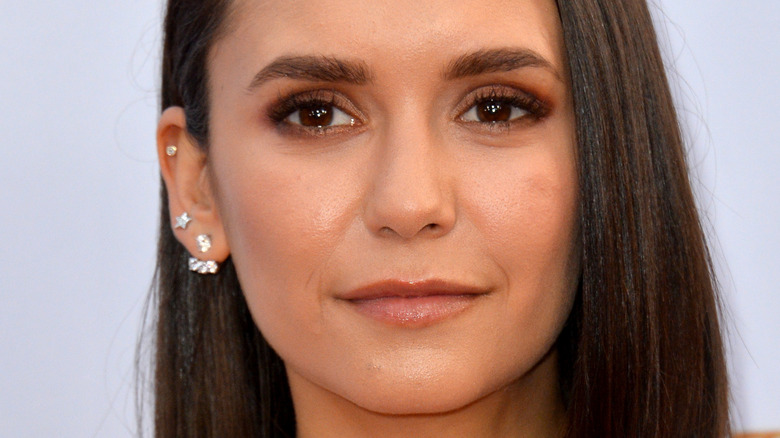 Jaguar PS/Shutterstock
It all starts with the age-old story of a teenage girl trying to get over the death of her parents and a vampire who becomes obsessed with the girl who resembles his ex. So begins the epic journey of "The Vampire Diaries," a prolific series that would go on to spawn two spin-offs. Throughout her romantic and, at times, horrifying tenure on the show, Elena (Nina Dobrev) had her ups and downs.
Many "Vampire Diaries" fans are divided about Elena, but there is no doubt that she is the heart of the show. Elena's trajectory of overcoming the death of her parents is an important one. She ultimately falls in love twice and finds her path by the end of the series. But many may note that Elena herself did not last the entire run. At the end of Season 6, Elena is put in a mystical coma that she must reside in until her best friend Bonnie's (Kat Graham) death. The series would go on for two more seasons until its ultimate resolution in 2017 (via IMDb). So with the significance of Elena's character, what drove Dobrev to leave the iconic series?
Nina Dobrev was ready to move on to bigger and better things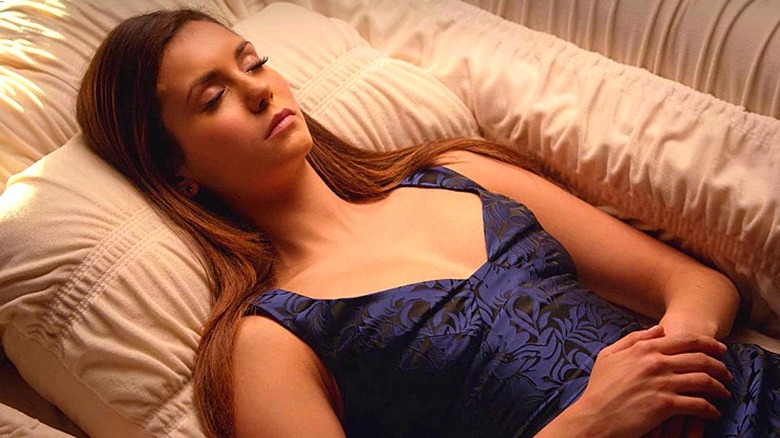 The CW
Nina Dobrev's sudden departure from the show was shocking. She first announced that Season 6 would be her last on a particularly poignant Instagram post. In retrospect, the actor was emotional about her final days. 
"I always knew I wanted Elena's story to be a six-season adventure, and within those six years, I got the journey of a lifetime," Dobrev stated. And it certainly was a wild ride. Dobrev portrayed an impressive amount of characters, not just the tender-hearted human who fell in love with two vampire brothers. The actor played the part of Elena's doppelgänger Katherine and a collection of other ancestors affected by the curse in their bloodline. Dobrev's tenure on the series was unforgettable, but it was just time to move on.
"It's important for me that [Elena's departure] be epic and powerful," Dobrev told Self. "I feel like I'm a completely different person than I was, and I've grown so much. It's been a big part of my life, and I want it to be beautiful. I want it to end well." Dobrev's contract was for six years; in the end, it felt right. But even though she was ready to leave "The Vampire Diaries" behind, she still had one more surprise in store.
Nina Dobrev returned for the tear-jerking series finale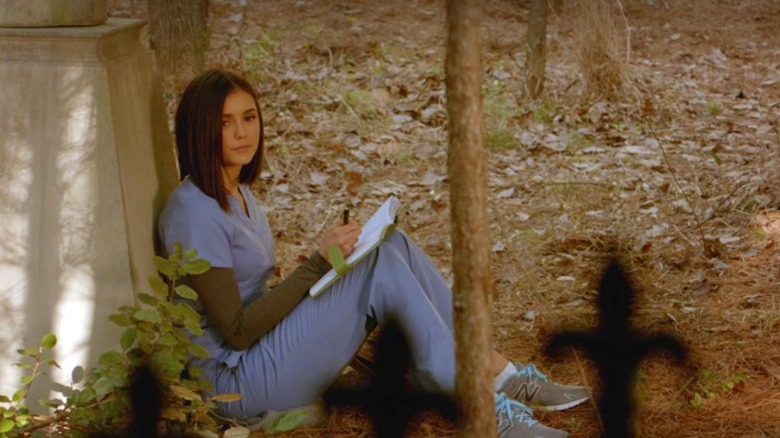 The CW
When Nina Dobrev officially said goodbye to Elena Gilbert, it seemed like it was curtains for her. Diabolical and hilarious villain Kai (Chris Wood) casts a spell, linking Elena's life to Bonnie's. The only way to wake her up is for Bonnie to die, meaning that she and Bonnie would never see each other again. This seems like an impossible situation, but in true "The Vampire Diaries" fashion, they find a solution. Dobrev returned in the series finale of "The Vampire Diaries," as Bonnie figures out a way to wake up Elena. In the final episode, Dobrev portrayed Elena and the villainous Katherine, a perfect send-off for the series.
"For me, it was great because I got to go back and be a part of the finale and say goodbye," Dobrev stated on What Happens Live. All the characters got what they needed in the end. Even Elena's absence didn't stop her from getting a happy ending.
"I am satisfied with the way the show ends — the fact that Elena finds peace and becomes human, which is what she always wanted," Dobrev reflected with Entertainment Weekly. "I cried at the end when I read that Elena was writing in the diary again, when Elena basically says the same sentence that I did in the pilot eight years ago."