The Office And Minions Crossover You Likely Didn't Know Existed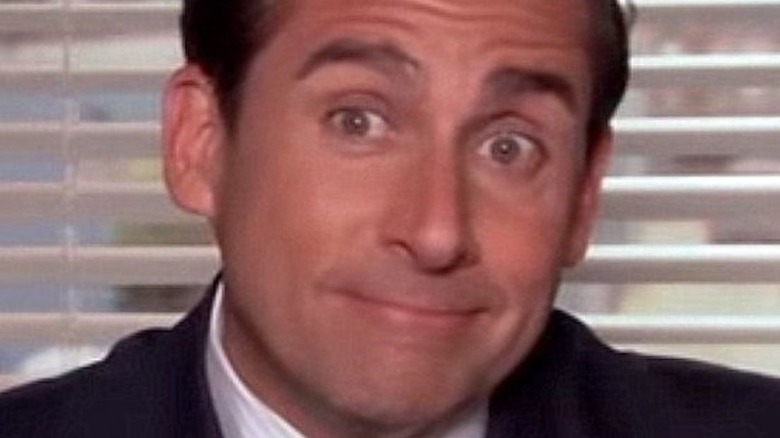 NBC
The critically acclaimed series "The Office" and the box office powerhouse that is the "Despicable Me" franchise, including "Minions," are both a large part of Steve Carell's career. Both franchises have proven to be very successful for the actor, and fans continue to enjoy everything the properties have to offer, may it be in the form of spin-offs, extra content, or crossovers some may not know actually exist.
While the workplaces are very different, "The Office" and "Despicable Me" have a lot in common. Each has heartfelt moments sprinkled throughout their constant onslaught of hilarity, and they both have Carell as the loveable goofball of a boss to a group of workers that all have their own style of quirky comedy to bring to the table. Just like the employees at Dunder Mifflin, there is rarely a point in time when the Minions aren't up to something hilarious.
When it comes to crossovers, they can be pretty hit or miss, and some are, unfortunately, better than others. But it's hard to see fans not getting excited about these two comedic gems coming together in some magnificent manner. Luckily for fans, there just happens to be an endeavor that sees the world of "The Minions" and "The Office" collide.
Dunder Mifflin has some new Minions selling paper
A promo released by Illumination features the classic intro from "The Office," but this time, the folks at Dunder Mifflin have been replaced with Gru and the Minions. One of the Twinkie-shaped characters is spraying a banana on the Scranton sign with hordes of the little guys walking through the parking lot. Kevin has his stapler put in Jello, Stuart, in a Jim (John Krasinski) wig, fires a rocket launcher while on a sales call, Bob as Pam (Jenna Fischer) admires the flowers that came from the rocket launcher, and Otto recreates "The Office" Kevin's (Brian Baumgartner) famous chili fail.
The side-splitting video was released as part of the marketing campaign for "Minions: Rise of Gru," a prequel to the "Despicable Me" film and a sequel to the 2015 "Minions" feature. After it came out, Steve Carell was asked by CinemaBlend during the press day for "Minions: Rise of Gru" if there were a particular episode the actor would like to see the Minions recreate. "I think what they did with that promo was probably the perfect amount of time and the perfect sequencing of Minions as Office inhabitants," he explained. "I think the way they did that was just right. I don't think it would sustain an entire episode, to be honest with you."
Carell makes a solid point, and sustaining a Minions mockumentary-style workplace comedy could prove difficult. But it's safe to agree with the Academy-Award nominee that the 33-second clip was a crossover success for both "The Office" and the Minions.