The Weirdest Better Call Saul Scenes To Film According To Bob Odenkirk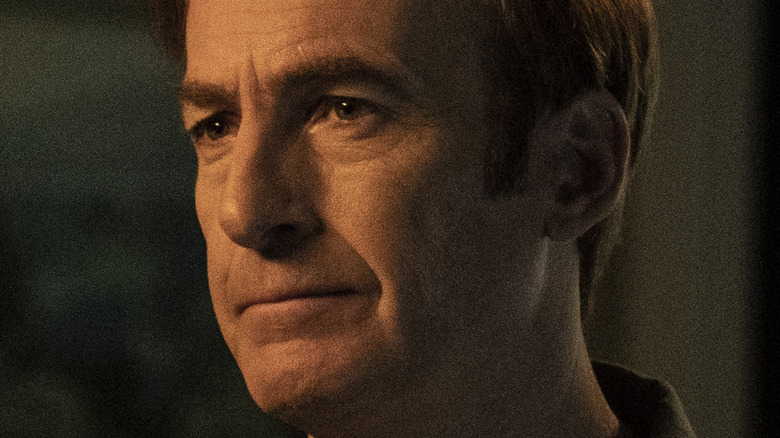 Greg Lewis/AMC/Sony Pictures Television
As of press time, there are only five more episodes of "Better Call Saul" left to be aired. Throughout its run on the network, the AMC series has definitely left an impression on viewers, and the show's producers have accomplished this by building up an impressive set of episodes that are impactful, heartbreaking, and yes, at times even a little bit strange. 
While speaking with Entertainment Weekly in July of 2022, "Better Call Saul" executive producer Gordon Smith promised that the final season of the series would feature a variety of unique plot twists and unexpected moves from the show's main characters. Unusual innovations seem to be the name of the game even this late in the program's run. 
As the show's lead actor, Bob Odenkirk always has to stay a couple of steps ahead of the show's game and the fan's predictions. It's therefore not surprising that acting out every bump in the ever-winding road of Jimmy McGill (aka Saul Goodman, himself) means he has to keep his game face on whenever he's on the set. And since he's been required to do a number of heartbreaking and infuriating things while acting out the triumphs and horrors of Jimmy's life, this recent confession from Odenkirk about the weirdness of filming some of the program's scenes isn't too big of a surprise.
Filming out of order keeps Odenkirk on his toes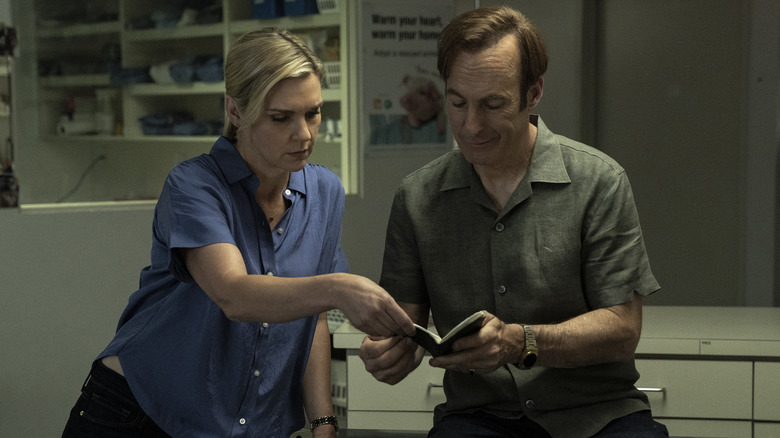 Greg Lewis/AMC/Sony Pictures Television
Although much of "Better Call Saul" follows Jimmy's early years as a lawyer, it also has a tendency to hopscotch across space and time. Some episodes zero in on Jimmy's childhood and then jump back to his time as a crooked lawyer. Other episodes even give us brief glimpses into Jimmy's future life as Cinnabon franchise owner Gene Takovic. Each era represents a very different version of the character, and it's likely for this reason that Odenkirk finds filming McGill's life out of order such a challenging task.
"It's a weird puzzle in your brain, and you have to do the math every time because 'Better Call Saul' jumps around in time," he told Deadline in July of 2022 while talking about the end of the series and the number of 2022 Emmy nominations the show has scored. "So, I could be doing a scene where I'm Saul from 'Breaking Bad,' and then two pages later, I'm Jimmy McGill from years before he was even Saul Goodman."
Fans of the show have speculated that the show's non-linear timeline might be hiding an even bigger secret — like what Kim Wexler (Rhea Seehorn) is doing while Jimmy survives Saul's downfall during the "Breaking Bad" timeline. Fans will find out about Kim and Jimmy's futures soon enough as the show's timeline finally begins to approach that of "Breaking Bad." Until then, fans will simply have to hold tight and deal with those twists and turns as the last few episodes of "Better Call Saul" play out.