How Better Call Saul Fans Really Feel About The Emmys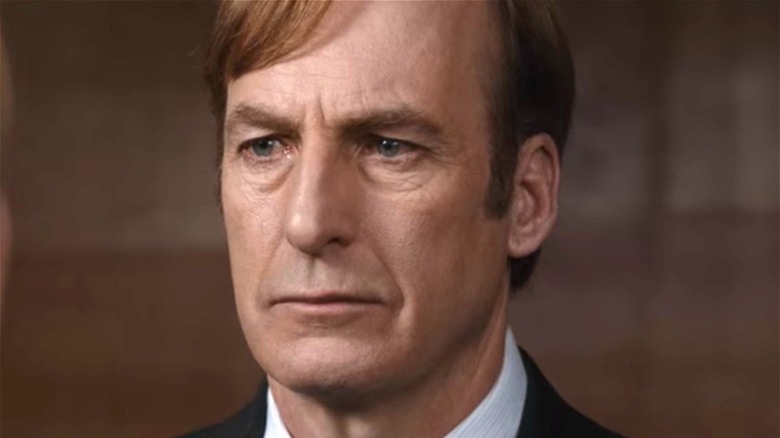 AMC
Another year, another batch of Primetime Emmy nominations in the books. It's once again a good reminder of what TV shows should be on your radar, and if you aren't currently watching the phenomenal 'Better Call Saul," you're missing out. The drama series may be on its last season, but it isn't slowing down in the slightest. If anything, things have begun to reach a fever pitch as the show starts to blend its storyline with that of "Breaking Bad." Everything has to fall perfectly in place over the span of the final few episodes, but while the show may end over the following few weeks, its legacy remains secure.
"Better Call Saul" has been heaped with the highest praise since its debut, earning a ton of accolades in the process. That includes a slew of Emmys and Emmy nominations, including some for the first half of its final season. While it deserves every nomination it gets, some fans have a unique take on its present slate.
Better Call Saul fans think the show should have even more Emmy nominations
The official "Better Call Saul" Twitter account took to social media to celebrate its impressive seven nominations. The TV series received nods for seven categories total, including Outstanding Drama Series, Lead Actor — Drama Series, and Supporting Actress — Drama Series (via The Hollywood Reporter). It's some much-deserved recognition, especially for Rhea Seehorn in the Supporting Actress category, seeing how she's consistently held it down on the show since its first season. But for some fans, seven nominations simply isn't enough. 
Twitter user @charleshbryan pointed out some other fields where the show should've been represented: "Congratulations (and there should have been some for Directing and Editing)!" A similar sentiment came from @christsangrules, who wrote, "Just 7?? No casting, editing, directing, or even cinematography???"
Granted, the second half of Season 6 will be eligible for next year's Emmys, so there's always an opportunity for the organization to rectify this and bestow even more nods onto the beloved series. Regardless of how Emmy night shakes out, it's clear "Better Call Saul" is already a winner in plenty of fans' books.